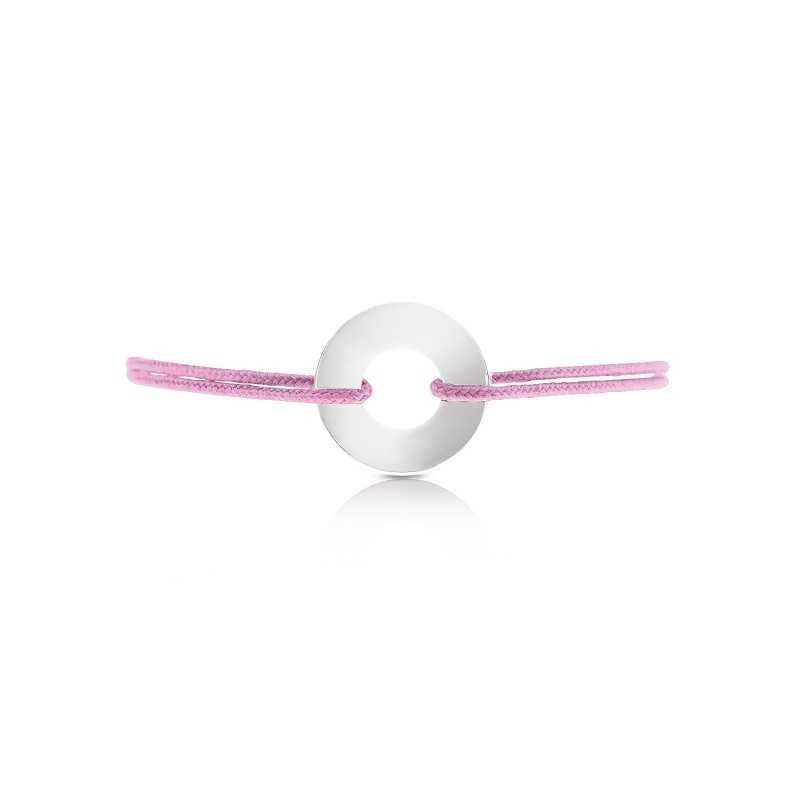  
Medal target bracelet personalized rope man
Solid silver 925
Target diameter: 1.5 cm
Cotton rope
Adjustable size
Number of characters: 30 maximum per face.
Free engraving
Free shipping - Ships within 24-48 hours
Product customization
Don't forget to save your customization to be able to add to cart
General conditions of Sales
Delivery policy
Returns policy
A gem for creatives
Looking for a gift idea to offer a unique gift to an inventive and fun man? Look no further: the jewelry brand Art'emi offers you the personalized men's rope target bracelet from its men's jewelrycollection. You can customize it entirely, in order to make it a singular and 100% unique bracelet. This cord bracelet will make you a beautiful wrist. Thus, you will be elegant, glamorous and trendy,while being subtle and discreet. This timeless is to have in your gentlemen jewelry box. This beautiful bracelet consisting of a solid silver target with the 925 punch will be perfect as a birthday present, as a Christmas gift or for Valentine'sDay.
Composition and customization of the target bracelet for men
On the one hand, the rope bracelet, solid and colorful, withstands the daily life of an active man. You can choose the color from a range of various colors: black, blue, beige, red, green, etc. All you have left is spoilt for choice. On the other hand, the target part in solid silver 925 does not tarnish despite the passing of time. With its 7.5% copper, its foolproof robustness will impress you.
In addition to being able to choose the color of the rope, you can create a personalized jewel. You can have a word of your choice or initials engraved on the target part in money. Also know that you can create your personalized jewelry for free. You can choose to have a message written on one or both sides of the jewel. The typography can, depending on your preferences, be in the more classical or English style. View your engraving live by clicking on the jewel. You can then test the layout of your letters, the writing style, etc.
Why offer the men's personalized cord target bracelet?
This 100% customizable creation of art'emi jewelry is perfect for all funny and active men. The target bracelet also embodies a beautiful way to pass a message to a man you love. Thanks to personalization, you can write a personal message that will touch him in the heart. For a dad, a husband, a friend, he will remind him daily of the joy of having you in his life. The jewelry brandArt'emi also offers its collection of women's jewelry, with bohemian style jewelry, costume jewelry or more classic. There are all kinds, gourmet bracelet, necklace name, engraved medal, sautoirs, silver ring, gold wedding ring, creoles, silver chain, silver pendant, necklace, gourmet bracelet, medallion, chains, ring, etc. You will find beautiful jewelry that will fill you.
Do not hesitate to discover the rest of the collection of jewelry for men, or you will find the gold and silver jewelry mentioned at the top, as well as cufflinks. In addition, if you want to have your signet made, the jewelry brand Art'emi takes care of it, to transform it into a jewel that looks like you. Art'emi uses precious metals to make its men's-woman jewelry in gold and silver. You will find tourmaline, yellow gold, turquoise, white gold, quartz, rose gold, coral, vermeil, fine stones, mother-of-pearl, semi-precious stones, agate, pearls, leather, solid silver, etc.
Finally, if you are interested in the target rope bracelet for men, you will be filled with the silver slave bracelet, or the silver medal bracelet for men.
Specific References
EAN13

5457925981122

UPC

540231596380