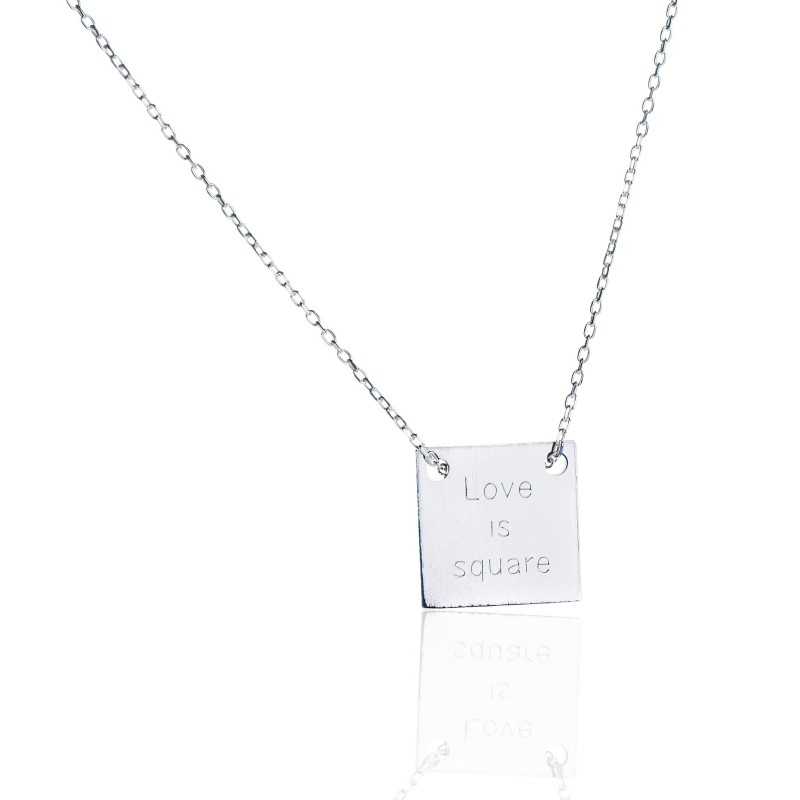  
Necklace square silver personalized woman
Solid silver necklace
Square-shaped pendant
Chain length: 19.5 cm
Pendant: 1.5x1.5 cm
Total length of collar: 21 cm
Number of characters: 20 maximum on each side.
Free engraving
Free shipping - Ships within 24-48 hours
Customization
Don't forget to save your personalization so you can add it to the cart
General conditions of Sales
Delivery policy
Returns policy
Personalized silver square necklace woman: let

yourself be seduced by this customizable jewel
Want to offer you one of our beautiful jewels? We invite you to discover our model of custom silver square necklace woman. We have a whole range of customizable products and this delightful jewel is one of them. Make your necklace a unique jewel that looks like you.
Discover our personalized silver square necklace woman
The square has many properties of symmetry and regularity, but this jewel was created for all women who are anything but square. We can engrave this solid silver necklace on each side. You can indeed customize it by engraving the word or phrase that you like. This allows you to make it an exceptional and unique jewel. In addition, a small engraved word can be an attention that will delight the person who receives the necklace as a gift. We sell jewelry made with care and precision. If you are looking for a simple, elegant and feminine necklace, this model is the one for you.
Subject

matter
Silver 925 (also called Solid Silver) contains at least 92.5% silver, supplemented by 7.5% copper. Pure silver being very malleable, it is this alloy of silver and copper that gives the material the robustness necessary to make all our jewelry. In addition, all our silver jewelry is punched with the "925".
Synonyms: silver 925, silver 925/1000, silver sterling, 925 sterling Silver, fine silver, solid silver. These names represent a great guarantee of the quality of jewelry - necklaces, rings or bracelets - in silver.
Finally, if you are interested in this article, do not hesitate to visit our shop located avenue Louise 367, in Brussels. You can also discover our sublime oval silver medal necklace or our silver heart necklace.
In addition, we deliver our jewelry worldwide. If you have any questions related to the purchase of it, contact us! We will be happy to be able to help you choose the model that you like from our selection of exceptional jewelry.
Specific references
UPC

547328990755

EAN-13

5422220233146