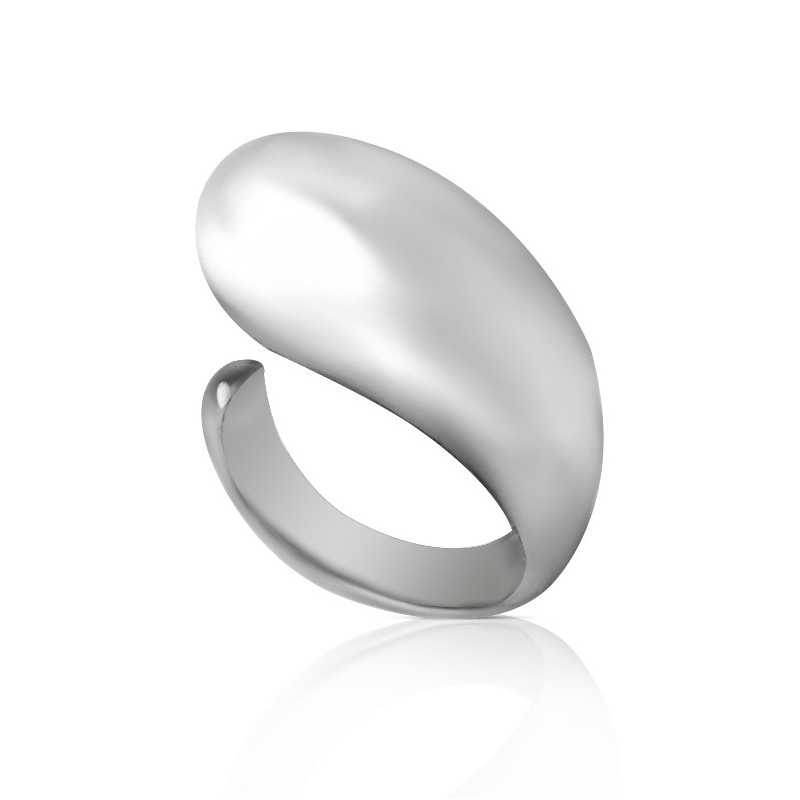  
Drop ring silver woman silver
Solid silver 925
Open and adjustable ring
Upper ring width: 10 mm
Bottom ring width: 0004 mm
Weight: 11.5g
Free shipping - Ships within 24-48 hours
General conditions of Sales
Delivery policy
Returns policy
Ring drop silver woman: between timelessness and contemporaneity
Have you probably been looking for the rare pearl for a long time? Do you finally want to find the jewel of your dreams? Discover this unique creation ofArt'emi : our silver woman drop ring! This ring meets all your expectations! For starters, it embodies a symbol of style, glamour andelegance. It is, as soon as you wear it, an integral part of your look. In addition, it reveals with charm a part of your personality,as well as your sensitivity. Choose your adornment from one of our rings to accompany and illuminate your daily life. You will also appreciate our many jewels accompanied by a particular symbolism: the tree of life, the key ring as a lucky charm, the clover.
Do you want to find the perfect ring to highlight your outfits with originality? Discover our Art'emi ring, you will find your happiness among our costume jewelry! By the way, this curved and delicate jewel is directly inspired by nature. It awakens, in all lightness, the dreaming spirits. In addition, our ring is a first step before offering your beloved the engagement ring of her dreams for a marriage proposal. Gold and silver, are a safe bet for you!
The women's silver drop ring: perfect to sublimate your style
Our jewel invariably fits with the different styles of clothing, also blends very easily with all kinds of outfits. In short, our ring is ideal to enhance your clothing day and night. Sophisticated and modern,it highlights your style. Its open water drop shape adapts to different finger sizes. It is practical and loaded with passion. Immediately plunge into a wonderful and endless love story!
Do you want to offer the ideal gift to a woman of value? An object bearing a great mark of affection? Our silver jewelry will be perfect! Indeed, opt for our ring as a delicate present for a woman who is dear to you. Melt for this sublime ring. Associate her with an exceptional woman. And sport an elegant and originalstyle. Fun is now at your fingertips with Art'emi.
Access a quality ring with Art'emi
All our rings have been made with the utmost care. The designer pays special attention to it. A point of honor is therefore given to the quality of his productions. The purity of the materials chosen gives an irreproachable quality: especially thanks to sterling silver, 18 kt gold, semi-precious stones, precious stones, pearls, mother-of-pearl, quartz, rose gold, fine stones, vermeil, gold-plated. Our ring is designed from solid silver with the 925 punch. This material allows an impeccable hold. Let yourself be captivated by the singularity of this jewel. Enjoy its eternal beauty now, thanks to our timeless talent. Art'emi offers you its ancestral know-how to engrave your desires, everything is possible thanks to our authentic customizations! All occasions are good, treat yourself by sublimating yourself!
Looking for a ring in line with your personality? Thanks to Art'emi, you have found! Grab the woman's silver drop ring. It is indeed ideal in all circumstances. Its refined curve, delicate, full of finesse,thus accompanies you daily. Enough to satisfy the desires for lightness, but also for pleasure. Also discover in our jewelry collection, our range of necklaces: the drop silver necklace for womens, which you can match with the drop silver bracelet or you can switch the color of your bracelet thanks to our wide range of colored strings. Your cord is also adjustable for added comfort. In addition, come and discover our wide choice of necklaces: flush, sautoir, bohemian!
Otherwise, do not hesitate to consult our other women's jewelry: pendant, gourmette, chain, earrings. Our jewelry store also offers its handmade creations for men, children, for the pleasure of your eyes to infinity!
Specific references
UPC

546054670085

EAN-13

5431481623061