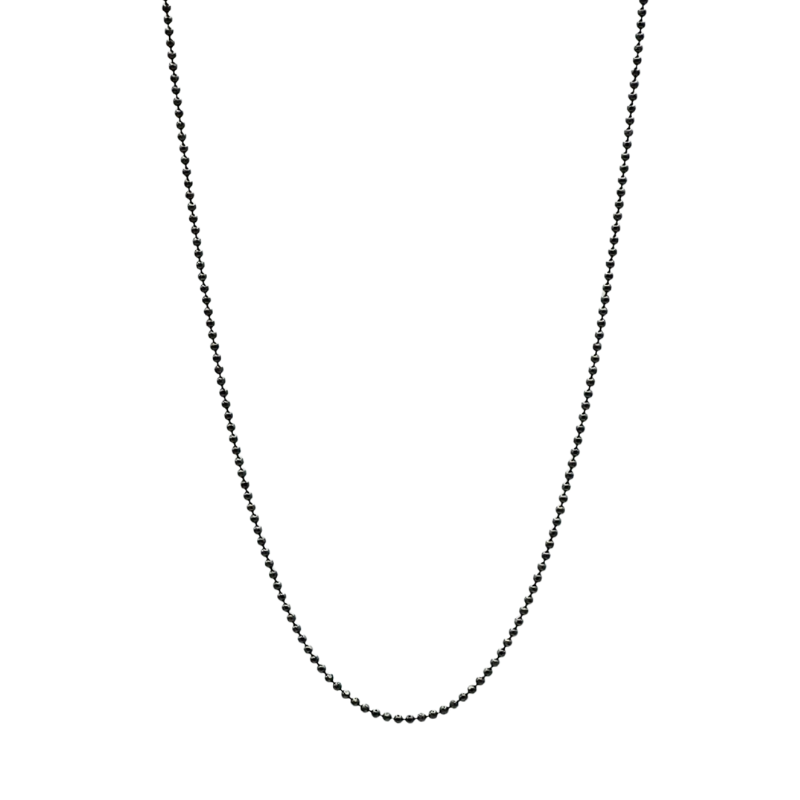  
Black rhodium-plated ball chain child
Solid Silver 925
Length: 45 cm
Free shipping - Shipped within 24h-48h
General conditions of Sales
Delivery policy
Returns policy
An ideal chain for your child
Are you looking for a silver chain for a child? Are you looking for the perfect gift for a birthday or just to please a child? Our black rhodium-plated ball chain is the one you need! This solid silver chain with 925 hallmark is characterized by a shiny, bright and elegant effect.
In addition, it is an ideal chain to add a silver pendant or an engraved medal. Thus, you will be able to create your jewelry customizable to infinity. This beautiful silver chain will be perfect as a birthday gift or as a Christmas gift. This chain is a timeless to have in his jewelry box, which your child will be able to wear with his entire wardrobe on all occasions. Let yourself be tempted by this chain at the forefront of fashion for your children.
Silver as a guarantee of quality for the black rhodium-plated ball chain
The jewelry brand Artemi offers jewelry made from exceptional materials. Thus, this diamond convict chain is made from solid silver (otherwise called 925 silver or sterling silver). In fact, it is an alloy of 92.5 % silver and 7.5 % copper. Because of this, it is the combination of silver and copper that allows the chain to be solid. The "925" hallmark is present on all Art'issued creations in silver, as a guarantee of quality.
Art'émis also offers a collection of jewelry for men and a jewelry collection for women. You will find various types of customizable gold and silver jewelry, such as gourmet bracelet, necklace, cufflinks, chain necklace, first name necklace, silver ring, creoles, ring, earrings, gold chain, chains, engraved medal, etc. Art'issued is also at your disposal after the purchase of any jewel. You want to know how to clean your silver jewelry and why it blackened. Find our tips and tricks to restore all their shine to your jewelry.
The jewelry store Art'emi uses precious metals to make its quality men's and women's jewelry. You will find tourmaline, white gold, yellow gold, vermeil, tourmaline, leather, semi-precious stones, fine stones, turquoise, coral, mother-of-pearl, 18-carat gold, solid silver, quartz and many others. In addition, we also remind you that all of our jewelry is delivered free of charge throughout Europe.
How to complete this black rhodium-plated ball chain as a child?
Discover the liberty bracelet star child in silver to engrave. The liberty wrist circumference, a bracelet with floral and colorful patterns that will delight the youngest and the largest. Discover our range of Liberty bracelets and its different variations of colors and adopt a lively and elegant bracelet that will accompany all the outfits of your child. In addition, this jewel is worn all seasons, whether in summer, or in winter.
Do you want a different type of bracelet? We've got you covered. Discover the silver slave bracelet. This jewel, timeless, trendy and discreet, will sublimate the wrist of the person to whom you will give it. Your child will be able to wear it on all occasions and you will be sure that he will be conquered and at the top of the style!
Discover also our jewelry for women and in particular the flat rigid necklace. Do you want to sublimate your clothes and shine in all circumstances? Opt for the 925 solid silver women's flat rigid neck necklace. This rigid neck circumference will be the essential element that will highlight your neckline while keeping a discreet and elegant side. Thus, with its delicate, refined and refined design, this ring for women will allow you to remain discreet with a refined touch. You can also opt for a necklace or a pearl necklace. Easy to wear, without clasp, it is very easy to put around the neck. Finally, available in two models, the second is in 18-carat gold-plated silver.
Personalization, a Art'emi specialty
Do you want to make a unique and symbolic gift to a loved one or for yourself?
Our customizable jewelry is for you. In addition the engraving is always free. You can engrave a birthday, wedding, baptism, dates, initials, your imagination are the only limit. In addition, delivery is offered.
What could be better than a discreet bracelet with a heart to remind us of the love we have for our family, children or friends? This is the heart target bracelet, easy to wear and customizable. Your outfits for the holidays will be embellished thanks to this jewel, engrave, discreet and romantic.
For more tips and gift ideas of jewelry to engrave, click here to access our blog post and find our gold, silver, leather and other jewelry for men and children on our site. If you are looking for a unique gift for children, we have silver plated gourmettes, discover our gourmette bracelets or the one-size-fits-all target bracelet.
Do you have any questions?
If you need advice and answers to any questions, do not hesitate to contact our jewelry store by email or on our various social networks! We will be happy to help you! whether for suggestions of jewelry woman, man, or children, we are always at your disposal. So see you soon on our online jewelry store!