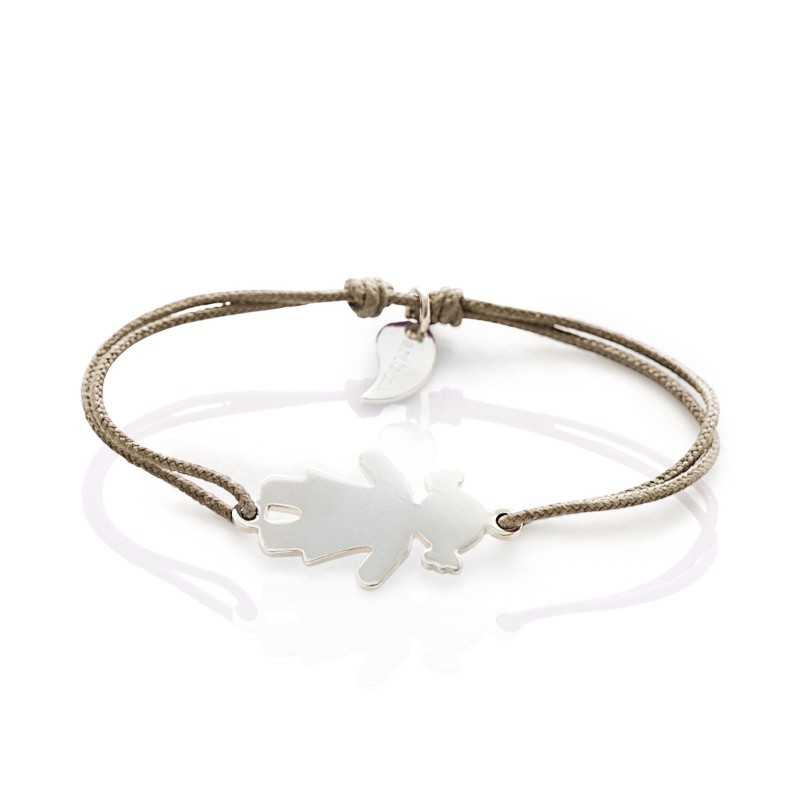  
Bracelet character girl personalised child
925 sterling silver 
Dimension of the girl: 22 mm X 135 mm 
Dimension of the boy: 22 mm X 135 mm
Cotton cord
Adjustable size
Number of characters: 7 maximum per side 
Personalize your kid pendants by choosing the engraving option to write any message on both sides
Free engraving 
Free shipping - Ships within 24-48 hours
Customization
Don't forget to save your personalization so you can add it to the cart
General conditions of Sales
Delivery policy
Returns policy
Personalized girl character bracelet for children: create a unique jewel for her
Do you want to give your child a great gift with a gift that represents him/her? Art'emi offers you its selection of the most beautiful and fully customizable bracelets. A personalized girl character bracelet for children will be unique and will allow you, thanks to the engraving, to write a small word on it.
Personalized girl character bracelet for children: description of this charming jewel
Return your original bracelet by having it engraved as you wish. We propose you to have the jewel engraved on both sides. Our cords are available in many colors. You can choose from 17 different colors to find the color that will most suit your child. We also offer several typesetting styles (English or classic).
About our teddy bear packaging: art'emi jewelry is environmentally friendly and uses only recycled fine fabrics. This is why the fabric and color of the figurine vary according to availability. Be sure to check availability before placing your order. We carefully choose the materials we work with because we only sell quality jewelry.
The material of the bracelet girl character bracelet
This girl character bracelet is made of fabric and a sublime 925 silver figurine. Made of a minimum of 92.5% silver and 7.5% copper, our silver jewelry is of impeccable quality. We use quality metals to guarantee you a strong jewel. We combine silver and copper because it makes the jewelry strong and resistant. Art'emi offers you jewelry stamped "925". Delivered with a certificate, all our products are guaranteed for one year.
Have you made your choice? So don't wait and let yourself be sublimated by this charming little bracelet. You can find this model online as well as in our shop located in Brussels. We are available to advise you when you make your purchase, so don't hesitate to contact us.
Also, discover the girl character bracelet and the silver first name bracelet.
Specific references
UPC

542555583947

EAN-13

5477033186363