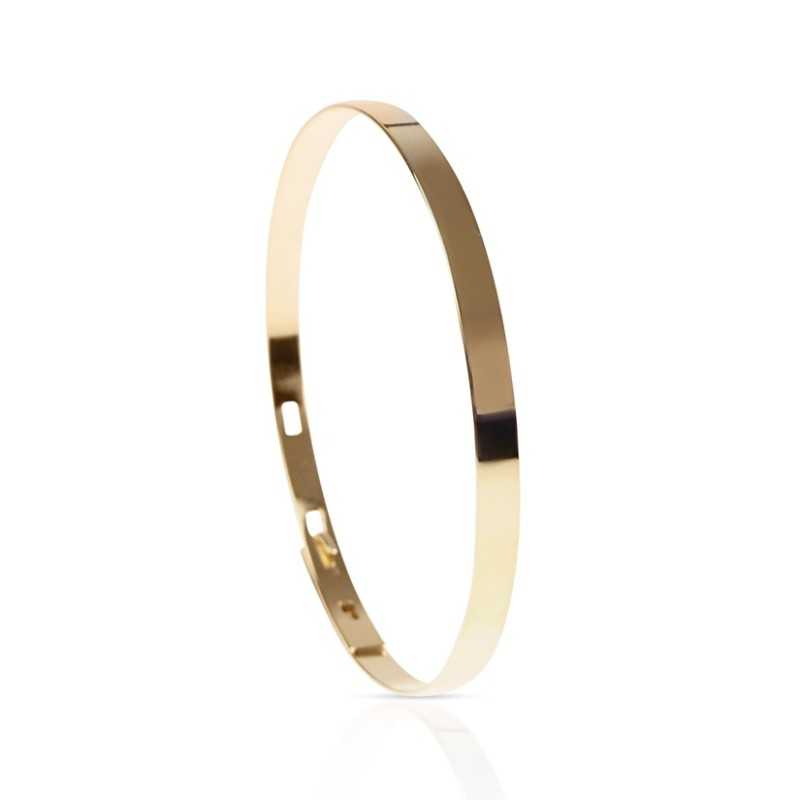  
Bangle bracelet personalized in vermeil man
925 Sterling Silver
18kt Yellow Gold Plated
Adjustable size 15.5 cm, 16.5 cm or 18 cm
Measurement: 3.8mm x 0.5mm
Weight: 4,42gr
Number of characters: Front 25 characters
Free engraving 
Free shipping - Ships within 24-48 hours
Customization
Don't forget to save your personalization so you can add it to the cart
General conditions of Sales
Delivery policy
Returns policy
The timeless bangle bracelet 
Are you looking for the bracelet that will make your heart capsize? The timeless bangle bracelet is made for you. Delicate and full of character, our bracelet bangle vermeil man promises to create a sensation with your friends and family. Thus, this bracelet at the point of elegance will know how to sublimate all your outfits. Moreover, you have the possibility to engrave it according to your preferences in order to make it unique. Gentlemen, do not hesitate any more and choose this chic customizable bracelet of exceptional quality. 
Quality jewelry at Art'emi 
This bracelet bangle vermeil man is made from vermeil. More precisely, it is 925 silver that has received a gold plating with a minimum thickness of 3 microns. In jewelry, we call this process electrolysis. 
Silver 925, also called solid silver or sterling silver, has 92.5% silver and 7.5% copper. It is a very malleable material. This combination of silver and copper gives it the necessary strength to make this bracelet. All the art'emi silver jewelry bears the "925" hallmark as a sign of quality.
As for the gold used for the plating, it is 18 carat gold made up of at least 75% pure gold.
The plus of this vermeil bracelet: personalization 
We offer you jewelry that can be customized to your taste. And to carry out this personalization, nothing could be simpler! You can make your jewelry orders online. In fact, you just have to specify us the small word that you wish to have engraved as well as the typography that you wish. You don't know what to engrave? It can be a first name, a date, a significant word, a place, a symbol, a drawing. Of course, we remain available if you have special requests regarding the personalization of your jewelry.
Looking for a Valentine's Day gift? Discover our blog about Valentine's Day gifts! An idea will quickly come to your mind. 
Are you looking for other bracelets for men? Discover now the personalized silver slavery bracelet or the personalized rope target bracelet. 
Specific references
UPC

543779749126

EAN-13

5406313363972