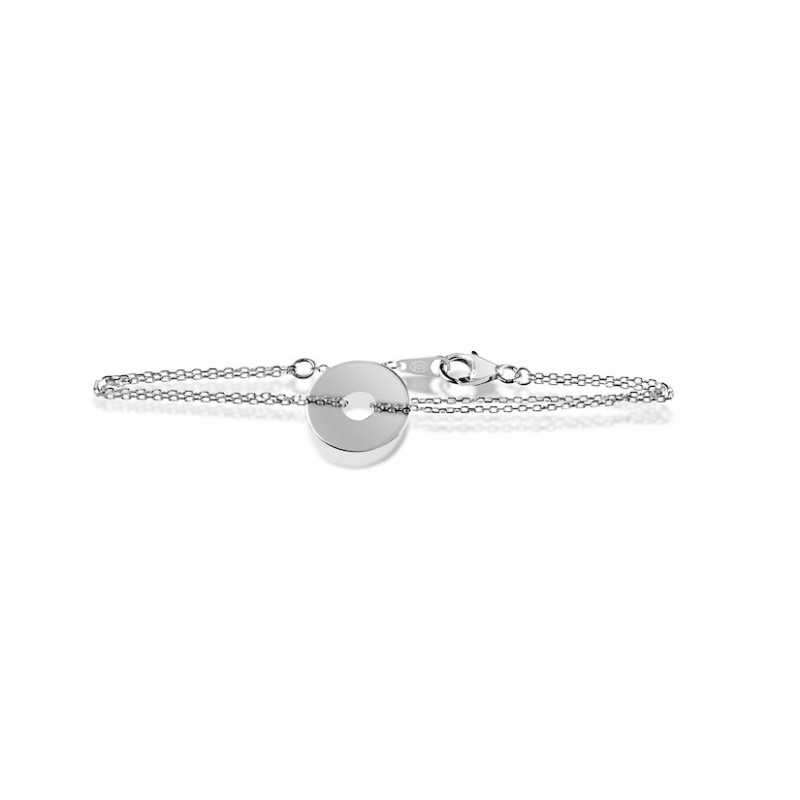  
Personalized silver target bracelet woman
Solid silver 925
Target diameter: 16mm
Size: 16-18cm
Weight: 2,70gr
Number of characters: Front/back 30 characters
Free engraving
Free shipping - Ships within 24-48 hours
Customization
Don't forget to save your personalization so you can add it to the cart
General conditions of Sales
Delivery policy
Returns policy
Just aim with the target bracelet
Will you die of desire to please yourself by buying a beautiful solid silver bracelet with the 925 punch? This personalized silver target bracelet for women has every reason to make you eye! Indeed, silver bracelets are timeless to have in his wardrobe. We can wear them both on a daily basis and for special occasions, convenient! The detail of the target will bring a touch of originality while remaining a very chic, elegant and discreetjewel. In addition, the major advantage of this silver bracelet for women remains the possibility of customizing it. You can burn whatever you want on it. And so to make it unique in your eyes or in the eyes of the person to whom you will offer it.
A silver jewel of exceptional quality
The Art'emi jewelry store is particularly attentive to the materials it uses to design its precious gold and silverjewelry. All men's-women jewelry and silver accessories are made of solid silver with the 925 punch as a guarantee of quality. This composition gives our jewelry a great resistance. Who knows this custom silver target bracelet may one day be in your great-granddaughter's jewelry box. In addition, the jewelry store guarantees all its jewelry for a period of one year. We also offer you a free engraving on all customizable models. To learn more about engraving, come to our blog by clicking here.
A unique silver target bracelet thanks to personalization
At Art'emi, you have the possibility to customize your jewelry and accessories, and this, in a totally free way. Artemi offers you multiple possibilities of engravings, the only limit remains your imagination. For example, you can engrave first names, words, signs and even have the possibility to engrave drawings made by your children. Your jewel will thus become not only a simple jewel, but will also be symbolic. There is also a wide range of typography. Of course, it is important to emphasize that every delivery is free, wherever you are in the world.
The jewelry brand Art'emi also offers collections of jewelry for men, women's jewelry and jewelry for children. Among its wide range of jewelry you will find: gold bracelet, sautoir, earrings, ring, creoles, gold ring, first name necklace, gold chain, chainette, necklace, engagement ring, engraved medal, medallion, chain necklace, cufflinks, pendant necklace and many others. The jeweler Art'emi uses only precious metals in the design of her man-woman jewelry such as tourmaline, vermeil, quartz, white gold, pearls, yellow gold, solid silver, fine stones, leather, semi-precious stones, turquoise, mother-of-pearl, 18K gold and many others.
Finally, you can please the whole family with the target bracelet money child also available on our website.
Specific references
UPC

549930537427

EAN-13

5400488033999