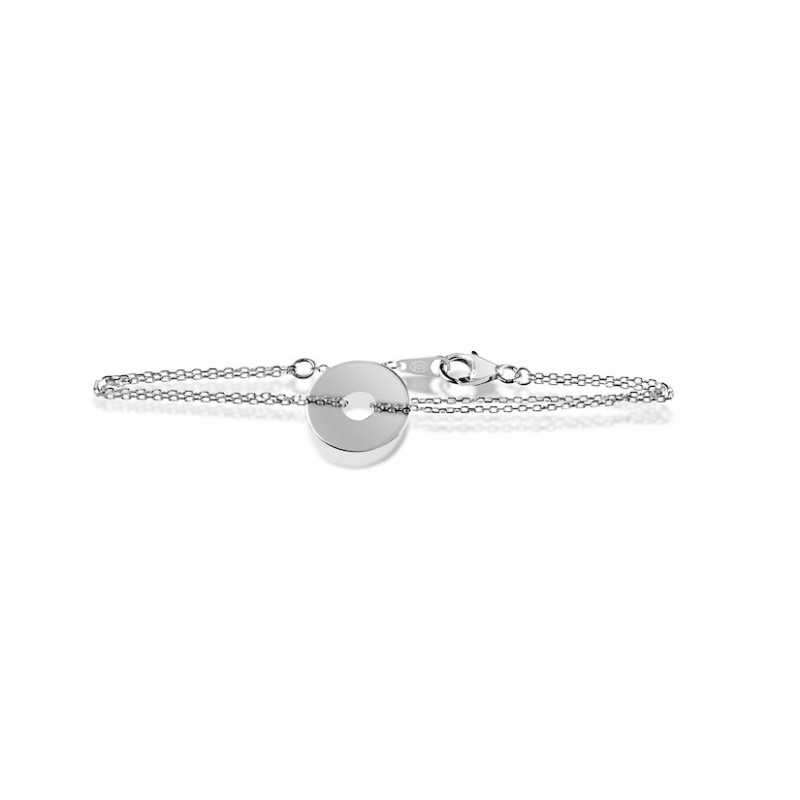  
Personalized silver target bracelet woman
Massive silver 925
Target diameter: 16mm
Size: 16-18cm
Weight: 2.70gr
Character number: Recto/verso 30 characters
Free engraving
Free shipping - Ships within 24 hours
Product customization
Don't forget to save your customization to be able to add to cart
Privacy - Security Policy
your personal data
Delivery policy
Everything you need to know about delivery
Return policy
Everything you need to know about the return
Aim just with the target bracelet 
Are you dying to treat yourself by buying a bracelet? This personalized silver target bracelet has all the reasons to make you look good! Indeed, silver bracelets are timeless. You can wear them on a daily basis as well as for special occasions, practical! The detail of the target will bring a touch of originality while remaining a very chic jewel. Moreover, the major asset of this bracelet remains the possibility to personalize it. And thus to make it unique in your eyes or in the eyes of the person to whom you will offer it. 
A silver jewel of exceptional quality 
Art'emi jewelry is particularly attentive to the materials it uses to design its precious jewelry. All silver jewelry and accessories are made of solid silver and carry the 925 hallmark as a guarantee of quality. This composition confers on our jewels a great resistance. Who knows this personalized silver target bracelet may one day be in your great-granddaughter's jewelry box. Moreover, the jewelry store guarantees all its jewelry for a period of one year and offers you a free engraving on all customizable models. To know more about engraving, come to our blog by clicking here. 
A unique silver target bracelet thanks to personalization 
At Art'emi, you have the possibility to personalize your jewelry and accessories, and this, totally free of charge. Artemi offers you multiple possibilities of engravings, the only limit remains your imagination. For example, you can engrave first names, words, signs and even have the possibility to engrave drawings made by your children. There is also a wide range of typographies. Of course, it is important to note that each delivery is free of charge, wherever you are in the world. Last but not least, you can please the whole family with the children's silver target bracelet also available on our website. 
Specific References
ean13

5400488033999

upc

549930537427