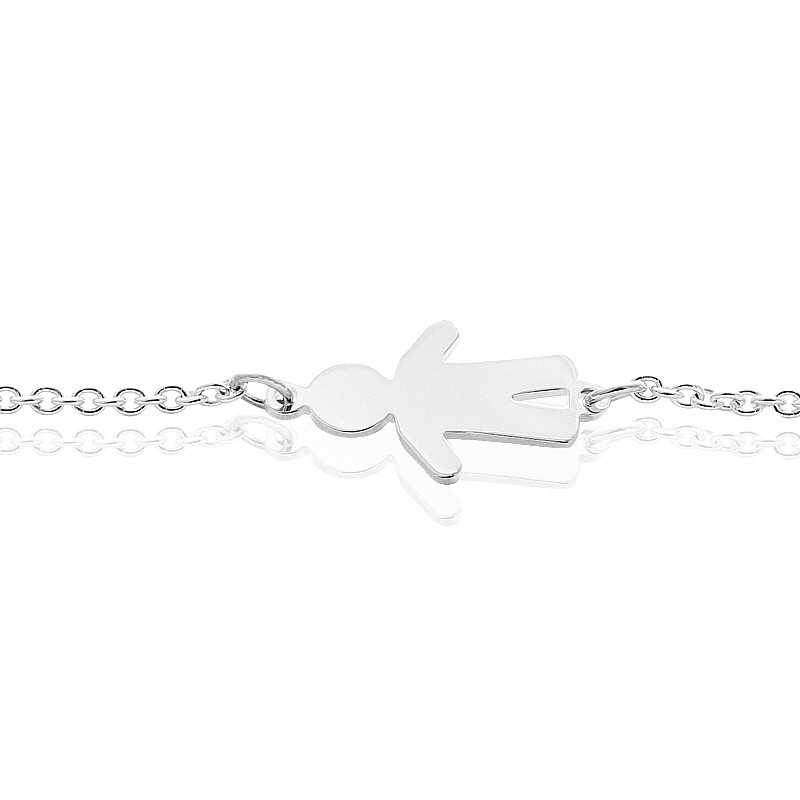  
Curb ID chain character boy personalized child
Solid silver 925
Boy size: 22 mm X 135 mm
Bracelet length: 13-15 cm
Number of characters: 10 maximum per face
Customize your toddlers by choosing engraving, possibility to engrave on the 2 faces any type of message.
Free engraving
Free shipping - Ships within 24-48 hours
Product customization
Don't forget to save your customization to be able to add to cart
General conditions of Sales
Delivery policy
Returns policy
Bracelet personalized boy character child : a unique bracelet
The jewellery brand Art'emi gives you its gift idea if you are looking for a unique gift to offer to your son! A customizable bracelet with a boy character! This bracelet is made of sterling silver with a 925 hallmark. This bracelet will be perfect as a birth gift, birthday gift or even Christmas gift. This beautiful silver bracelet is a timeless piece that will make a beautiful wrist for your little one. The bracelet goes perfectly with all the outfits of a wardrobe and can be worn on all occasions. Indeed, strong of its experience, our jeweller's shop makes quality silver jewels for children which are at the same time original, beautiful and elegant.
Art'emi and its numerous quality jewels
First of all, the jewellery brand Art'emi is not at its first creation. In fact, the jeweller has been working with solid silver for many years now. In this way, we propose you numerous jewels in gold and silver, for all the tastes, and for all the occasions. Art'emi proposes you also its collection of jewels for man and its collection of jewels woman in gold and agent.
Then, the jewellery brand art'emi offers a very special service: engraving. So that you can have your first names, names, initials, and even a drawing engraved on it. This way you can personalise your gold and silver jewellery ad infinitum. In addition, we offer unique men's, women's and children's jewellery: you won't find it anywhere else. If you have any questions about our jewellery creations or your order, or if you would like to have advice about buying a particular piece of jewellery, we will be delighted to help you in our shop.
Art'emi and the bracelet personalized boy character child
The solid silver bracelet is a unique and original customizable bracelet. It embellishes the wrist of your child and its resistance allows to keep it for a long time. It is easy to wear and goes with all different styles. It is undeniable that the bracelet gourmette is fashionable and differentiates itself from others. Thus, your child will be glamorous, trendy and elegant while being sober, discreet and subtle. Thanks to the design ofart'emi, be sure to leave with a bracelet that your child will not want to remove from his wrist.
The jewellery brand Art'emi also offers other types of jewellery such as silver bracelets, creoles, engraved medals, gold wedding rings, gold chains, gold chains, gold rings, earrings, rings, cufflinks, pendant necklaces, medallions, chokers, etc. Art'emi uses the best precious metals to make quality jewellery. You will find white gold, tourmaline, quartz, yellow gold, mother of pearl, 18K gold, turquoise, agate, vermeil, leather, fine stones, pearls, semi-precious stones, coral and many others.
The other creations ofArt'emi
Discover also our bracelet character boy For the girls, art'emi has created the bracelet character girl as well as the bracelet cherry personalized. The jewellery brand Art'emi has also created gold and silver jewellery for men and women that will have a symbolism in their eyes. We have the necklace medal tree of life which is in solid silver with the stamp 925. There is also the medal on which you can engrave initials or a symbolic date. This beautiful necklace will make you look chic, trendy and glamorous. The clover is a symbol of luck, and you will find it at Art'emi in bracelets, necklaces, earrings, made with mother of pearl. You will be spoilt for choice.
Specific References
ean13

5410797157354

upc

546997663410