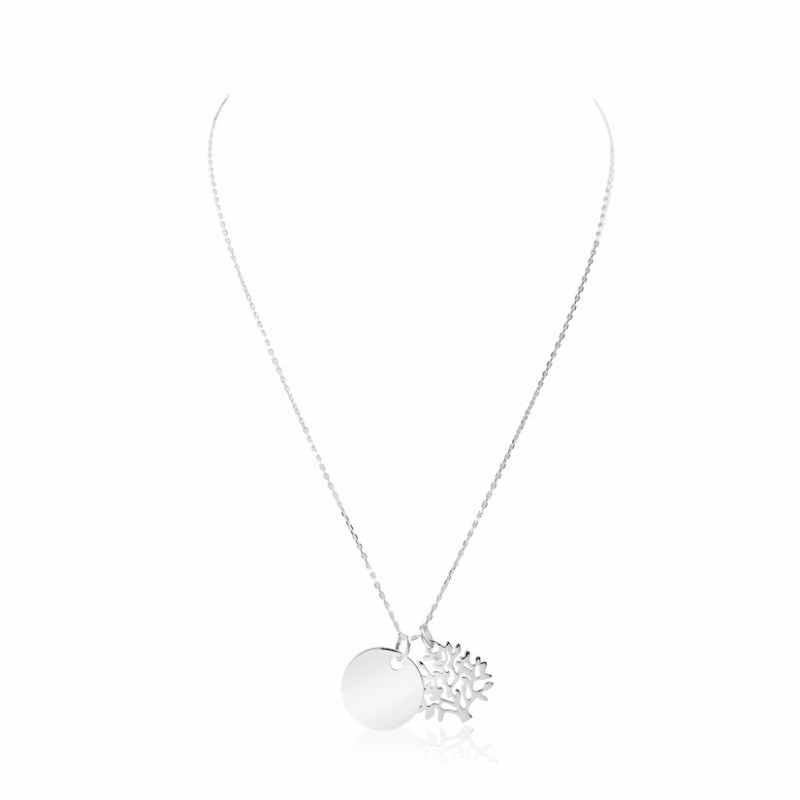  
Necklace medal tree of life personalized 20mm child
Solid silver 925
Weight: 5,24gr
Length: 42 cm
Measurement tree of life: 2 cm X 2.10 cm
Medal diameter: 2 cm
Number of characters: Recto/Verso: 25 characters
Free engraving
Free Shipping - Ships within 24-48 hours
Product customization
Don't forget to save your customization to be able to add to cart
General conditions of Sales
Delivery policy
Returns policy
Necklace medal tree of life: its meaning
Are you looking for a gift idea to offer your piece of cabbage a unique gift? The tree of life medal necklace is the silver necklace you need. Whether as a birthday present or as a Christmas gift,your child will be delighted. First of all, thetree of life means eternal life. The necklace medal tree of life child is therefore the ideal gift to wish that beautiful cabbage to the person who receives it. The necklace medal tree of life is a symbolism that represents physical and spiritual fulfillment. This necklace is composed of a 20 mm medal customizable to your liking and a tree of life. A strong set in meaning.
Composing your jewel: engraving
Make your children's life tree medal necklace even more unique and original by adding your personal touch. Through a personalized jewel,you can express your personality and love. This is your silver jewel, you might as well customize it as much as possible so that it does not look like any other. Plus, it can be the perfect gift for your little niece. Indeed, you have the possibility to engrave his initials on one side of the medal and to write his date of birth on the other side. There are several options available to you. The silver necklace tree of life isinfinitely customizable. And why not have your daughter's favorite drawing engraved? An engraving that will give a smile to your little piece of cabbage.
In addition, the tree of life medal necklace is a timeless one that will allow your child to be trendy, glamorous, elegant and original while remaining subtle and discreet. This medal necklace fits with all the outfits of a wardrobe and is worn on all occasions. Indeed, it is a customizable jewel to have in its jewelry box. In addition, the jewelry brand Art'emi offers you the delivery of your gold and silverjewelry. Similarly, if you have any questions about your order or the choice of your jewelry, do not hesitate to contact us via our website.
The know-how of jewelry Art'emi
To begin with, the Art'emi jewelry store offers unique jewelry elaborated with ancestral know-how. In addition, the child tree medal necklace is made of solid silver (also called silver 925 or sterling silver). It is a precious metal composed of 92.5% pure silver and 7.5% copper, which gives it an incomparable strength and strength. In addition, you can find this necklace medal tree of life in several sizes(10 mm and 15 mm).
The jewelry brand Art'emi also offers you its collection of men's and women jewelry made from precious metals. You will find a wide range of jewelry such as gourmet bracelet,rush bracelet, earrings, creoles, silver chain, silver ring, ring, sautoirs, engraved medal, gold necklace,silver pendant, medallion, cufflinks,chainettes, necklace name, etc. Above all, quality is an element that is essential for the Jeweler Artémi. Because of this, she uses tourmaline,turquoise, mother-of-pearl, vermeil,pearls, white gold,yellow gold, fine stones, semi-precious stones, pink quartz, coral, solid silver,agate, 18K gold and many others for the design of her jewelry.
Do not hesitate to contact us if you have any questions about the engraving of your jewelry or about a particular piece of jewelry.
Specific References
ean13

5469685411818

upc

544993586849