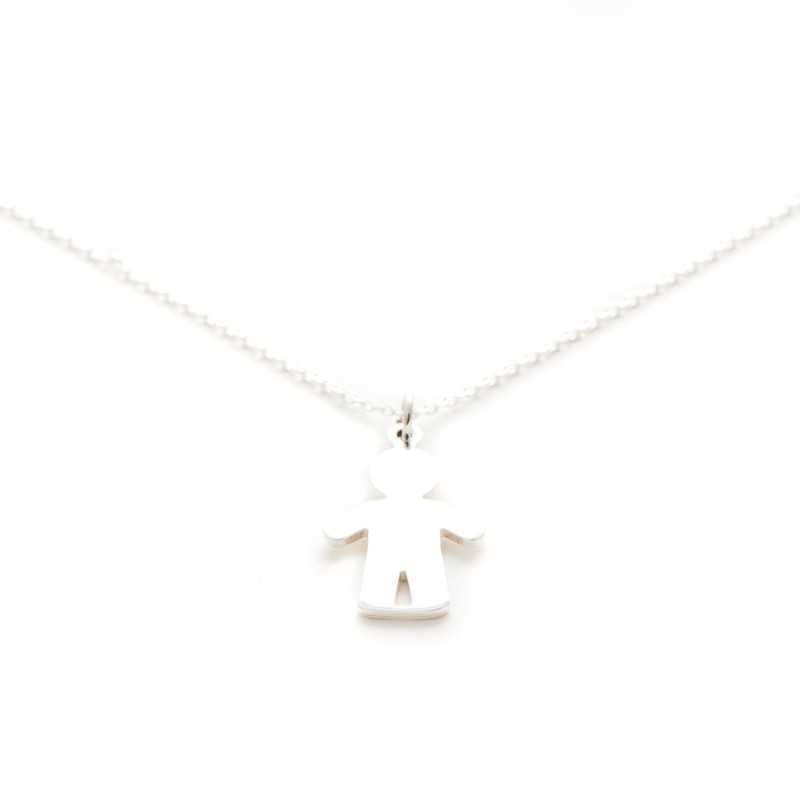  
Personalised silver boy woman character necklace
Massive silver 925
Boy size: 22 mm x 135 mm
Chain length: 42 cm
Number of characters: Recto/Verso: 10 characters
Personalize your toddlers by choosing engraving
Free engraving
Free shipping - Ships within 24-48 hours
Customization
Don't forget to save your personalization so you can add it to the cart
General conditions of Sales
Delivery policy
Returns policy
Offer a boy character necklace
Do you have a happy event in your family? Your sister has just had her little boy and you are wondering what you can offer her? Opt for this boy character necklace. You're sure to please the new mom. Indeed, she will be able to wear this necklace reminding her of the birth of her son!
Are you also looking for a gift for the little baby? Check out our blog page on boy birth gifts,you'll find plenty of ideas!
A necklace that is sure to please
Not only is this necklace an ideal gift for a mom, but it can also be the memory of her birth. Indeed, this silver necklace for women is customizable. As a result, you can have the new boy's date of birth engraved or his first name. Thanks to engraving, make this jewel even more unique and personal. You have the opportunity to burn what you want and no one will have the same jewel!
Want more? We offer a wide range of jewelry characters like the custom silver family bracelet for women, but also the custom boy character bracelet for children.
An inescapable quality
Jewelry Art'emi makes quality jewelry, which is why the boy character necklace is made of solid silver. This metal is known for its strength and brilliance. Indeed, solid silver is made of pure silver and copper. It is this assemblage that gives the jewel its solidity. As a result, you have a quality piece of jewellery around your neck without it being heavy! Indeed, silver jewelry is very light.
To learn more about the materials used by the artémi jeweler, come and take a look at our material guide.
Finally, for any additional questions, requests or information please send us a message about [email protected]. We'll be happy to help you with your search.
Specific references
UPC

547473796189

EAN-13

5419150477351