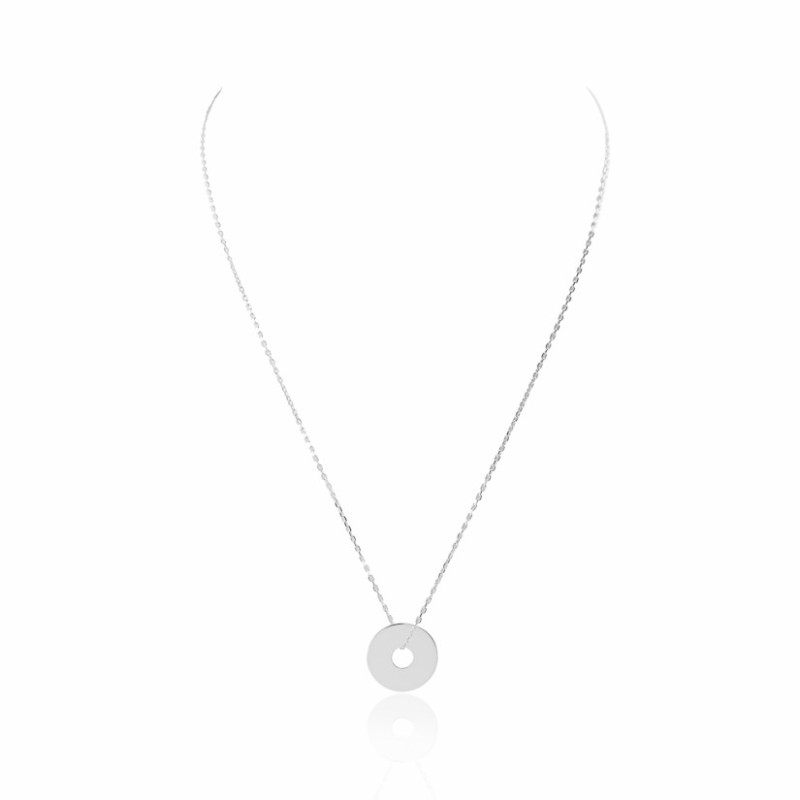  
Necklace target silver to engrave woman 20 mm
Solid silver 925
Weight: 3.45gr
Target diameter: 2cm
Chain length: 42cm
Number of characters: Front/back 35 characters
Free engraving
Free shipping - Ships within 24-48 hours
Customization
Don't forget to save your personalization so you can add it to the cart
General conditions of Sales
Delivery policy
Returns policy
Happiness: the silver target necklace to engrave
Do you want to treat yourself to a beautiful silver necklace for women? Treat yourself with the target necklace to engrave in solid silver. This jewel is simple and effective while combining originality thanks to an engraving in your image. All our customizations are completely free and we offer a wide range of typography to meet your expectations. Thanks to its ethnic and bohemian style, the necklace is original. But also elegant and refined through its minimalist and uncluttered pendant. A fancy jewel that remains distinguished and discreet for your daily life and timeless for your life (and your wardrobe). So, the women's silver necklace you're looking for can be found right here! A total silver jewel with a silver chain in diamond convict mesh, a silver carabiner clasr and a silver target charm medallion also.
Our collection of women's jewelry is full of treasures between earrings, silver pendants, silver rings, rush bracelets, leather bracelets, gourmet bracelets or trendy accessories. You will find several women's jewelry with silver engraved medals to shine at every opportunity and show your femininity. Art'emi offers jumping necklaces or necklaces for women and to highlight your pretty neckline! To each his pleasure. Your jeweler art'emi think of you, which is why it is about offering you timeless jewelry.
Consider customizing the women's silver target collar
Indeed, this woman jewel can be the subject of a wonderful gift idea for your loved one or for your mom. Let's take the case of a necklace to offer to your mother. Why not write a cute little message like for example "I love you" or "mom". Isn't this the perfect and adorable gift you're looking for? In addition, our range of typography allows you to choose the shape and look of the word you want to engrave on the silver target pendant. So many possibilities are possible, between a message, initials or symbols. You can leave room for your imagination. Finally, it is important to emphasize that all our customizations are completely free! In addition, it is perfect to bring a touch of fantasy to the silver women's necklace and reveal your personality.
Come and discover our category of customizable jewelry.
You will find wonders and all the silver necklaces, the silver pendants or the long necklaces like the sautoirs. Find your ideal gift.
All occasions are good to find a jewel. From now on, all occasions are to be taken to find your family jewel with the man-woman and child rush bracelet (silver and vermeil ring bracelet). Bracelet jewelry also customizable! Give yourself like an adornment of semi-precious stone jewelry!
Quality and its importance
Art'emi does not resign on the quality of its products, that to all its importance! That is why the jeweler makes her jewelry with exceptional metals: precious metals. For the target women's necklace to be engraved, the designer uses solid silver 925 (sterling silver), robust and solid, composed of pure silver (92.5%) and copper (7.5%). Indeed, thanks to this alloy, your jewel will not lose its shine and will allow you to wear it for years. This is a timeless jewel.
Discover all our materials in our materials guide with semi-precious stones, gold, vermeil, mother-of-pearl, turquoise or coral. Unlike gold plated, vermeil consists of a jewel in sterling silver and then plated 18-carat gold. This makes it possible to have a resistant jewel in gold. A jewelry store that offers you only quality women's jewelry. A collection of jewelry for men and children is also available on our shop. Take a look and adopt the men's engraved silver rush bracelet.
By the way, if you have any doubt about how to clean your silver jewelry, do not hesitate to read our article by clicking right here.
Little tip art'emi : the trend of the moment is to mix materials. So do not hesitate to wear around your neck a gold necklace and a nice pair of silver earrings on your ears. The mixture of gold and silver is ideal.
So order with ease this necklace with personalized pendant. If you liked this necklace, the sterling silver tree of life necklace and the clover bracelet will please you for sure.
Specific references
UPC

544707346905

EAN-13

5432993607372