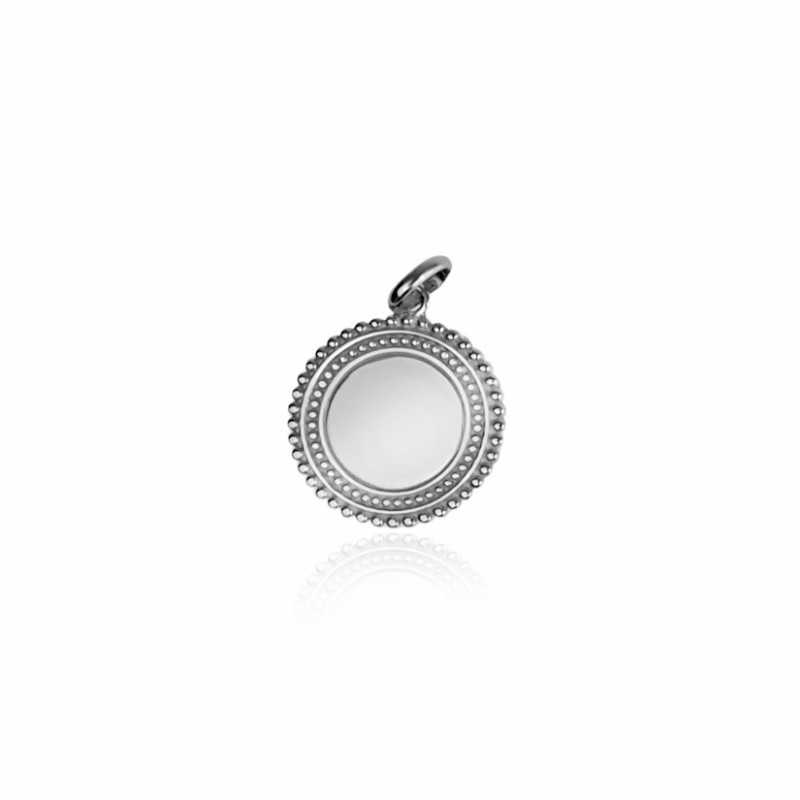  
Child silver bohemian medallion pendant
Massive silver 925
Weight: 3.46gr
Size: 42cm
Medal diameter: 1.8 cm
Number of characters: Recto/Verso: 20 characters
Free engraving
Free shipping - Ships within 24-48 hours
Product customization
Don't forget to save your customization to be able to add to cart
General conditions of Sales
Delivery policy
Returns policy
Offer a unique bohemian medallion pendant
Looking to please your little ones? Do you want to give him a unique gift? Then you've come to the right place. The bohemian medallion pendant child is the ideal jewel. This pendant is surrounded by small beads all around the medal. Moreover, the medallion is personalized. Thanks to this jewel, you are sure to please the one who receives this gift!
Moreover, it is the ideal gift for St. Nicholas's Day, finally only for wise children of course. Come and visit our blog for more St. Nicholas' Day gift ideas.
The gift to be personalized according to your tastes
It is obvious that a personalized piece of jewelry is a very personal gift. So why hesitate? The bohemian medallion pendant child is personalized. Think about engraving a unique moment of the child's life so that he can keep this memory throughout his life. This is why you can discover the different typographies on our site, so that your engraving corresponds as much as possible to your expectations.
Take a look at our other pendants for kids. What's more, the pendant can be worn with one of our children's chains that we offer.
An ancestral know-how in Art'emi jewelry
Not only the Art'emi jewelry store offers you jewels all as much brighter and more magnificent as each other, but the jeweler makes her jewels with the greatest care and especially with an ancestral method. Thus, the jewels are authentic and realized with passion. Moreover, Art'emi uses exceptional materials. The manufacture of this bohemian medallion child pendant is made of solid silver, which confers to the jewel resistance and solidity. The ideal for little monsters!
In addition, all our children pendants are made of solid silver to guarantee an irreproachable quality.
In order to maintain the brilliance of this pendant, we invite you to come and discover our blog on "how to clean your silver jewel".
Do you have any questions? You hesitated between several jewels and wish to be pointed? The Art'emi team is here! Contact us by mail or by phone and we will be ready to help you in your search.
Specific References
ean13

5436549391968

upc

547601896026