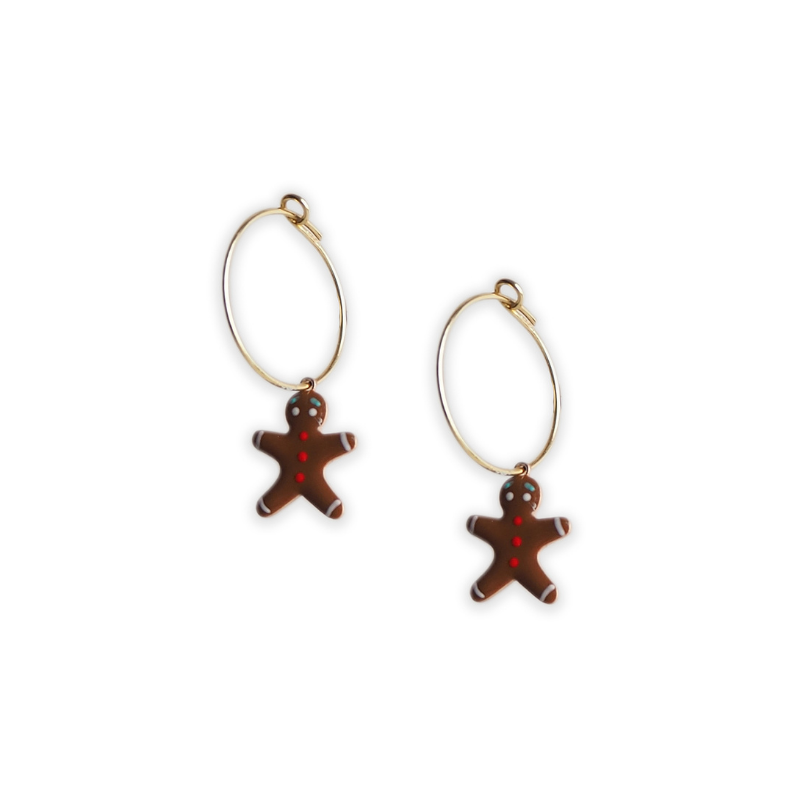  
Creole gingerbread earrings in women's enamel
18kt yellow gold plate
Diameter earrings: 18mm
Double-sided gingerbread pendant in brown enamel
Pendant dimension: 15mm X 12mm
Earring length: 33mm
Free shipping - Ships within 24-48 hours
General conditions of Sales
Delivery policy
Returns policy
What's new at Christmas: Creole gingerbread earrings
It is with the greatest pleasure that we have released our new collection of Creole earrings for women on the theme of the end of the year holidays. We are going to introduce you to a novelty in particular which is the pair of Creole loops gingerbread enamel. Original, they will go perfectly with your outfit for the holidays whether it is golden, silver, colorful or neutral. These creoles solid silver rhodier black, which are associated with its double-sided Christmas reindeer pendant in red enamel, makes this earring of impeccable quality.
You can find on our website this fancy earring declined in several colors as well as with different charms. You have something for everyone, an ideal gift for all occasions! If you want to go take a look, click here.
Solid silver jewelry 925
The quality of the jewelry is the main priority for Art'émi. We therefore make sure to offer the best products to our customers. Art'emi makes its jewelry with 92.5 % sterling silver which can also be covered with yellow gold plated, rose gold plated or vermeil depending on the model. As well as 7.5 % copper. Silver is one of the precious metals frequently used for its quality and strength. Indeed, the enamel is resistant to water, scratches, does not oxidize and is very easy to clean. This allows your jewel to remain like new for many years in your jewelry box.
Jewelry is often associated with semi-precious stones, such as rose quartz, mother-of-pearl, turquoise, coral as well as black agate. If you want to learn more about the materials used and the precious stones, we invite you to click here.
Finally, we offer you a service to repair and clean your jewelry to give them a second life. Art'emi will take care of it that there are precious stones such as emerald, sapphire, a diamond, white crystal, rhinestones, amethyst or a ruby. To learn more, click on the topic how to repair enlarge and clean.
Find the perfect pairing to bring out your Creole gingerbread enamel curls
To best showcase your original silver earrings, we offer timeless jewelry suggestions.
In order to have the complete adornment, we offer the silver gingerbread necklace. Composed of a black rhodium-plated ball chain and a reindeer pendant, it will pair perfectly with your pair of female earrings.
While remaining in the theme of the end-of-year celebrations. You can add a bohemian style, by pairing your hanging earrings with the liberty wide star bracelet. Its star-shaped charm will blend perfectly with your party look. In addition, thanks to its adjustable and adjustable cord, it will sublimate your wrist accompanied by a watch.
Then to add a touch of softness to your look, the silver charm ring clover mother-of-pearl is perfect. This jewel, worthy of a great jewelry, will fit perfectly into your jewelry box.
Engraving, a passion for Art'emi
Engraving is a passion for Art'emi that she transmits through the quality of her creations. Many jewels are customizable. Discover our range of ring, ring, necklace, bracelet, necklace, whether in gold or rhodium-plated silver.
In addition, engraving is completely free ! So, do not hesitate to offer the ideal gift to a loved one! If you want to know more about our engraving ideas for women, men, children or couples, we invite you to click here.
We recommend the cloud bracelet to engrave. This jewel, soft and sophisticated, will sublimate the wrist of the little ones with class and finesse. In addition, the finesse of the chain makes this jewel very easy to wear for children and very elegant. Especially since this bracelet is made of silver, a timeless material and a sign of quality. It will go perfectly with the shooting star girl necklace!
Questions about our jewelry
Whatever your type of jewel as original as it is, set frame or necklace, first name, gemstone, semi-precious or fine stone, contact our jewelry store. We remain at your disposal to help you make your choice among our wide range of jewelry We have something for everyone, for men, for children and even teenagers. You can also ask for advice at our jewelry store to find the ideal birthday, wedding, engagement or baptism jewelry.