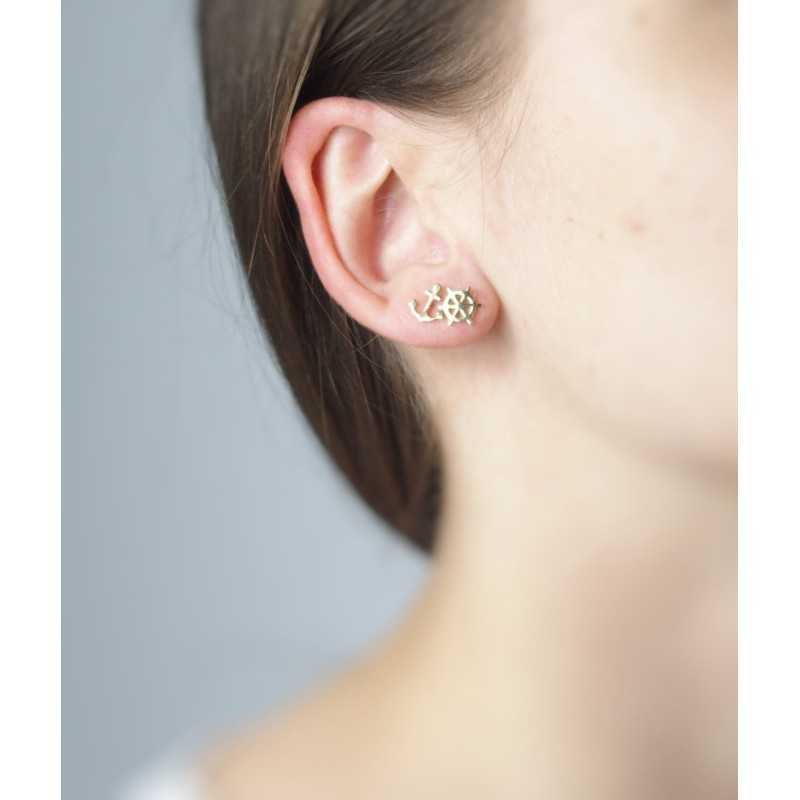  
Rudder anchor earrings
Massive silver 925
18-carat gold plated
Symbols: rudder and anchor
Rudder
Size: 8 mm
Weight: 0.5g
Anchor
Size: 7x7.5 mm
Weight: 0.4g
Free shipping - Ships within 24 hours
Privacy - Security Policy
your personal data
Delivery policy
Everything you need to know about delivery
Return policy
Everything you need to know about the return
Rudder anchor earrings : a maritime pair
Perfectly suited for a refined summer look, choose this pair of rudder and anchor earrings. Indeed, they are certainly very discreet but remain the little touch that will dress your outfit. Practical and easy to wear at all times, you will never leave them behind ! They will easily suit women who do not tolerate earrings that are too bright, long and flexible. So, ladies, cast off, stay on course and opt for this adorable jewel !
Quality, the watchword at art'emi
The art'emi jewelry store offers you quality jewelry made from exceptional materials. Here, the rudder and anchor earrings are made from 925 silver (also called sterling silver - fine silver - solid silver). This type of silver has 92.5% silver and 7.5% copper. Indeed, it is known that pure silver is very malleable. It is this silver/copper mixture that gives the material the strength needed to make these buckles. All our silver jewelry bears the "925" hallmark as a sign of quality.
However, a vermeil variant also exists. This is 925 silver that has been plated with gold with a minimum thickness of 3 microns. The gold used for plating is 18-carat gold, consisting of at least 75% pure gold. Moreover, vermeil does not give an allergy since it is silver covered with gold, two anallergic metals! In addition, the vermeil is exceptionally resistant. If that's not a sign !
The rudder and anchor earrings woman: to board !
Discreet and subtle, they are THE pair of the summer. Evocative of the afternoons spent by the sea, the anchor rudder earrings will immerse you in wonderful maritime daydreams! In addition, you can have all art'emi creations delivered free of charge and those, anywhere in the world. Finally, we remain at your entire disposal to answer all your questions. The happy family art'emi awaits you.
For a real sailor look, pair these earrings with the sailor's bracelet.
Specific References
ean13

5442425452951

upc

544242551701