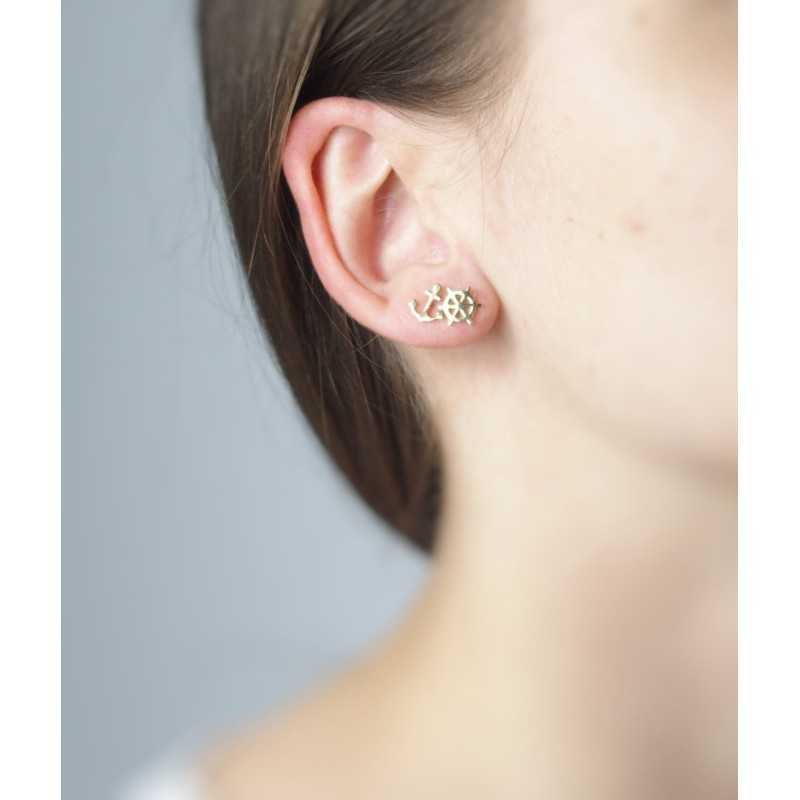  
Rudder anchor earrings
Solid silver 925
18-carat gold plated
Symbols: rudder & anchor
Rudder
Dimension: 8 mm
Weight: 0.5 g
Anchor
Dimension: 7x7.5 mm
Weight: 0.4 g
Free Shipping - Ships within 24-48 hours
General conditions of Sales
Delivery policy
Returns policy
Anchor rudder earrings: a maritime pair
Perfectly suitable for a worked summer look, choose this pair of anchor and rudder earrings for women. Indeed, they are very discreet but remain the little touch that will dress your outfit. Practical and easy to wear and that for all occasions, your jewelry box will claim them from you! They will be suitable without problem for women who do not support earrings that are too showy, long or Creole. So ladies, drop the moorings, stay the course and opt for this adorable costume jewel for women!
This jewel blends perfectly with gold, the brilliance of rhinestones, diamonds, white gold, rose gold and yellow gold! Everything fits with this sumptuous jewel for women.
A friend who is a fan of the sea? Wouldn't that be an ideal gift idea? Go for this pair of women's earrings as the perfect gift to give. You are sure to please. If you want more perfect gift ideas, read our blog post on bridesmaid gift ideas for example!
Quality, the watchword at art'emi
The art'emi jewelry store offers quality jewelry made from exceptional materials. Here, the rudder and anchor earrings are made from sterling silver. This type of silver has 92.5% silver as well as 7.5% copper. Indeed, it is known that pure money is very malleable. It is this silver / copper mixture that gives the material the robustness necessary to make these buckles. All our silver jewelry bears the hallmark "925" as a sign of quality.
However, a variant in vermeil also exists. This is solid gold-plated silver with a minimum thickness of 3 microns. The gold used for plating is 18-carat gold, consisting of at least 75% pure gold. In addition, vermeil does not give an allergy since it is silver covered with gold, two anallergic metals! In addition, vermeil is exceptionally resistant.
Art'emi uses many precious metals and precious stones. Because of this, find jewelry set with semi-precious stones such as mother-of-pearl, turquoise, coral, agate, tourmaline and quartz. Colorful stones ideal for summer to wear on your wrist or around your neck!
Do not forget the collection of jewelry for men and children. You will find jewelry for the whole family.
The rudder earrings anchor woman: at the collision!
Discreet and subtle, they are THE pair of summer. Evocative of the afternoons spent by the sea, the anchor rudder earrings will immerse you in wonderful maritime reveries! Choose this timeless jewel that you can wear endlessly. In addition, you can have all the creations delivered to you art'emi free of charge. Finally, we remain at your disposal to answer all your questions.
For a real sailor's look, pair and make an adornment with the earrings with the sailor bracelet and the silver pearl necklace.
You want a silver look, opt for a silver ring, a silver mesh gourmette, a silver bracelet, a silver rush bracelet and a silver pendant necklace! Very trendy. And if you prefer the mixture of gold and silver jewelry, dare the whole with a gold necklace. Find all our costume jewelry, classic and for you women by clicking here. You will find earrings for all tastes: pendants, creoles, discreet, etc.
Specific References
ean13

5440857159288

upc

543656969265