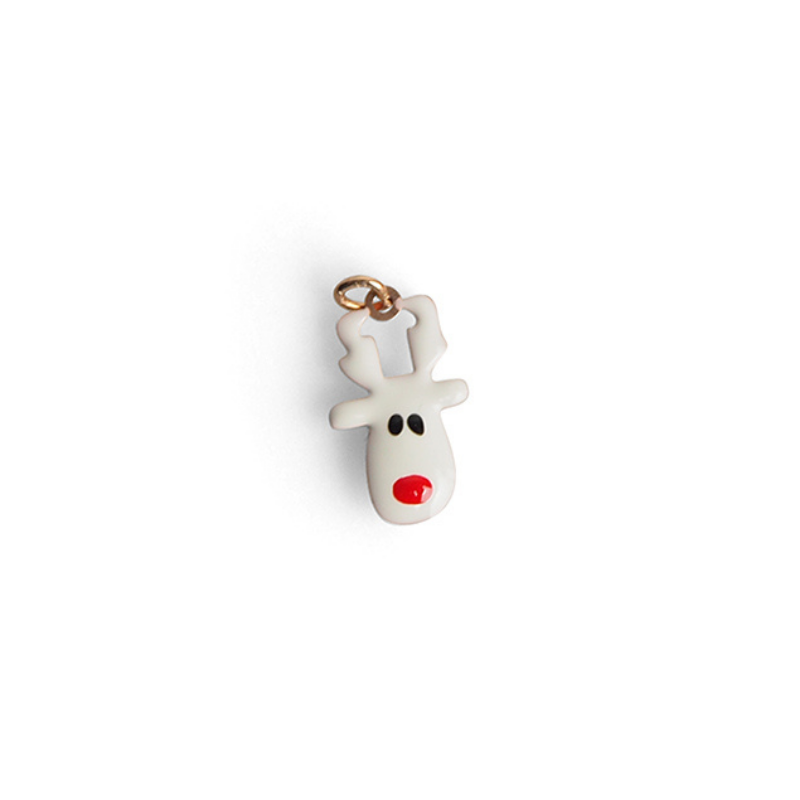  
Teenage pendant head Christmas reindeer solid silver 925
Solid Silver 925
White enamel Christmas reindeer head pendant
Pendant dimension: 16mm x 9mm
Free shipping - Ships within 24-48 hours
General conditions of Sales
Delivery policy
Returns policy
The novelty of the holidays: the adolescent pendant head reindeer
We have found the perfect gift for your holiday season. Indeed, to finish this beautiful year in style, we have designed a collection on the theme of Christmas to please your children. So we will present you our costume jewel: the adolescent pendant head reindeer. Original and discreet, this pendant will inevitably find its place under the Christmas tree for the holidays. This charm will add a festive touch to your look whether it is golden, colorful, silver or neutral. So go for it, we've found you the best gift idea!
In addition, if you have cracked on this jewel, it is available with different charms and different colors. Visit our online jewelry store to discover them!
Art'emi promise you exceptional quality
Our jewelry brings great importance to the quality of the materials selected. We mainly use precious metals like solid silver 925, 18 carat gold as well as 18 carat rose gold. At Art'emi, silver is composed of 92.5 % sterling silver and 7.5 % copper. This alloy makes the jewel resistant and antioxidant in order to make it last over time. Our beautiful pendant is made of solid silver 925 covered with white enamel with small red and black details.
In addition, to bring a luxurious touch to our jewelry, we use semi-precious stones and fine stones such as : coral, mother-of-pearl, rose quartz, turquoise, black agate, moonstone and pink tourmaline.
If you want to know more about the materials used, we invite you to click here!
What to wear your teenage reindeer head pendant with?
Your pendant will be even prettier to combine with other jewelry to highlight it. That's why we have designed a small selection just for you.
First of all, to stay in the theme of the holidays, we offer you the star silver necklace. This timeless and discreet jewel is an essential to have in your jewelry box. With its minimalist charm, this necklace will match as much with festive outfits as with simple outfits. So, let yourself be tempted by this magnificent necklace!
Then, to add a colorful touch to your style, we recommend the macramé bracelet. This adjustable cotton bracelet will suit all young ladies and will highlight your wrist with finesse. Available in 9 colors, you will inevitably find your happiness.
Personalize your jewelry
Our jewelry store is specialized in the engraving of jewelry. You can engrave earrings, bracelets, necklaces, rings, pendants, rushes or signets. Offering a personalized jewel is the ideal gift whether for women, men or children. Indeed, it makes the jewel unique in the world and original. In addition, you can have what you want engraved according to your personality.
In addition, thanks to its unique know-how, Art'emi will be able to engrave your most precious jewels containing precious stones such as diamond, crystal, sapphire, ruby or emerald.
To finish in style, Art'emi jewelry is customizable for free! So, go for it and treat yourself, especially to your loved ones! If you want to learn more about engraving, we invite you to visit our blog by clicking here !
Questions for your jeweler?
We will gladly answer your questions about our different jewelry collections whether it is a silver chain, a silver bracelet, a gourmette, a gold pendant, a gold necklace or a leather bracelet for women, men and children. Wearing jewelry allows you to reveal your style and your personality, they are real fashion accessories! So, fall for our timeless jewelry and accessories that will accompany for all occasions!
We look forward to your order that we will deliver to you in a beautiful setting!