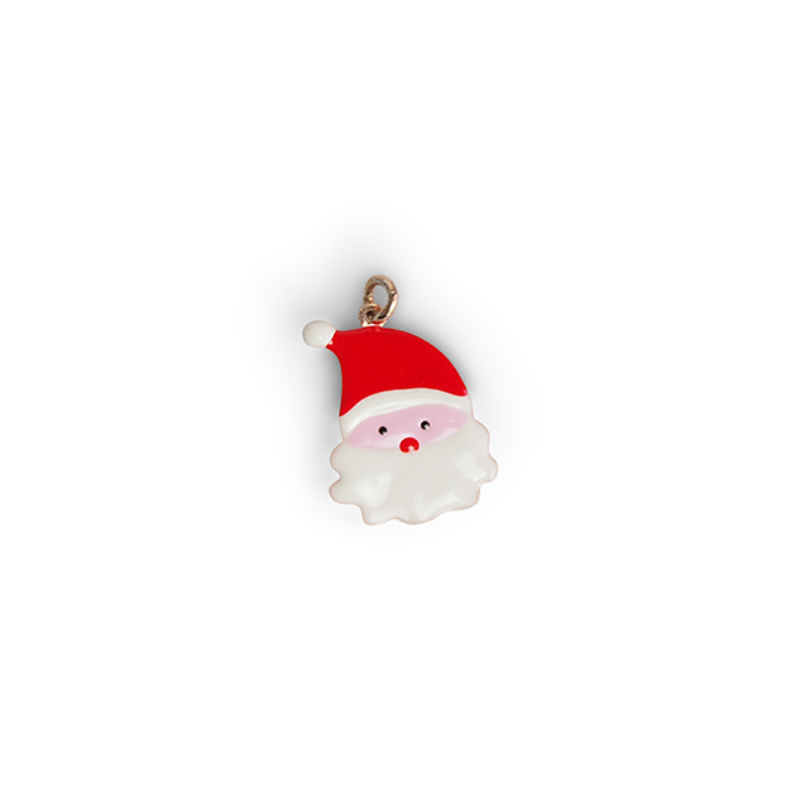  
Pendant Santa Claus teen solid silver 925
Solid Silver 925
Santa Claus pendant in red and white enamel
Pendant dimension: 11mm x 15mm
Free shipping - Ships within 24-48 hours
General conditions of Sales
Delivery policy
Returns policy
Our teen Santa Claus pendant
Your jewelry store offers art'emi a beautiful teen Santa Claus pendant . This jewel is indeed an ideal gift idea to offer to your children. This jewel offers a subtle blend between extravagance and elegance. The charm is also timeless and original, perfect to delight your daughters' jewelry box . Thus, other two-tone jewelry, gold or silver will go very well with this singular charm . This jewel will please your daughter, thus offering her an unparalleled attraction. This one will undoubtedly be the absolute gift to offer and that will please your child.
A manufacture from precious materials for this teen Santa Claus pendant
Art'emi, jewelry craftsman, makes his jewelry from a unique know-how with precious materials. The hanging charm is depicted by its Santa Claus shape accompanied by a solid silver alloy. This material has the particularity of resisting different shocks and scratches while being stainless. In addition to solid silver, the pendant is characterized by a unique adornment in red and white enamel . Enamel is an element that resists different temperature variations, sea salt or chlorine in swimming pools. This jewel is in short of an incredible quality and results from an incomparable design.
We also highlight a collection of neck chains with which you can insert the charm. We have the silver ball chain, the diamond convict chain, the gourmet mesh chain or the Venetian mesh chain. These will accompany all outfits in your wardrobe. We also have the Santa Claus necklace with black rhodium-plated ball chain. Rhodier a jewel is a process that allows the jewel to last over time. Thus, the necklace remains shiny with a new look longer and maintenance-free.
Our amazing jewelry collection
The art'emi jewelry store offers a large selection of bohemian or cabochon jewelry to accompany your pendant. Our jewelry consists of a wide range of necklaces, necklaces flush with the neck, necklaces, pearl necklaces and lacquered necklaces. Other charms are also available to vary your pleasures. Perfect to accompany this with a thin necklace or a long necklace. Many of our pendants are available in silver or yellow gold plated or 18k rose gold.
Also opt for a large selection of bracelets. We offer leather straps, with silver chain, solid silver gourmet bracelets. We also have our open rigid bracelets or closed rush silver or 18 carat yellow gold plated.
Our collection of semi-precious stones will also captivate you. Discover our beautiful jewels decorated with these stones. So we have rose quartz, black agate, tiger's eye, turquoise, tourmaline or red coral . We also have jewelry with mother-of-pearl, a sublime material harvested from shells.
For more fantasies, customize your jewel
Fancy a great gift idea for a loved one's birthday, a baptism, a bridesmaid's gift or an engagement? The time is therefore no longer for reflection, but to engrave a jewel. Art'emi is committed to offering you the engraving that suits you thanks to its workshop located in Brussels. With a choice of different typographies, twenty-five characters maximum and much more, you have an infinite choice. Earrings, creoles, rings, signets, bracelets, gourmettes, medallions or pendants are customizable. Your accessories such as cufflinks, tie clips or brooches are engravable. You have an endless choice of engraving, seasonal themes, your zodiac sign and many more. Join the ranks of engraving now! Also benefit from free engraving and shipping.
Finally, you can entrust your own jewelry, even the most valuable for an engraving. Thus, your jewelry decorated with precious stones such as ruby, sapphire, emerald, opal or diamond. You can trust art'emi with her eyes closed, she will know how to take care of your jewelry.
Discover much more on our website!
Thus, discover our wide ethnic range for men, women and children. All occasions are good to offer a nice present to someone who matters to you. Your gift, no matter which one, will have sentimental value for the one to whom you offer it. If you have any questions go to our section. For all the gift ideas, go to our blog. Thus, you now know everything to place your order as soon as possible on our site.