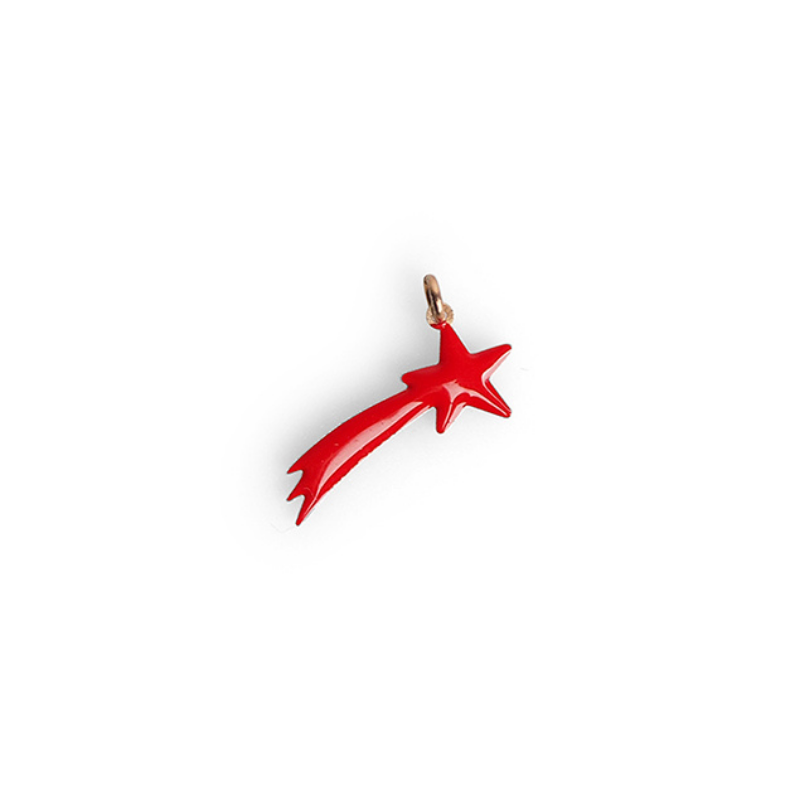  
Solid silver teenage shooting star pendant
Solid Silver 925
Shooting star pendant in white enamel
Pendant dimension: 16mm x 9mm
Free shipping - Ships within 24-48 hours
General conditions of Sales
Delivery policy
Returns policy
The perfect jewel for the holidays: the teenage shooting star pendant
Art'emi always think of you to please yourself during the end of the year holidays. That's why your jeweler has released a jewelry collection for Christmas. So we present our novelty : the teenage shooting star pendant ! Perfect for young girls who want to complete their jewelry box. This costume jewel will match every look, whether golden, silver, neutral or colorful.
In addition, we offer pendants with different charms to vary the styles. So, come and discover them by clicking here !
Discover the materials of our jewelry
Our online jewelry store offers you only authentic jewelry made with high-end materials. Our beautiful fancy pendant in solid silver 925 is covered with red enamel. The enamel makes it possible to give this magnificent red color to the pendant. Jewelry is mainly made with silver, as it is a very resistant metal. To make the jewel last over time, we use 92.5 % sterling silver and 7.5 % copper. The alloy of these two metals makes the jewel very resistant to keep it as new for many years.
Then, our jeweler also uses other precious metals such as 18-carat yellow gold, 18-carat rose gold and vermeil. In addition, we also use a lot of fine stones and semi-precious stones such as : turquoise, black agate, mother-of-pearl, rose quartz, pink tourmaline, moonstone and coral.
We strongly invite you to visit our website to discover all our materials by clicking here !
How to pair your teenage shooting star pendant?
Is your teenager becoming a jewelry fan like you? We have found the ideal jewelry for you!
First of all, to highlight the pendant, we offer you the gourmet silver chain. Elegant and refined, her jumping style will perfectly sublimate the outfit of all young girls for all occasions. With its minimalist style, it will go perfectly with all the pendants in your jewelry box.
Then, to add a touch of femininity to the young ladies we offer you the customizable round medal ring. Discreet, this silver ring will add a touch of elegance and make your outfit shine with finesse. So, do not hesitate, if you are looking for the perfect gift idea for child, for woman or for man, we have found it!
Personalize your jewelry
Our jewelry is specialized in jewelry engraving. We use techniques worthy of the greatest jewelers. We engrave all types of jewelry such as rings, necklaces, bracelets, rushes, signets, pendants, medals as well as earrings. You can engrave a word, a phrase, a symbol that is dear to you. Offering a gold or silver jewel makes it unique, original while remaining timeless to be able to wear it for all occasions.
In addition, thanks to his talent and know-how, you can entrust him with your most precious jewels containing precious stones such as sapphire, ruby, emerald or a ring set with diamonds or crystals.
So, do not hesitate to offer the ideal gift for the birthday of your loved ones or for yourself! If you want to know more about our engravings, we invite you to consult our blog article by clicking here!
Questions about our jewelry?
Your Brussels designer will be happy to advise you on her various jewelry collections. Whether it is gold earrings, a rush, a leather strap, a cuff, a silver bracelet, a gold pendant, a silver necklace or for a silver chain for children, for women or for men.
So, do not hesitate to discover all our jewelry and accessories collections. We look forward to your order that we will deliver to you in a beautiful setting.