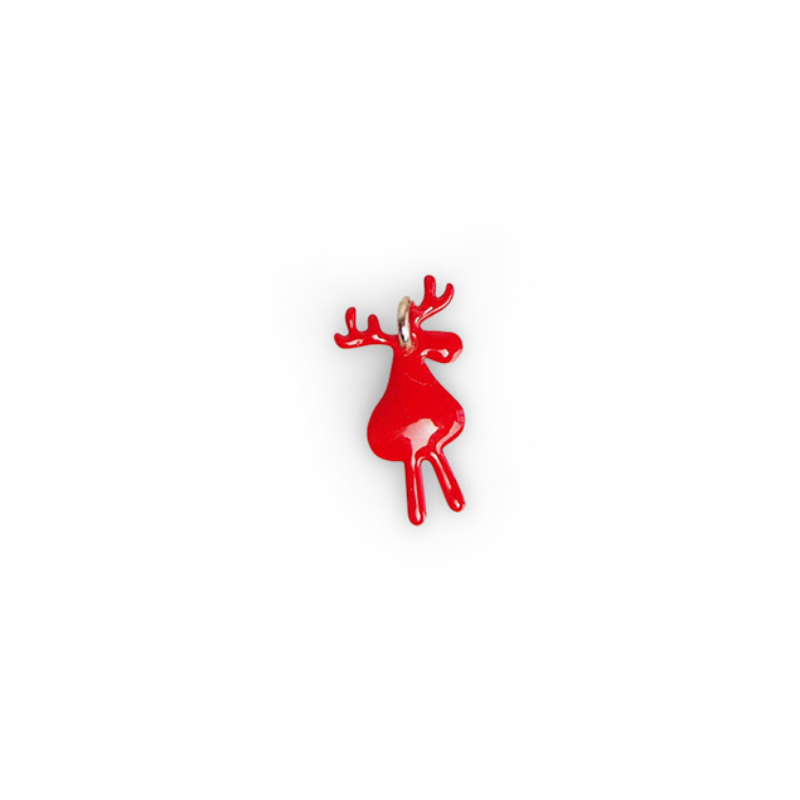  
Women's solid silver Christmas reindeer pendant
Solid Silver 925
Double-sided Christmas reindeer pendant in red enamel
Pendant dimension: 16mm x 8mm
Free shipping - Ships within 24-48 hours
General conditions of Sales
Delivery policy
Returns policy
A collection dedicated to Christmas celebrations with the silver Christmas reindeer pendant
This year, art'emi offers a collection of jewelry in the theme of the Christmas holidays. So dare for the silver Christmas reindeer pendant. This beautiful jewel is the very embodiment of Christmas and the winter season. The pendant is the very prototype of the ideal gift to give to one of your loved ones. This charm combines extravagance and discretion thanks to its finesse for your future evening outfits.
In addition, the charm is characterized by its charm and brilliance due to its white red and black enamel. Its original shape allows you to have a chic appearance as well as fantasy for your holiday season. This charm set with enamel will complete your jewelry box and give meaning in this contextual period.
Solid silver, a material that remains loyal to you
Solid silver is demonstrated by its great resistance over time. The charm therefore consists of solid silver with a copper alliance. This makes it easier to work with the material. So your jewel will resist shocks and scratches while making it stainless.
The incredible resistance of enamel, silver Christmas reindeer pendant
The silver Christmas reindeer pendant consists of an enamel ornament. Thus, temperature variations, salt water and chemicals will not cause any harm to your pendant. This woman's jewel will have incredible resistance throughout where you wear it.
What are the jewels that go best with the silver Christmas reindeer pendant?
You have a wide choice in our range of fancy necklaces that will make you glamorous like never before. You can choose our Christmas reindeer head necklace with a black rhodium-plated ball chain. Maybe you prefer our collection of necklaces flush with the neck, necklaces, or pearl necklaces. Come and visit our collection of necklaces with forced or mesh chains here. Dare between extravagance and discretion in our wide range of women's jewelry. Find your pleasure now and reveal your femininity by sublimating your cleavage.
Also come and treat yourself by accompanying your wrist with our range of beautiful bracelets. Thus, our chain or fabric bracelets with an oval medal or round medallion will blend perfectly with your charm. We also have a beautiful women's double butterfly bracelet that will make all ladies sublime. If you want to shine, discover our bracelets rigid rush, solid silver and vermeil plated yellow gold 18 carats.
As you can see, the jewelry store art'emi offers a wide choice of rhodium-plated jewelry. Fall under the spell of our Creole earrings Christmas reins head in solid silver rhodier black pendant. Discover our collection of Creole earrings in pink or vermeil plated yellow gold 18 carat on our site.
Finally, discover all our women's rings . Whether it is made of simple silver or set with semi-precious stones. You will be the icon of extravagance and elegance. Succumb to a fancy ring with rose quartz or set with a black agate.
Your outfit, a simple choice!
It's time to spend a long time in your wardrobe to tune your pendant. Rest assured, it will not be difficult because of the dominant neutral colors of the charm. Indeed, a white outfit blends perfectly with the charm and will bring out the touches of red and black. A black outfit will bring out the shiny enamel of white or opt for any color again. You can vary the pleasures and have an infinite choice of outfits.
Discover our wide range of precious jewelry
Our jewelry collection consists of beautiful bohemian jewelry and chic cabochon. So you can find the semi-precious stone that suits you best. You are discreet like rose quartz, deep and mysterious like black agate or vivid as red coral. Moonstone or mother-of-pearl will be perfect for a gentle and tender person. Also discover our other stones like tiger's eye, turquoise, tourmaline. Reveal yourself with mother-of-pearl, a magnificent material taken from shells. Discover the meaning of these stones on our section dedicated to them.
Our customizable engravings
An event is fast approaching and you don't have a gift idea? Engraving will allow you to make your jewel unique and sentimental. Thus, an adornment for a birthday or a bridesmaid gift for an engagement will be the ideal gift.
Taking care of your jewelry
Our jewelry store gives you several tips to make your jewelry feel good. Restore a new condition to your silver jewelry as well as your gold jewelry with inexpensive and effective ingredients.
Additional information
Your jewelry store art'emi offers you a wide choice of jewelry for men, women and even children. Discover our ranges of necklaces, bracelets, pendants, earrings, gourmettes and even cufflinks. Discover all our collection of timeless accessories.
Specific references
UPC

543545121446

EAN-13

5484401700687