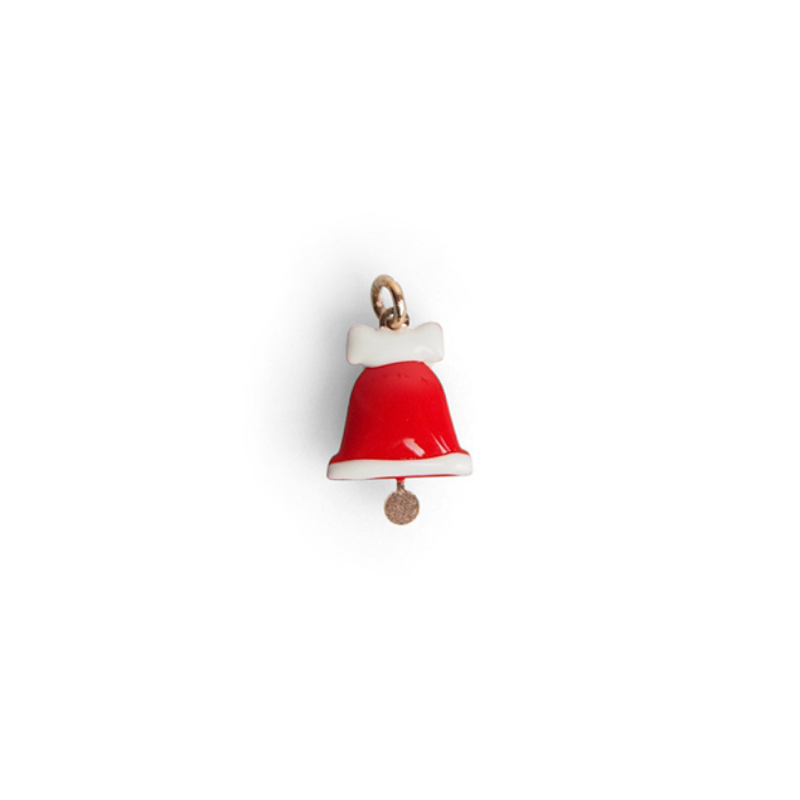  
Christmas bell pendant solid silver woman
Solid Silver 925
Christmas bell pendant in red and white enamel
Pendant dimension: 9mm x 14mm
Free shipping - Ships within 24-48 hours
General conditions of Sales
Delivery policy
Returns policy
Discover our beautiful Christmas bell pendant
Our jewelry has created a jewelry collection especially for the end of the year holidays. To finish this beautiful year in style, let us present our novelty : the beautiful Christmas bell pendant. This costume jewel is perfect to offer the ideal gift to a loved one or to please yourself. With its bell shape and red and white colors, it will elegantly recall the end of the year celebrations.
Ideal for the holidays, but also for all the occasions of the year, it will never leave you and will become your essential to have in its jewelry box. These colors will blend with all the outfits in your wardrobe, whether golden, silver, neutral or colorful.
To best meet the tastes of our customers, we have declined this pendant in different colors and shapes. If you want to discover them, we invite you to click right here !
The materials used by our jewelry store
Offering quality jewelry is a priority for us. That's why we create each jewel with meticulousness and delicacy in order to offer a high-end quality, with exceptional materials. Our jewelry uses precious metals such as silver, rose gold as well as 18-carat yellow gold. As well as fine or semi-precious stones such as : turquoise, coral, black agate, pink tourmaline, mother-of-pearl and rose quartz.
We make the majority of our jewelry with 925 solid silver at 92.5 % and copper at 7.5 %. The alloy of these two precious metals, makes it possible to make the jewel stainless and more resistant so that it lasts over time.
We make our beautiful pendant in sterling silver and red and white enamel. Enamel is a very interesting material, because it helps protect the jewel, while bringing these warm colors that are highly sought after.
If you would like to learn more about the materials used, we invite you to click here.
Find the perfect set to pair your Christmas bell pendant
To make your Christmas bell pendant stand out at best, we offer jewelry ideas to get a harmonious set.
First of all, in order to hang your pendant the diamond convict chain silver woman is the perfect necklace. Refined, elegant and glamorous, it will highlight your magnificent pendant. Thanks to its jumping style, it will sublimate your neckline wonderfully by bringing out your delicate personality. This will marry as much with a golden charm as silver.
Then to add a colorful touch to your look, the dropstone round earrings are for you! Made of 18k rose gold plated with sparkling gemstones like pink tourmaline, cat's eye and moonstone, these feminine earrings will perfectly enhance your look. Add this sumptuous pair of hanging earrings to your jewelry collection, you won't be disappointed!
Our engraving workshop
Art'emi has an incredible and authentic know-how in engraving and jewelry creation. Many jewels are customizable such as rings, medals, necklaces, bracelets, rushes, signets. Customizing your jewel makes it unique, original by bringing a sentimental touch. You can engrave a word, a sentence, a number, a symbol that is important to you.
Artemi engraves all types of jewelry with finesse, even the most delicate decorated with precious stones such as diamonds, sapphire, ruby, emerald or crystal.
To finish in style, customization is completely free ! So, do not hesitate to find the ideal gift by clicking here !
Questions about our jewelry?
It is with great pleasure that we will answer questions about our jewelry and accessory collections. Whether on a silver pendant, a silver ring, a ring or on a gold jewel for men, women and children, Artemi himself will be happy to advise you. Each jewel is timeless and ideal to offer during a birthday gift or for an engagement.
In addition, shipping is completely free ! We are therefore looking forward to your order which we deliver to you in a beautiful setting.