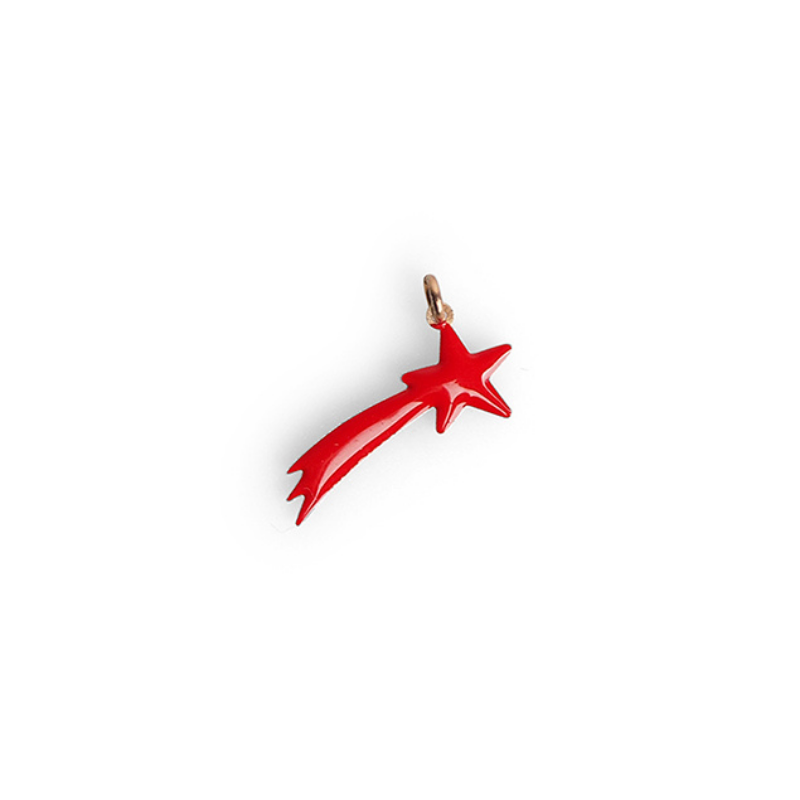  
Solid silver shooting star pendant 925 woman
Solid Silver 925
Double-sided shooting star pendant in red enamel
Pendant dimension: 20mm x 9.5mm
Free shipping - Ships within 24-48 hours
General conditions of Sales
Delivery policy
Returns policy
The enamel shooting star pendant, the Christmas must-see
Nothing is more beautiful than the magic of Christmas don't you think? The jewelry store art'emi offers a novelty, a collection of costume jewelry for Christmas. This star shooting email pendant that you can accompany with Creole earrings is the ideal jewel of Christmas. Indeed, the shooting star is the very synonym of the Christmas spirit. Naturally, nothing better then to offer this charm for the end of the year holidays. In addition, this pendant can sublimate your neck circumference.
In addition, the hanging enamel charm of a red color fits perfectly with the Christmas theme. This charm pendant will perfectly bring out other jewelry from our timeless collection of women's jewelry. This lucky charm will bring you discretion while enjoying the touch of bright red giving shine to your chain necklace.
Enamel, a precious and resistant material
Indeed, enamel is an essential material in the collection of silver metal jewelry from art'emi. In addition, it is characterized by its great resistance as well as its finesse, giving it a glamorous and chic character. Temperature variations or salt are ineffective in the face of its coating to make the pendant last. In short, the charm will keep its color intact. The design of this women's jewel is also designed with solid silver. Indeed, these precious materials allow it to resist water or scratches for example.
If you pass by and prefer semi-precious stones, this is your lucky day! indeed, art'emi offers beautiful bohemian jewelry. Designed from rose quartz, turquoise, amethyst, coral, eye, tiger, mother-of-pearl or tourmaline. If you want more information on all the semi-precious stones set in our jewelry, do not hesitate to consult our section.
How to match your outfits with the red enamel shooting star pendant?
First ladies, go into your wardrobe and opt for a red set, it will marry with the pendant. Secondly, you can opt for a white outfit, this will bring out the pendant. Finally, a black outfit will also be very good and will also support the fantasy and bright red of the pendant. In short, your femininity will be highlighted. You have endless possibilities!
With what other jewels can you match the shooting star pendant?
First of all, there are several models of jewelry, which can be combined with the shooting star pendant. First find the Creole earrings shooting star. In addition, you can find these earrings in two different colors, one in vermeil (gold) and the other in 18 kt rose gold. You can also match your shooting star neck circumference with a silver rush.
Sublimate your neckline with a necklace around the neck, we offer the shooting star necklace composed of a black rhodium-plated ball chain, also opt for a pearl necklace, a necklace flush with the neck or a necklace. The pendant, worn on a mesh necklace or on earrings will go perfectly with our other jewelry. For example, the black rhodium-plated ball chain can be worn very well with the black and silver agate ring or the silver domed wide ring. To discover all the ring models, click here. Discover also our entire collection of bracelets. There are silver, vermeil plated yellow gold, with medal, medallion or a double butterfly bracelet woman. So you have everything to accessorize and thus complete your jewelry box.
Do not hesitate to personalize your jewelry!
Art'emi offers a wide choice in the customization of your jewelry. Indeed, we put at your disposal a choice of seven typographies, three shapes and twenty-five characters maximum. This makes it possible to give your jewel a unique adornment and a sentimental value. So you can adopt an engraving that will symbolize something strong to one of your loved ones. You can also engrave your love for your engagement. You can also offer a first name necklace for a birthday for example. In short, engraving is an ideal gift idea to offer to one of your loved ones.
Want to give your jewelry a makeover?
For jewelry Art'emi, the finishing of a jewel is an important point. That's why we provide you with simple tips. To keep your jewelry in good condition. For more information on our tips, click here for your silver jewelry and click there for the gold ones.
Do you want more information aboutart'emi values?
If you want to know more about our values,our history or the know-how of jewelry art'emi do not hesitate to go and see on our online sales site. Your artisan jeweler offers a range of jewelry at low prices. Our ethnic collection of women's jewelry, for men and for children. So find our rings, our necklaces, our cufflinks or our range of gourmettes with forced chain, cotton cord or mesh. Finally, if you souha
Specific references
UPC

549432574197

EAN-13

5461524055542