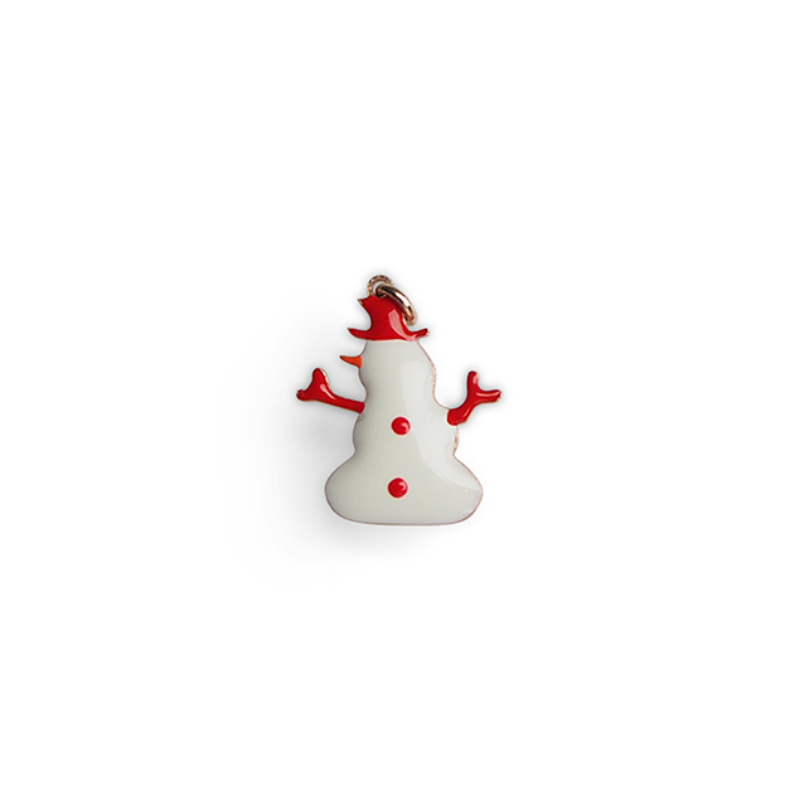  
Snowman pendant solid silver woman
Solid Silver 925
Double-sided white enamel snowman pendant
Pendant dimension: 13.55mm x 16.5mm
Free shipping - Ships within 24-48 hours
General conditions of Sales
Delivery policy
Returns policy
The new collection is here with the snowman pendant
Art'emi, your artisan jeweler offers this year a collection of jewelry for the winter season. Your preference will turn for this beautiful jewel pendant snowman. The icon embodied by this jewel perfectly represents the contextual period and is an ideal gift to offer. This charm allows you to give extravagance to your evening wear. The pendant also remains discreet because of its small size and finesse.
In addition, the charm is characterized by a brilliance thanks to its white and red enamel. The composition that combines silver and enamel will give you a chic appearance. It will also give you extravagance by its original form to magnify your end-of-year celebrations. This charm will perfectly complement your jewelry box.
Resistant materials
First, the quality of materials is a key issue for art'emi, they are characterized by great resistance. The pendant, made of solid silver, is formidable against everyday shocks, scratches and is stainless. The charm consists of an enamel adornment. In short, temperature variations or salt will not damage your pendant. In addition, this women's jewel will be incredibly resistant in your daily life.
How to match this snowman pendant with other jewelry?
The art'emi jewelry store offers different types of rhodium-plated jewelry. We first offer our earrings. So opt for our Creole snowman dangling earrings available in 18 carat yellow gold vermeil. Discover all our earrings in silver or rose gold plated on our website.
Do not hesitate to discover all our women's rings . Discover all our simple silver rings or set with semi-precious stones such as black agate or rose quartz.
Also discover our bracelets to marry your wrist and accompany your snowman pendant. You have a wide range of choices. So you have our silver ring bracelets in solid silver and yellow gold plated vermeil 18 kt. There are also bracelets in chain, fabric with medal or medallion or leather. Also fall in love with our beautiful double butterfly bracelet for women. Thus, your choice depends only on you ladies.
Also opt for our wide range of necklaces that combine glamour and fantasy. You can choose our snowman necklace with a black rhodium-plated ball chain. Maybe you would be more sensitive to our necklaces, necklaces, pearl necklaces. Come visit our collection of necklaces here. With this large selection of jewelry, you can dare extravagance or discretion, the choice is yours!
What outfit to adopt with all these beautiful jewels?
It's time to throw yourself in your wardrobe! You will have to find an adequate outfit for this costume jewel. Your outfit will not be difficult to find because of the white color of the pendant. Indeed the neutral color of the charm allows you to adapt any style. Black will bring out the white color of the charm. A white or red outfit will bring out the discreet colors of red on the jewel. You have an infinity of choices to adapt your style with this beautiful jewel.
Cleaning your jewelry, a simple task!
Finding the new condition of your jewelry has never been easier. Your jewelry store puts at art'emi your disposal a wide choice of simple tips to regain the brilliance of your jewelry. Do not hesitate to discover our methods to clean your gold and silver jewelry. Thus, soap, white vinegar and even beer are effective ingredients to restore the shine of your jewel.
Our range of semi-precious stones
Our jewelry also consists of an incredible range of semi-precious stones. You have a wide choice of bohemian jewelry and cabochon to satisfy all your desires. Discover the purity of rose quartz, the deep black of agate or the bright red of coral. We also offer tourmaline, tiger's eye or the light blue of turquoise. Finally we have mother-of-pearl, a material collected from shells. In short, these stones of extreme finesse and beauty, nothing better to shine during receptions. To discover in more detail the meaning of these stones, consult our section.
Your customizable jewelry!
Looking for an original gift idea for a loved one's birthday? Engraving is an ideal choice. You have an infinite choice of adornments for a bridesmaid or wedding witness gift. It can be a unique gift for your engagement or various parties. Thus, each event is an excuse to engrave something unique to a person you love.
For more information about our snowman pendant
We offer a wide variety of ethnic jewelry. For men, women and children, anyone can wear art'emi jewelry. Necklaces, rings, bracelets, bracelets and many other accessories are available on our website. For other questions, our section has been entirely dedicated to you. And many more gift ideas on our blog.
Specific references
UPC

545754315494

EAN-13

5416668135391