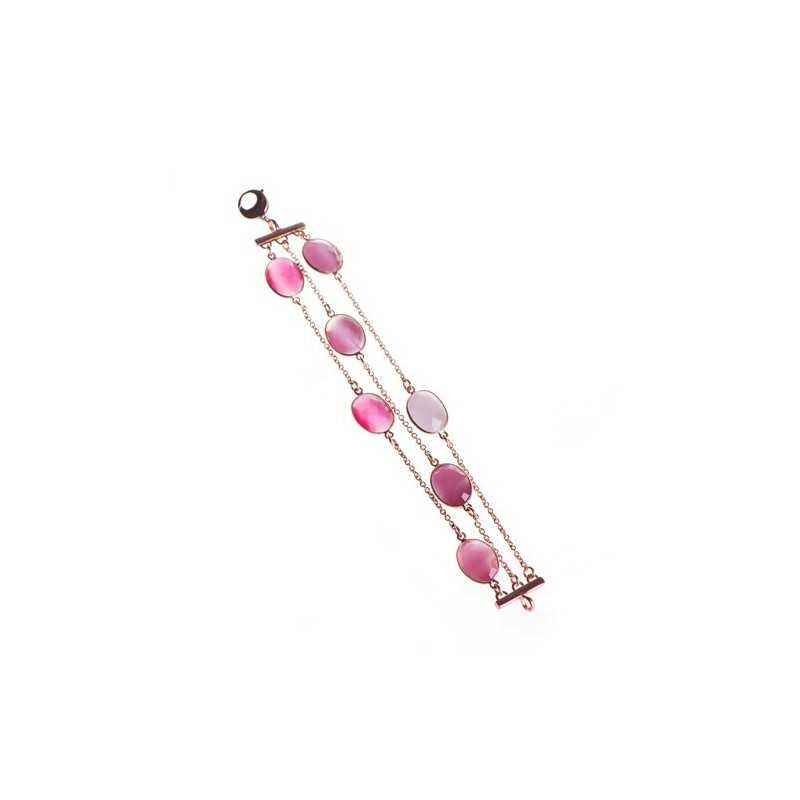  
Moonstone bracelet
18-carat gold-plated bracelet
Pink gold
Semi-precious stone: moonstone
Seven semi-precious stones: 1.6 cm x 1.2 cm
Length of bracelet: 18.5 cm
Weight: 20.4g
Free shipping - Ships within 24-48 hours
General conditions of Sales
Delivery policy
Returns policy
The moonstone bracelet for women: a high-end jewel
This rose gold plated bracelet is composed of seven semi-precious stones. The moonstones are available in several shades of pink which gives a strong and soft contrast at the same time. Are you looking for a sophisticated and classy bracelet set with precious stones? A bracelet for women that illuminates your wrist? Then the moonstone bracelet for women is ideal. A jewel for women in precious stones combining elegance and refinement. As a result, this jewel is timeless and an essential to have infinitely in your jewelry box.
Indeed, it is a bracelet for women that you can wear alone or accompanied by the finesse of the silver medal pendant necklace as well as a sumptuous silver ring. So you complete your look. Thanks to this bracelet for women, you will not go unnoticed! Add color to your daily life with quality costume jewelry.
Moreover, this jewel goes well with a large part of jewelry, whether you have jewelry in gold, diamond, rhinestones, rose gold, the bracelet for women is a jewel that goes with everything.
Did you love pearls, precious stones? Then the Drop Stone necklace and the round dropstone earrings will please you! An adornment of cat's eye and tourmaline gemstones just for you!
In addition, the shop offers a blog part, so find the article on engraved bracelets with presentation of the mother-of-pearl clover bracelet.
Looking for a gift to give? A gift idea for your engagement? This bracelet is the ideal and perfect gift to give to your loved one.
Jewelry art'emi : a breathtaking collection!
Do you want to be able to find jewelry at all prices and for all tastes in the same place? With jewelry art'emi it's possible! As a result, you will find this high-end Moonstone bracelet as well as the cotton cord bracelet with silver medal pendant on the site. These are two quality products, with different components and at different prices.
Discover our collections of jewelry in solid silver, vermeil, mother-of-pearl, turquoise, coral, agate, cotton or quartz. Women's jewelry for all tastes and for all colors.
To wear this trendy bracelet, opt for a golden look with yellow gold or vermeil jewelry. And if you want to shift the chic side of the jewel, dare to match it with a leather strap! As a result, you will have a bright and shiny jewel without doing too much!
Precious metals for precious jewelry
The jewelry store makes quality jewelry thanks to precious and exceptional metals. As a result, the Moonstone bracelet is 18 carat gold plated for this luxurious jewel. In addition, you will find charms of precious stones: 7 Moonstones. Before your eyes is a worked, refined and fine jewel that sublimates every wrist of women.
Want more quality jewelry? The jeweler elaborates jewelry in solid silver, vermeil, but also with other semi-precious stones such as mother-of-pearl, turquoise, coral, agate or quartz.
Women's jewelry is full of treasures, silver bracelets, silver rings (customizable), silver straps, silver chains, silver or vermeil earrings, silver pendants and of course semi-precious stone jewelry. In addition, the art'emi jewelry collection is available for women, men and children. Make sets for the family with the silver medal bracelet, the silver or vermeil rush bracelet or the tree of life necklace. Your man and child will be happy to wear a family jewel.
Finally, to complete this high-end product, Art'emi jewelry also makes you discover the moonstone earrings for women.
Do not hesitate to subscribe to the newsletter to find all the novelties and trendy accessories of the moment.
Specific references
UPC

540575093163

EAN-13

5403948141289