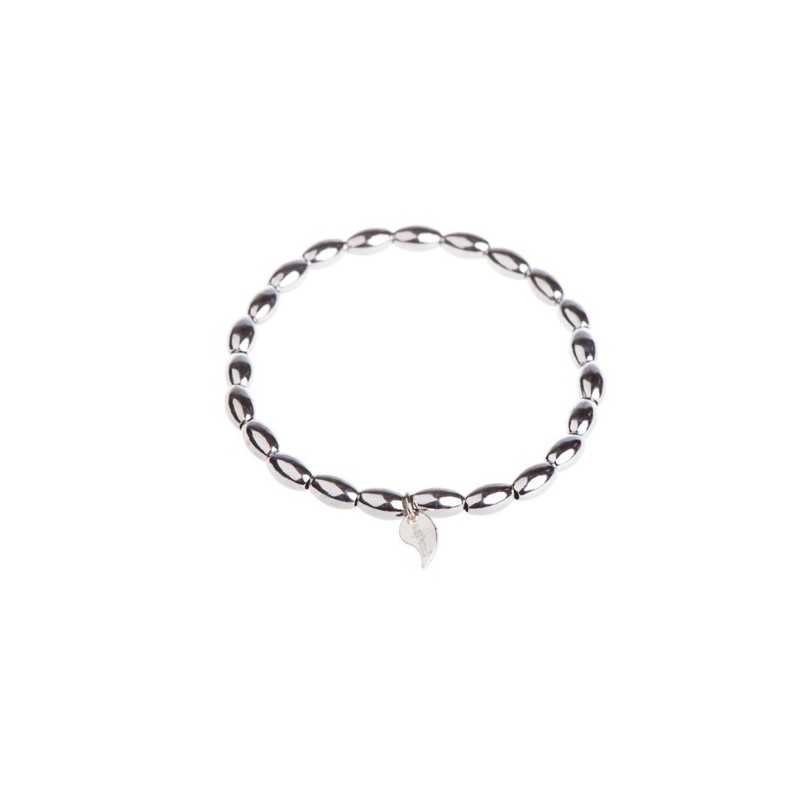  
Silver pearls bracelet woman
Solid silver bracelet 925
Pearls in the form of rice grains
Size (diameter)
- SMALL: 5 cm
- MEDIUM: 6 cm
Weight: 6.3 g
Free shipping - Ships within 24-48 hours
General conditions of Sales
Delivery policy
Returns policy
Bracelet beads silver woman: a delicate creation
This silver bead bracelet for women is trendy, sober and elegant. It will charm the greatest number by its sophistication. Indeed, with its solid silver beads 925 in the form of rice grains and its delicate little pendant in the shape of a drop, it is the indispensable accessory in your jewelry box. Women's jewelry in pearls has almost a magical power. Every time you wear them, you feel like you're taking on the role of Audrey Hepburn in her famous film "Breakfast at Tiffany's." Refined, tender and feminine, the pearl represents the pinnacle of elegance. This beautiful silver bracelet will match with all the outfits of your wardrobe and will make you a beautiful wrist. Today the Belgian designer Art'emi offers you a timeless jewel, of the highest finesse, which will sublimate all your outfits.
Art'emi and its silver jewelry
The jewelry brand art'emi highlights its gold and silver jewelry, quality, made with precious metals. Here, the rice grain-shaped beads of the bracelet as well as the small drop pendant are made fromsolid silver with the 925 punch (also known as fine silver but also sterling silver). This type of silver contains 92.5% silver as well as 7.5% copper. It is this silver / copper alloy that gives the material the strength necessary to make this bracelet. All the silver jewelry of the brand sports the hallmark "925" as a sign of quality.
The jewelry brand Art'emi also offers its collection of jewelry for men, its collection of jewelry for children and the rest of its collection for women. You will find jewelry of all styles: costume jewelry,bohemians and classics. Art'emi offers a wide range of gold and silver jewelry such as gourmet bracelet,silver pendant, rush bracelet, medals, earrings,creoles, silver chain,gold wedding ring, silver ring,sautoirs, engraved medal, necklace,chains, cufflinks, tree of life necklace and many others.
The bracelet woman pearls grains of rice in silver ofArt'emi, a jewel for life
Immaculate, perfect, elegant: the pearls represent a jewel appreciated by women of all eras. The Brussels jewelry store takes care to transform this practical jewelry into something magical and unique, which will follow you throughout your life. In addition, I take this opportunity to remind you that you can have all of our creations delivered to you for free anywhere in the world. The jewelry brand Art'emi guarantees its jewelry for a year and offers you, at the same time, to have this bracelet engraved infinitely. So you will have beautiful jewelry that will be customizable according to your tastes. We also remain at your disposal to answer your questions about the purchase process or your order.
Art'emi would like to offer you men's and women's jewelry of the best possible quality. Our jewelry brand therefore uses precious metals such as tourmaline, pearls, semi-precious stones, turquoise, white gold, mother-of-pearl, yellow gold, coral, rose gold, fine stones, solid silver, vermeil, leather, agate, pink quartz, etc.
Discover also the necklace pearls grains of rice, just as charming! This bracelet will also combine very well with the silver drop stem earrings or the wide ring bulging silver woman, the great timeless house art'emi.
Specific references
UPC

540753112136

EAN-13

5434580693966