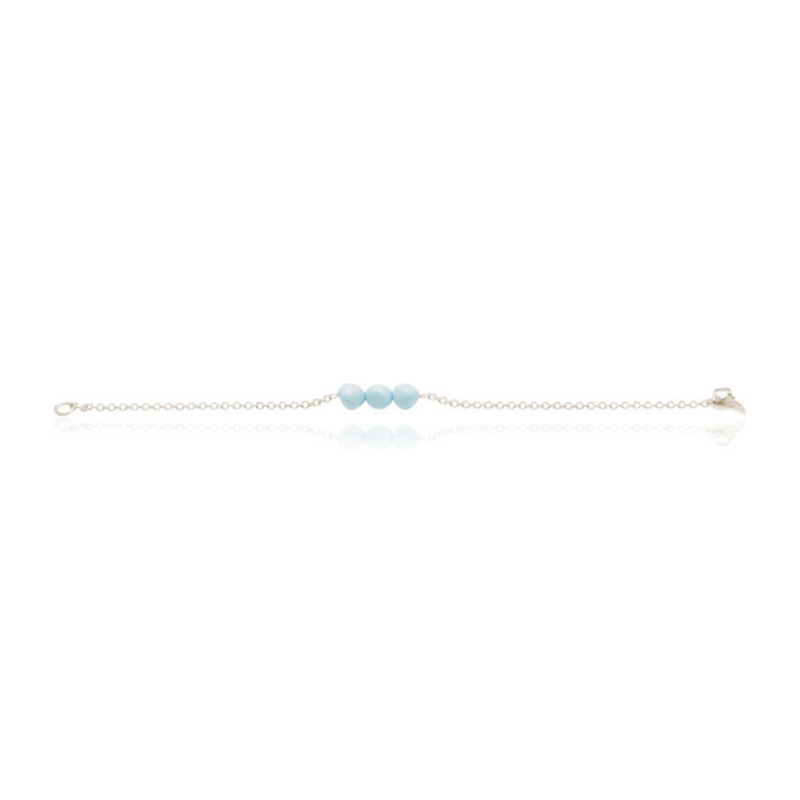  
Turquoise silver bracelet woman
Massive silver 925
Semi-precious stone: turquoise
Length: 17 cm
Weight: 3.1g
Free shipping - Ships within 24 hours
Privacy - Security Policy
your personal data
Delivery policy
Everything you need to know about delivery
Return policy
Everything you need to know about the return
Turquoise silver bracelet woman : a jewel full of softness
The turquoise silver bracelet woman perfectly combines delicacy and softness. It is a jewel with a simple style with its fine solid silver chain, but which will offer its owner a touch of originality with the barrette of small turquoise pearls. In addition, the shades of light blue with a slight green tinge will make you relive an unforgettable summer. A jewel with an irresistible charm that combines finesse and suppleness.
Art'emi and exceptional jewelry
Art'emi jewelry highlights its quality jewelry made from exceptional materials. Here, the fine chain of the bracelet is made from 925 silver (commonly called solid silver, fine silver or sterling silver). This type of silver contains at least 92.5% silver and 7.5% copper. It is this alloy of silver and copper that gives the material the strength necessary for the manufacture of the bracelet. All art'emi silver jewelry bears the "925" hallmark as a sign of quality.
The pearls are made of turquoise. Turquoise is an ornamental fine stone from light blue to blue-green, opaque. Turquoise is found in mass, sometimes forming small veins or kidneys in their natural state.
The silver and turquoise barrette bracelet woman of art'emi, a jewel full of resources
Discreet and evocative of a summer by the sea, the turquoise silver bracelet for women will make you plunge into wonderful summer dreams ! No wonder that blue is one of our favorite colors, indeed, it is omnipresent around us. This one matches all your clothing. As varied as they may be. Indeed, the art'emi jewelry store takes care to transform all its jewellery into magical, unique and emotional creations. In addition, we remind you that you can have all art'emi creations delivered free of charge throughout Europe. We also remain at your disposal to answer any questions you may have about the purchasing and manufacturing process.
To consume without moderation and for our greatest pleasure with the Turquoise bar necklace and the Turquoise drop earrings.