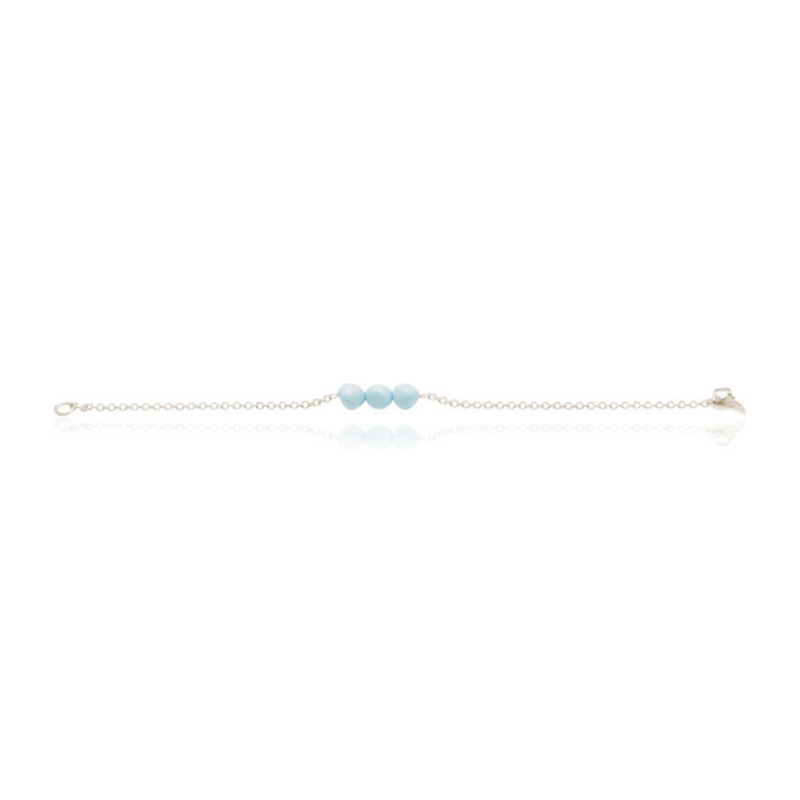  
Turquoise silver bracelet woman
Solid silver 925
Semi-precious stone: turquoise
Length: 17 cm
Weight: 3.1 g
Free shipping - Ships within 24-48 hours
General conditions of Sales
Delivery policy
Returns policy
Silver bracelet turquoise woman : a jewel full of softness
Are you looking for the perfect gift? The jewellery brand Art'emi offers you a gift idea that will suit all occasions. Whether it is a birthday gift, Christmas gift, for Valentine's Day or Mother's Day, your loved ones will be delighted. It is the silver turquoise bracelet for women combines to perfection delicacy and finesse. It is a jewel with a simple style with its fine chain in solid silver with the 925 mark. It will offer to its owner a touch of originality with the barrette of small turquoise pearls. Moreover, the light blue shades slightly tending towards green will make you relive an unforgettable summer. A jewel with an irresistible charm that combines finesse and suppleness
Art'emi and exceptional jewellery
The Brussels-based jewellery brand art'emi promotes its quality jewellery made from exceptional materials. Here, the fine chain of the bracelet is made from 925 silver (commonly called sterling silver). This type of silver contains a minimum of 92.5% silver and 7.5% copper. It is this alloy of silver and copper that gives the material the strength needed to make the bracelet. All silver jewellery art'emi bears the "925" hallmark as a sign of quality.
Are the pearls made of turquoise? Turquoise is a fine ornamental stone of sky blue to blue-green color, opaque. Turquoise occurs in masses, sometimes forming small veins or small chips in its natural state. The jewellery brand Art'emi also offers you its collection of jewellery for women, its collection of jewellery for men and that for children. You will find customizable jewelry, costume jewelry and bohemian styles. There are all types of jewellery such as bracelet, gold bracelet, gold ring, tree of life necklace, choker necklace, cufflinks, leather bracelets, medallion, link bracelet, silver chain, creole bracelets, earrings, gold wedding ring, engraved medal, etc.
The turquoise bracelet barrette from art'emi, a jewel full of resources
Discreet and evocative of a summer by the sea, the silver turquoise bracelet for women will plunge you into wonderful summer dreams! No wonder that blue is one of our favorite colors, indeed, it is omnipresent around us. This one goes with all your outfits. This silver bracelet is a timeless piece to have in your jewelry box. As varied as they are. Indeed, the jewellery art'emi takes care to transform all its gold and silver jewels into magic creations, and carrying emotions. Moreover, we remind you that you can have all our creations delivered free of charge to art'emi anywhere in Europe. We also remain at your entire disposal to answer your questions concerning your order.
The jewellery brand Art'emi uses precious metals in the design of its gold and silver jewellery, as quality is a key aspect. You will find tourmaline, rose quartz, fine stones, turquoise, semi-precious stones, vermeil, pearls,white gold, solid silver, coral, yellow gold, leather, rose gold, gold-plated, agate, mother-of-pearl, etc. Art'emi also offers a service of personalization of your jewels, to make them unique. You can engrave them endlessly with initials, a first name or a date.
To consume without moderation and for our greatest pleasure with the turquoise necklace, the turquoise drop earrings and the turquoise cluster earrings.