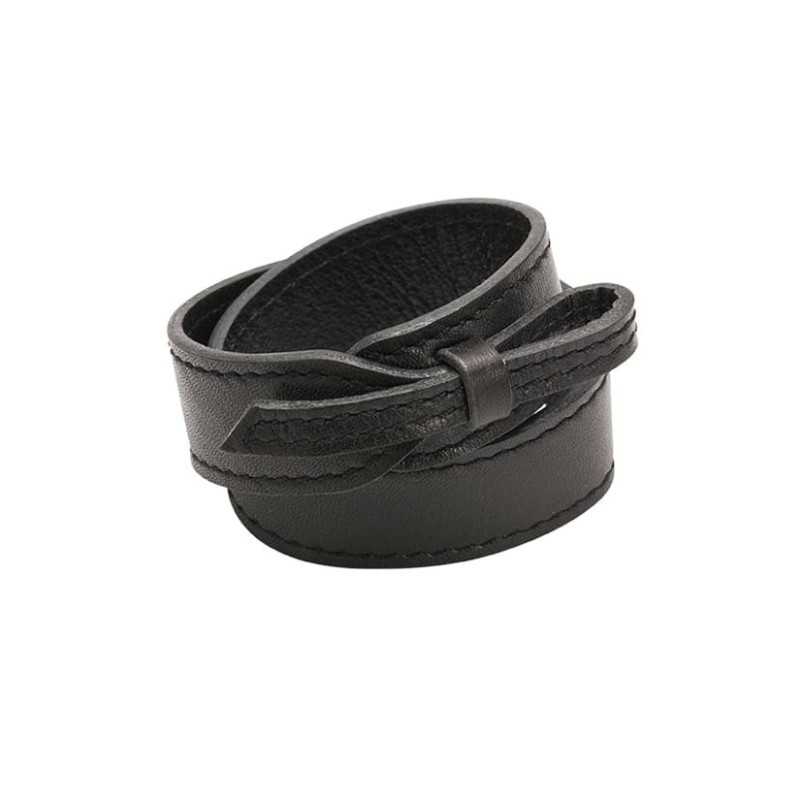  
Leather bracelet woman
Leather cuff
Double wrist circumference
Bracelet length: 42 cm
Bracelet width: 2 cm
Weight: 8.4 g
Free Shipping - Ships within 24-48 hours
General conditions of Sales
Delivery policy
Returns policy
Double-lathe women's leather strap: a jewel of character
Do you want to find a jewel for women of character that highlights your wrist? Are you looking for a gift to give to a woman of character? Do not hesitate any longer and let yourself be tempted by the double turn leather strap woman ofart'emi. This bracelet will be the best ally of assertive and daring women. It is adjustable and adjustable. So dare the leather jewelry look for this year and affirm your personality with a trendy and feminine jewelry in the women's jewelry collection.
In addition, you can add other bracelets to your wrist to create a rock look. Because of this, the vermeil rush bracelet and the silver medal bracelet, with a carabiner clasr, can do the trick. The mix of gold and silver jewelry is very trendy! So wear artemi costume jewelry.
All occasions are good to wear women's jewelry, women's bracelets. Whether it's to go out in the evening or just for everyday life. Each look allows you to wear jewelry for women, casual, bohemian, ethnic, refined. The leather strap perfectly combines with all your jewelry types and colors: diamond, solid silver, your engagement ring white gold, yellow gold, your gold jewelry, turquoise and even your rhinestone jewelry.
So to each his wife bracelet, his silver necklace, his gold earrings and his silver pendant and his silver ring, for a trendy look.
In addition, a jewelry customization service is available, so find our customizable jewelry for women and our bracelet jewelry and find your jewelry to engrave. This allows you to add your style and personality to the women's jewel.
The jewels ofArt'emi: a unique know-how
Art'emi's jewelry is synonymous with know-how and quality. Made from nappa leather, this excellent quality women's strap is very resistant to sun and rain due to its waterproofness. Nappa leather is a smooth leather treated on the surface, which makes it more flexible. That's why this leather character strap is still very light, graceful and maneuverable. A timeless jewel that you will keep forever.
How to combine your leather strap with your other jewelry? A formidable puzzle. So here's a art'emi tip that includes the trendy fashion accessories of the moment. The leather strap is a timeless and timeless jewel that you must have in your jewelry box. It is associated with all types of jewelry. Sterling silver, gold, precious stones, finally all the precious metals you may have.
Offering a jewel, a leather strap is an original and ideal gift idea. You are sure to please with a quality jewel and perfect for the occasion of a birthday.
Not sure how to clean your leather jewelry? Read our article on this topic. If you prefer, your jeweler can take care of your jewel.
Also find jewelry in quartz, mother-of-pearl, turquoise, solid silver, vermeil, semi-precious stone and cotton. All precious metals. Create your timeless silver jewelry adornments to shine. A perfect gift idea.
Why fall for the women's double-lathe leather strap Art'emi ?
First of all, the size of the women's leather strap allows you to play with this jewel by going around your wrist several times, which it will sublimate wonderfully. He will also highlight your most daring outfits for a bold and bohemian look. Obviously, it will become as essential as your little leather jacket! It is the rebellious and graceful adjectives that perfectly characterize this accessory for women. So add it to your jewel box! In addition, it is possible for you to have this creation delivered free of charge throughout Europe. Simply fill in your recipient's address in the delivery address and yours in the billing address.
Your favorite jewelry store concocts you jewelry for women, but also jewelry for men and children, so do not hesitate to take a look at the site to find the rare pearl that will please you for sure.
Finally, concerned about our customers, we remain at your disposal to advise you and answer all your questions during the entire purchase and delivery process. Do not hesitate to contact us, we will be happy to answer you!
Did you like this women's double-lathe leather strap? You will love our women's leather cuff strap accompanied by a silver or vermeil charm as well as the women's marine bracelet.
Specific references
UPC

541222404998

EAN-13

5413223122957