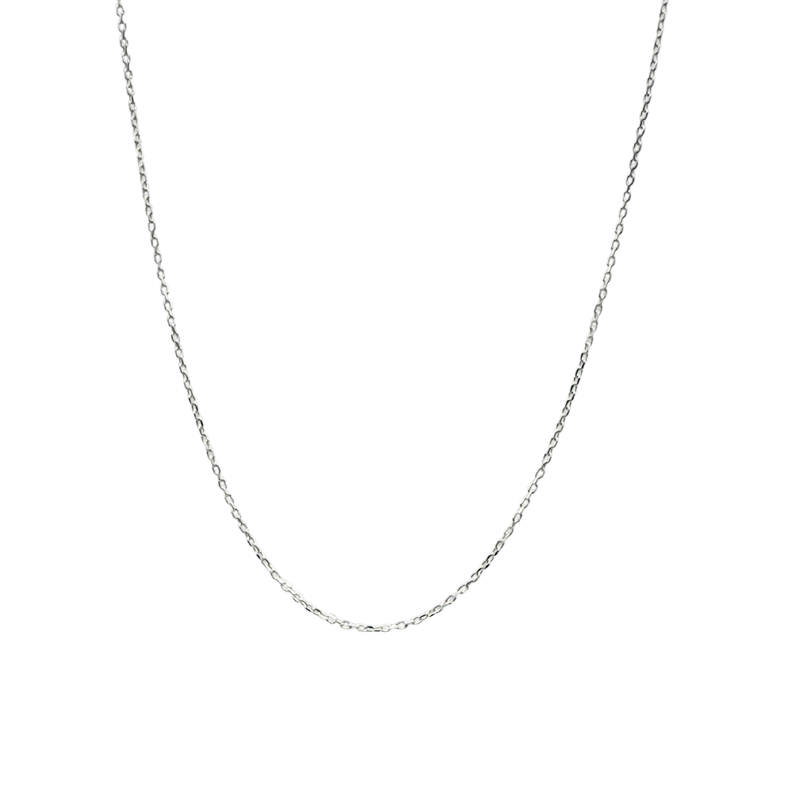  
Silver diamond chain for woman
Solid silver 925
Weight: 1,85gr
Length: 42 cm
Free shipping - Ships within 24-48 hours
General conditions of Sales
Delivery policy
Returns policy
An exceptional chain
Are you looking for a woman chain full of brilliance? Our diamond woman silver convict chain is the one for you! Otherwise called limed mesh, this chain is characterized by its bright and bright effect. In addition, it is an ideal silver chain to add pendants or silver medals. Elegant and fresh this chain will match all your outfits without exception and will dress your neckline with delicacy and finesse! Let yourself be tempted by this silver women's chain at the forefront of fashion. This silver chain is composed of a silver carabiner clar as well. A trendy accessory ideal for women and for everyday life. The necklace of the chain necklace is 42cm which is closer to the necklace than the sautoir necklace.
Also find the gourmet mesh chain, Venetian mesh chain and ball chain.
To stay trendy and in tune with the times, jewelry offers you to combine gold jewelry and silver jewelry. Very trendy right now, so opt for a gold bracelet and a silver ring. This advice applies to women, but also to men's jewelry!
Your jeweler art'emi also thinks of your family, which is why the silver rush or vermeil bracelet is available for women, men and children. Your family jewel, timeless and unique is found here with the necklace tree of life as well as the engraved medal necklace also available for all. Offering a silver jewel is an ideal and perfect gift. You will be original and unique thanks to a quality jewel and to customize.
Money sublimated by Art'emi
The Brussels designer Artémi offers you unique jewelry, made from exceptional materials. Thus, this diamond convict chain for women is made from solid silver (also known as 925 silver or sterling silver). It is an alloy of 92.5% silver and 7.5% copper. In addition, pure money is known for its malleability. It is the combination of silver and copper that allows the women's chain to be resistant. The hallmark "925" is present on all jewelry creations Art'emi silver, as a guarantee of quality.
Precious metals are used in the manufacture of artemi wonders. The jewels are therefore designed in mother-of-pearl, turquoise, pink or black quartz, semi-precious stone coral, vermeil. Vermeil consists of a sterling silver jewel and then 18-carat gold plated to guarantee a quality jewel.
For a total silver woman look, combine your silver ring with silver earrings, a silver necklace as well as a silver accessory such as a key ring, more discreet to wear.
If your preference is for gold: the very glamorous gold jewelry look with a gold necklace or sautoir, gold earrings and a gold rush bracelet.
Finally, if you want to know how to clean your silver jewelry and why it blackened? Find our tips and tricks to restore all their shine to your jewelry.
Diamond convict chain woman to customize
Do you want to make this channel unique and ideal for a gift? You have the possibility to customize it! Indeed, this silver chain sells alone, but it is possible to add a pendant or a medallion. Go to the women's pendants tab to choose from all our models and thus make this women's channel personal. In short, it's a great original gift idea and ideal for one of your loved ones, so go for it! Make original personalized jewelry thanks to your imagination. that you can offer at Christmas, on a birthday or simply without a special occasion.
Silver chains are also available for men and children. So find our jewelry collections and wear the chains as a family like a jewelry adornment.
Finally, if you already have silver pendants, consider adding your charms on this silver mesh chain. Your jewel, your ethnic look, bohemian, chic, casual, etc.
Feel free to check out our other types of chains in the art'emi jewelry collection. Also find all our jewelry and accessories on our shop and on social networks. In addition, all of our jewelry is delivered free of charge throughout Europe. Finally, we obviously remain at your disposal to advise you and answer all your questions. Subscribe to the jewelry newsletter.