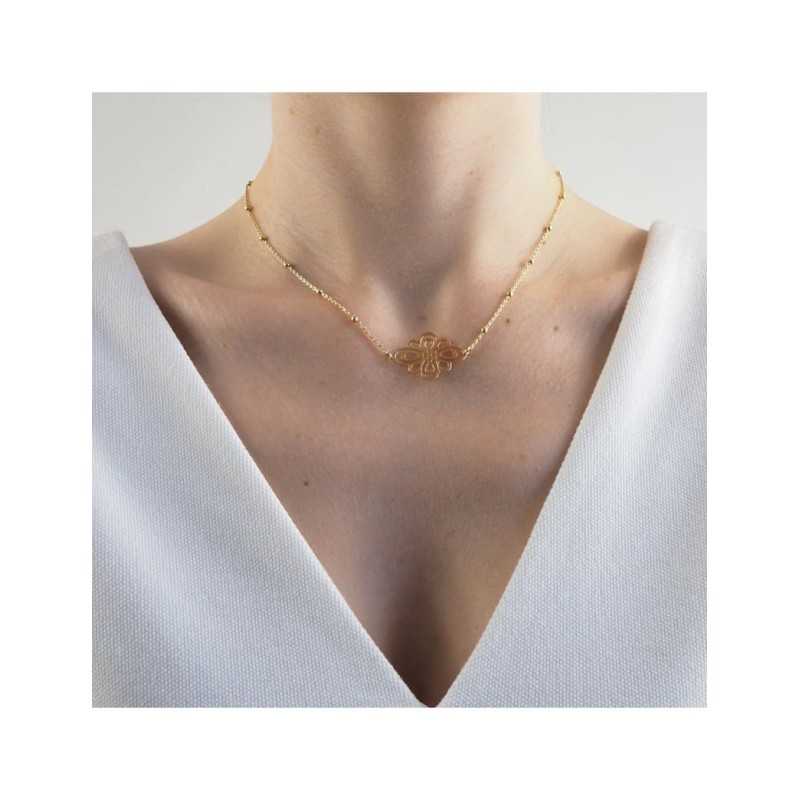  
Women's vermeil diamond necklace
Vermeil necklace
18 carat yellow gold plated
Collar length: 43 cm
Length of diamond: 3 cm
Weight: 3g
Free shipping - Ships within 24-48 hours
General conditions of Sales
Delivery policy
Returns policy
Women's vermeil diamond necklace - How is this yellow gold-plated women's necklace the ideal jewel?
This diamond necklace vermeil woman, ensures the elegance of your outfit in all circumstances. Indeed, this vermeil necklace will sublimate both your daily outfits and your evening looks. The vermeil diamond corresponds to chic and coquettish women. In addition, the chain is adorned with small pearls, a detail that makes all the difference. In addition, a necklace is perfect to highlight your headwear. This gold-plated women's jewel is for sure a timeless one to insert into your jewelry box.
How does yellow gold make this diamond necklace vermeil woman unique?
Artemi creates his creations with exceptional materials. This diamond necklace is no exception to the rule. it is made of solid 925 silver and is plated with 18 carat yellow gold. Two noble metals guaranteeing comfort and quality. Then, vermeil has the advantage of being lighter than solid gold. Thus, this gold-plated women's necklace will accompany you for many years both by its resistance and its timelessness. Also, note that both of these metals are hypoallergenic. Finally, all Artemi creations are obviously composed of a good dose of love and passion for jewelry. This is what makes the diamond necklace unique.
Still not seduced by this gold-plated diamond necklace?
Artemi Jewelry has made this necklace in vermeil for women who take care of their appearance with lightness. A jewel ready to illuminate your outfits. For the most greedy, there are also vermeil earrings . Indeed, it makes a refined and timeless gold-plated adornment, in other words: essential! If you are more sensitive to silver necklaces, the pink flower necklace will seduce you with its elegance. Finally, for the most original, the double butterfly necklace sticks perfectly to whimsical personalities. So, are you seduced by the vermeil necklace?