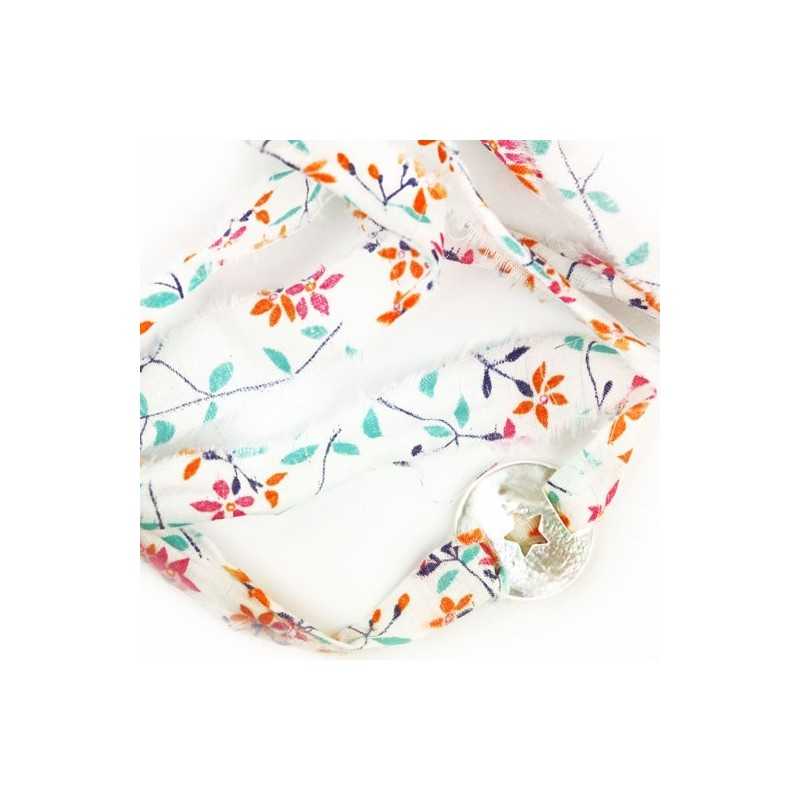  
Liberty bracelet star child
Liberty fabric tape 
Charm "star" pellet in white mother of pearl
Adjustable size 
Dimension of the pendant: 18 mm
Free shipping - Ships within 24-48 hours
General conditions of Sales
Delivery policy
Returns policy
Liberty bracelet star child: the little forgetful
Always forgetting his notebook, his flyer to sign, his teddy bear..... Does this description echo your child ? Then fall for the charm of the liberty star bracelet for children. Whether he has his head in the stars or not, this sublime Liberty fabric bracelet and its white mother-of-pearl star medal will be his best ally every day! In addition, this bracelet is mounted on an adjustable elastic band that adjusts to each child's wrist. In the spirit of the times, this is a trendy bracelet that your little wolf can proudly wear in the playground.
The Brussels jewelry store art'emi and the making of exceptional jewelry
Art'emi Jewelry offers you quality jewelry made from exceptional materials. Specially designed to accompany children in their wildest adventures, the little star medal on the Liberty Star bracelet for children is made from mother-of-pearl. Mother-of-pearl is biocomposite, synthesized by molluscs throughout their lives by lining the inside of their shells. The word "mother-of-pearl" comes from the Arabic "naqqarah". In English, it is called after the name given to it by the first Queen Elizabeth: mother-of-pearl (mother of pearls).
The Liberty bracelet star medal in white mother-of-pearl for children from art'emi, a sparkling jewel
First of all, Liberty is an extremely trendy fabric. This Liberty star bracelet for children will perfectly suit your children and will resist their adventures. Its sparkling colors give it a summery and delicate look. Don't forget that all art'emi creations can be delivered anywhere in Europe. In addition, the package will arrive with a certificate of authenticity and a one-year guarantee. Finally, the entire team remains at your disposal to answer all your questions.
If you liked this bracelet, you will also like all the Liberty bracelets in our children's collection.
Specific references
UPC

544815162923

EAN-13

5432097265553