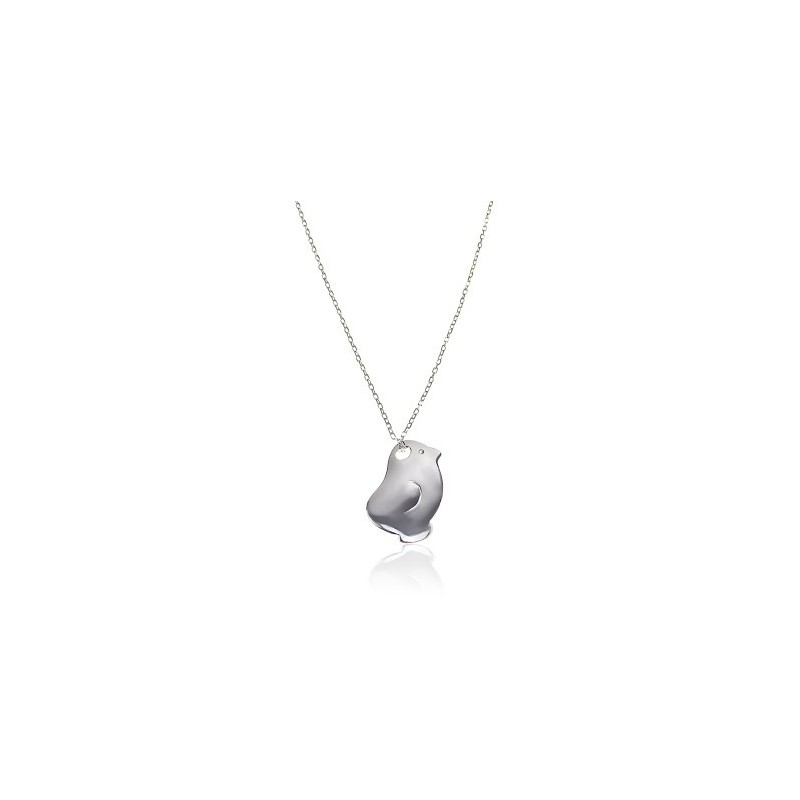  
Silver chick necklace child
Massive silver 925
925 solid silver chick-shaped pendant
Chain length: 41 cm
Size of pendant: 2.2 cm x 1.5 cm
Weight: 4.9g
Free shipping - Ships within 24-48 hours
General conditions of Sales
Delivery policy
Returns policy
Collar chick silver child - a necklace full of tenderness
The chick necklace silver child is THE jewel of the little ones! Isn't it completely cracking and too cute? Even the great ones love it, that's to say! It is an adorable child jewel and easy to wear. It is thin, light, and discreet. This delicate silver necklace consists of a chain of fine silver mesh and an adorable little chick as a pendant. All in solid money please! Indeed, even the carabiner clasr is made of silver. Very easy to wear, it will fill with joy our little pieces of cabbage, who will love it.
Art'emi also unveils a large collection of costume and original jewelry for children! You find several characters, objects in silver mesh necklaces. So take a look at the children's necklace jewelry collection. Find all styles of jewelry: bohemian, ethnic, classic, timeless, rock! In addition, it is an ideal gift to offer.
Did you crack on silver jewelry? Mom thinks about the jewel she could also afford? So do not forget yourself and look at the collection of jewelry for women. Jewelry in silver, gold or set with precious stones, await you. Finally, no jealous and Dad can also look at the men's jewelry on the site! Silver jewelry for the whole family!
In addition, for a mixed family jewelry, dare the gourmet character for children, for women and for men. Make this gourmet your timeless family jewel that you will keep forever.
When art'emi meets the money
The creations art'emi are made from quality materials and precious metals. The chick necklace silver child is made from silver 925, (also called sterling silver). It contains at least 92.5% silver, supplemented by 7.5% copper. It is a material reputed to be very malleable. This mixture of silver and copper gives the strength necessary to make this necklace for children. In addition, all the silver jewelry art'emi sports the hallmark "925" as a sign of quality.
The jewelry art'emi concocts you a specific packaging for children's jewelry. surprise!
Finally, art'emi develops jewelry in different materials, in cotton with colorful and radiant cords. In vermeil (18-carat yellow gold plated), for a golden look this summer. In precious stones for jewelry set with gloss! Adopt your silver, gold or colorful look with art'emi.
Do you want to offer a perfect jewel to a child? Looking for ideal gift ideas? art'emi has the solution, read our article on children's engraving gifts!
The collar chick silver child, a concentrate of sweetness
This necklace honors our toddlers. It is a necklace for children in their image, soft as the chick, and just as cute and precious! In a few words, everything they represent and are in our eyes! In addition, we remind you that you can have all the creations art'emi delivered free of charge throughout Europe. In addition, the package will arrive with a certificate of authenticity and a one-year warranty. Finally, we remain at your disposal to answer all your questions concerning.
Also succumb to the irresistible charm of our splendid customizablenecklaces as a child. You will find wonders of jewelry for children with necklaces hanging from horse, plane or boat. Plus, this is engraved necklace, so be unique with the customization of children's jewelry.
For more engraved jewelry, silver bracelets, silver pendants as well as silver accessories are available.
Trend of the moment: costumed colorful jewelry! Ideal for young children. So dare the Liberty bracelets with a colored cotton cord with different patterns. And for more color, also think about the colored beads. The semi-precious stones of artemi are pure wonders, between turquoise, coral, mother-of-pearl, your happiness is here. In addition, you can make an adornment with your mom! Liberty is also for women.
Specific references
UPC

548982720467

EAN-13

5403995042232