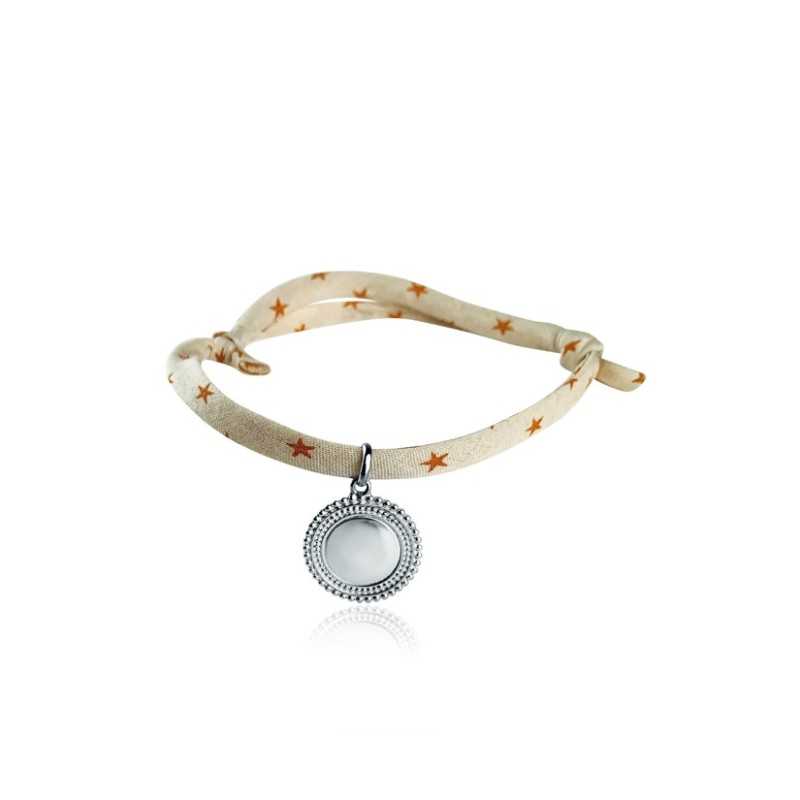  
Liberty bracelet personalised bohemian medallion child
Massive silver 925
Weight: 4.38gr
Size: adjustable
Medal diameter: 18 mm
Number of characters: Recto/Verso: 20 characters
Free engraving
Free shipping - Ships 24-48 hours
Customization
Don't forget to save your personalization so you can add it to the cart
General conditions of Sales
Delivery policy
Returns policy
Offer a unique bohemian liberty medallion bracelet
Are you looking to please your little bits of cabbage? Want to give an original and unique gift? Then you're in the right place. The Liberty children's bohemian medallion bracelet is the perfect jewel. The medallion is surrounded by small beads all around. In addition, the medallion is customizable. Liberty fabric, fresh and colorful is ideal for a child. Thanks to this jewel, you are sure to please the person who receives this gift.
In addition, it is the ideal gift for St. Nicholas, finally only for wise children of course. Come and visit our blog to get more gift ideas for St. Nicholas.
Burn the bohemian medallion and make this unique jewel
Indeed, the Art'emi jewelry offers a personalization service, and this, in a totally free way. As a result, you can have a message of love engraved, an important date or a simple little symbol on the solid silver medallion. Personalize this jewel as you wish. This is an opportunity to get a message across this jewel. In addition, the Art'emi jewelry store offers different typographies, a symbol sheet and an explanation of the process to personalize your jewel. It's as simple as that. Finally, if you need advice or help in choosing the engraving of your jewel, please contact us.
Quality materials at Art'emi
The Art'emi jewellery does not resign on the quality of its jewelry and offers you durable jewelry, solid while being sumptuous and colorful. As a result, the Liberty bohemian medallion bracelet is made of spaghetti fabric. Available in different colours. In addition, it is accompanied by a bohemian medallion in solid silver. Composed of pure silver and copper, this is what gives the jewels strength. So don't hesitate, this bracelet is ideal for your energetic children.
As a result, you have an elegant and solid jewel in front of you. Want more? Also check out the Liberty Star children's bracelet, the perfect place for children. Not only do we offer jewelry for women and children, but also for men like the silver bangle bracelet. Come for a walk on our website!
Specific references
UPC

540517515203

EAN-13

5458050283990