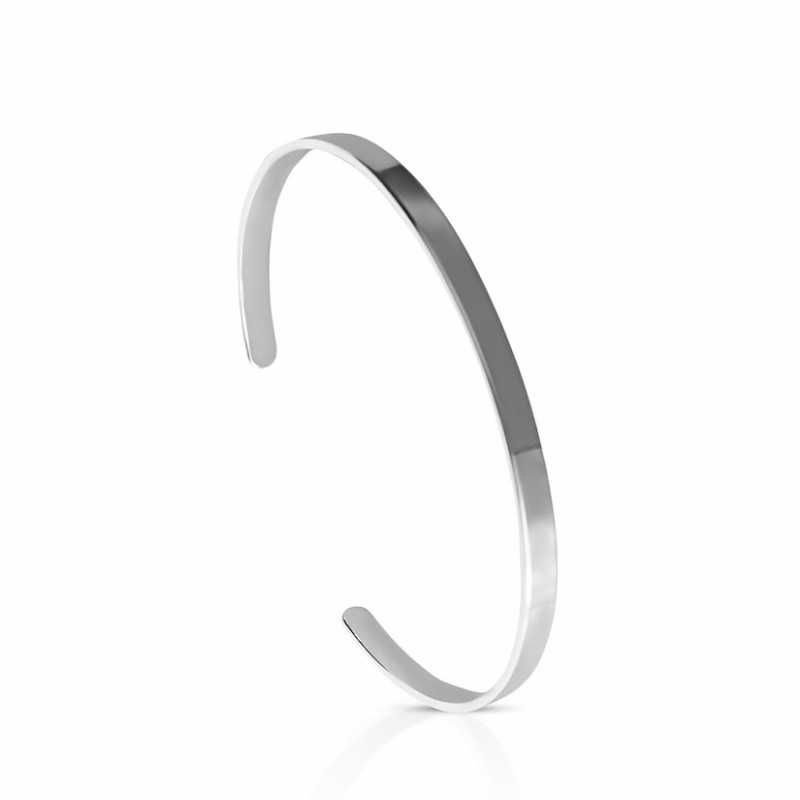  
Open bangle silver bracelet to engrave man
Solid silver 925
One size fits all
Weight: 6gr
Measurement: 4 x 1mm
Number of characters: 25-character front
Free engraving
Free Shipping - Ships within 24-48 hours
Customization
Don't forget to save your personalization so you can add it to the cart
General conditions of Sales
Delivery policy
Returns policy
A successful bracelet
The minimalism of this open ring bracelet for men has not yet conquered you? It's coming soon! Indeed, the finesse of this solid silver bracelet explains its success. This sober and elegant men's bracelet will match all your clothes thanks to its ethnic look while being chic and minimalist. From your most casual outfits to your most sophisticated outfits, the customizable rush bracelet will bring the shine you're looking for. Thus, you will be overflowing with insurance. In addition, you have the possibility to make this bracelet unique, customizing it to your liking. Your costume jewel for your daily life and for all occasions.
In addition, this personalized jewel can act as a gourmet thanks to the engraving. Offer an ideal and perfect gift for a birthday or a baptism for example. You will please for sure! It is a unique and timeless gift, so that the person can keep this jewel for men for a very long time.
Gourmette bracelets art'emi are made with a silver mesh chain, so you can wear your silver rush bracelet as well as a silver mesh gourmette for a silver look! Also think of the military plate collar, a long necklace like a sautoir and very trendy.
If you want to take care of your jewelry, read our article to learn how to clean your silver jewelry.
The open ring bracelet to engrave: a unique jewel
The silver ring bracelet for men is very fashionable. There are different models, pompom, decorated with beads, shells and much more... The particularity of our ring bracelet is the customization! Indeed, it is possible to make this elegant jewel for men meaningful to your eyes. You have the possibility to engrave a first name, a date, a word, but also the pretty drawings of your children. Also treat yourself with our wide choice of typography. Make this essential ring bracelet open in silver for men singular by leaving a piece of your personality with the engraving option.
Finally, do not forget that this engraving is completely free at Art'emi, and this, like all other trendy jewelry and customizable fashion accessories. So wear this wonder engraved on your wrists with a message that lasts forever. Your jewelry box will be filled with costume and quality jewelry like this custom bracelet.
Therefore, find the customizable medal necklaces or the silver gourmets to engrave. All quality jewelry with a silver carabiner clar! For more fantasy, dare the cotton cord bracelets with a silver drop charm.
Do you want to offer a wedding gift? Why not this gift idea: offer this bracelet for men but also for women with an identical woman and man bracelet that links their love. It is an ideal jewel for a gift of engagement, wedding or even birth!
The art of quality
The Art'emi jewelry store is particularly attentive to the materials it uses to design its beautiful men's jewelry. All our silver jewelry and accessories are made of solid silver or sterling silver and bear the 925 hallmark as a guarantee of quality. Thus, we offer you sturdy silver jewelry that will withstand all your daily activities that will put them to the test.
Art'emi uses precious metals for unique and precious jewelry then you can find mother-of-pearl, turquoise, coral, quartz, semi-precious stones and vermeil in the jewelry collection art'emi. Vermeil is a silver jewel covered with a gold plated.
Come and discover all our models of rush bracelets and find your favorite. Our models of rush bracelets exist for the whole family, women,men and children. Are you looking for jewelry for the whole family? Discover our blog dedicated to engraving jewelry for the whole family.
So do not hesitate and discover the entire collection of jewelry art'emi with gourmets, necklaces, accessories, bracelets,etc. And all jewelry is for men but also for women and children.
Finally, the jewelry store guarantees all its jewelry for a period of one year and offers you a free engraving on all customizable models.
Specific references
UPC

546553629553

EAN-13

5431394002489