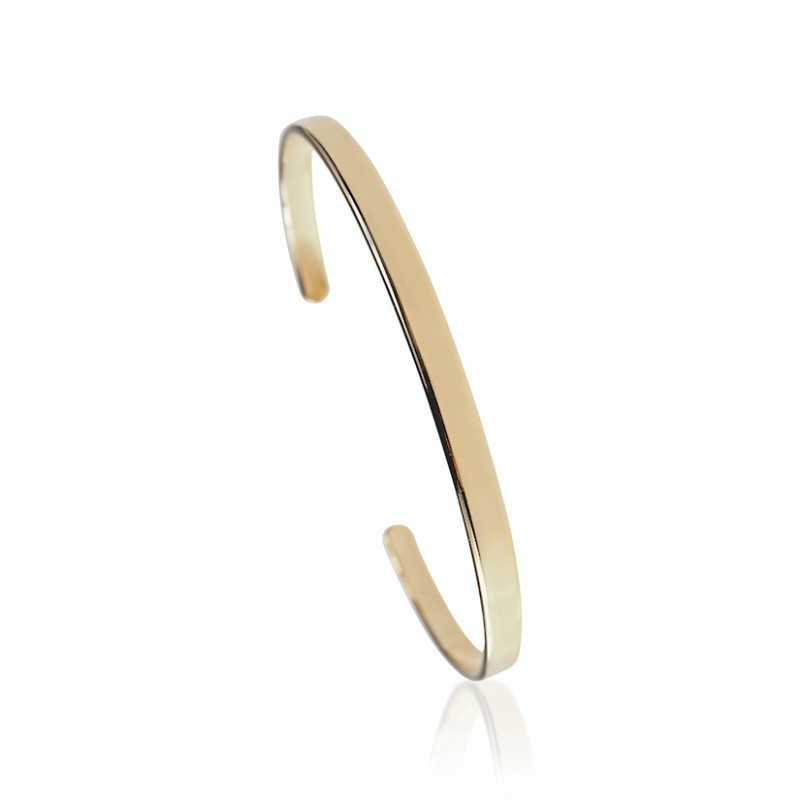  
Open bangle vermeil bracelet to engrave man
Solid silver 925
Plated Yellow Gold 18kt
One size fits all
Weight: 6.61gr
Measurement: 4 x 1mm
Number of characters: 25-character front
Free engraving
Free shipping - Ships within 24-48 hours
Customization
Don't forget to save your personalization so you can add it to the cart
General conditions of Sales
Delivery policy
Returns policy
The open ring bracelet vermeil
Looking for the latest trends on your wrist? Or do you want a unique gift idea to give a gift to one of your loved ones? Don't move anymore, you've come to the right place. A new trend has recently appeared, that of jewelry for men including bracelets and more particularly the open ring bracelet vermeil. Indeed, women, men and children deserve their fetish accessories, the one they will bring everywhere. For you gentlemen, the ring bracelet to engrave is the one for you! This vermeil bracelet is subtle and elegant,it will perfectly accompany all the outfits of your wardrobe. You will be able to wear your ring bracelet on all occasions.
This beautiful ring bracelet in vermeil can also be the ideal gift to offer as a birthday present, Christmas gift,or for Valentine's Day. In addition, you will be able to create your personalized jewel,thus, you will have a unique and original jewel. In addition if you want to offer a customizable gift,the gift will touch the person for sure.
Customize your ring bracelet
In order to mark your personality and make your personalized bracelet unique, the jewelry brand Art'emi offers you to engrave your jewelry to make it even more personal or to offer the perfect and unique gift. Indeed, we offer you a wide range of typography so that you can choose your style, the one that suits you. You can engrave on the ring bracelet,the first name of your love, initials,a small message of love or a date that is important to you. You have so many possibilities to make your ring bracelet open to engrave to your liking. It's about making your accessory that you won't find anywhere else. Finally, the Art'emi jewelry store offers you two of its services, delivery and personalization for free.
The jewelry brand Art'emi invites you to come and discover its collection of women's jewelry and its collection of jewelry for children. Here you will find a wide range of gold and silverjewelry. There is something for every taste and every budget. There are bohemianstyle jewelry, luxury jewelry,and costume jewelry.
Jewellery Art'emi work for quality
Indeed, the jewelry brand Art'emi does not resign itself to the quality of its products. Indeed, the open ring bracelet is made of vermeil,it is a precious metal with great strength. The combination of the two metals that compose it (solid silver and gold) gives it an incomparable resistance. In addition, this metal is of great lightness, it turns out that vermeil is even lighter than gold, because of this, your bracelet will not weigh down your wrist.
The jewelry brand Art'emi offers you a wide choice of jewelry such as medals, silver pendant, gold necklace, silver chain, creoles, gold wedding ring, silver ring, sautoirs, gourmettes, gourmette bracelet, necklace, gold chain, cufflinks, leather strap, medallion, tree of life necklace, chains, ring, etc. Art'emi uses precious metals like tourmaline, coral, pink quartz, mother-of-pearl, turquoise, pearls, semi-precious stones, agate, white gold, vermeil, rose gold, fine stones, yellow gold, leather and many others.
The Art'emi team also offers the open silver ring bracelet to vary the pleasures.
Specific references
UPC

546732772971

EAN-13

5451320557746