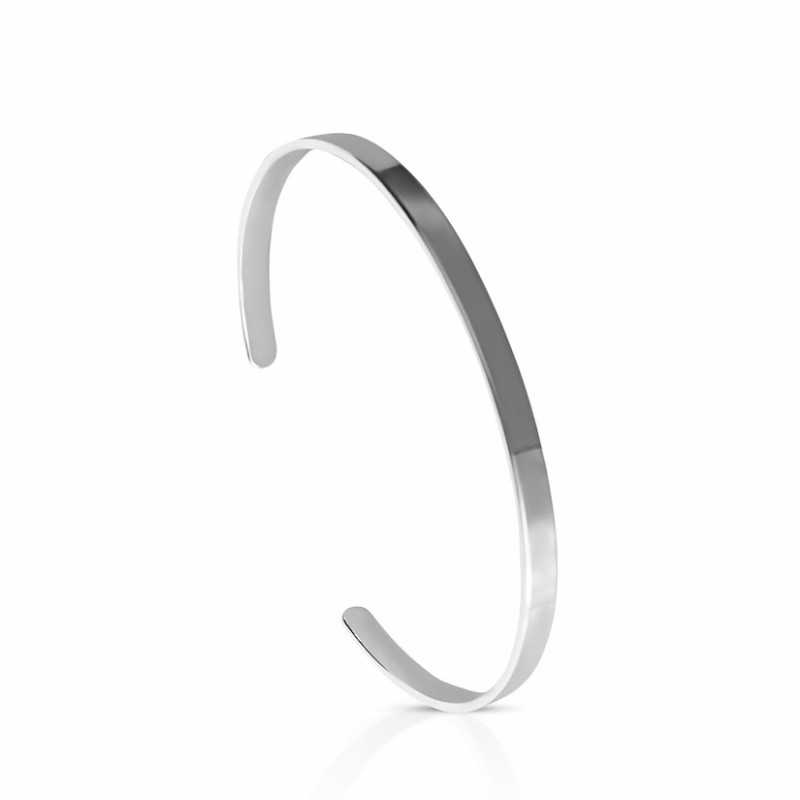  
Open bangle silver bracelet to engrave woman
Solid silver 925
One size fits all
Weight: 6gr
Measurement: 4 x 1mm
Number of characters: 25-character front
Free engraving
Free shipping - Ships within 24-48 hours
Customization
Don't forget to save your personalization so you can add it to the cart
General conditions of Sales
Delivery policy
Returns policy
A timeless jewel
The open rush bracelet to engrave woman in sterling silver is a classic of the jewelry box. In addition, the rush bracelet is again very trendy this year. Fine, smooth and uncluttered, it pairs well with your simplest and most eccentric outfits. Silver jewelry is timeless, it is worn all seasons. This bracelet will go well with a white crochet top in summer and with a nice turtleneck in winter. If you need a gift idea to offer the perfect gift, Art'emi offers you its beautiful bracelet. Therefore, it will be a perfect gift for Mother's Day, for a birthday or for Christmas.
A unique bracelet: personalization
There are many models of open ring bracelets, adorned with pearls, diamonds, shells and much more... The particularity of this one is the customization! It is possible to make this elegant jewel even more personal to you. It is possible to engrave infinitely names, dates, but also the pretty drawings of your children. Also indulge yourself with our wide selection of typography. Make this essential bracelet singular and original by leaving a part of you with this bracelet open to engrave. Remember that this engraving is completely free at Art'emi, just like all other men's and women's jewelry and customizable accessories.
The open ring bracelet to engrave in solid silver with hallmark 925 is a timeless that will make you a beautiful wrist. This beautiful sterling silver women's bracelet will go with all your outfits in your wardrobe, and this for all occasions. This women's bracelet is also adjustable, so no need to worry about size.
Want to know more about jewelry Art'emi ? Just click here.
Exceptional quality for the silver open ring bracelet
The open ring bracelet is made of solid silver, 925. Every piece of jewelry or solid silver accessory at Art'emi has the 925 hallmark, a sign of quality. Solid silver is of exceptional quality, its strength is due to the mixture between 92.5% silver and 7.5% copper. Moreover, if you follow a little fashion this bracelet rush complements itself very well with other bracelets. In order to make a nice composition then, come and see which gold and silver women's bracelets will fit best. The open ring bracelet also exists in gold color.
The jewelry brand Art'emi uses the best of precious metals for its jewelry. She uses tourmaline, white gold, turquoise, quartz, rose gold, vermeil, 18K gold, pearls, fine stones, leather, semi-precious stones, mother-of-pearl and many others. Art'emi also makes jewelry collections for women, jewelry collections for men and children. There are a variety of jewelry such as gold bracelet, necklace, necklace, name necklace, necklace, earrings, creoles, gold ring, engraved medal, ring, gold wedding ring, silver chain, chainette, ring bracelet, bracelet ring, chain necklace, gourmette bracelet and more.
Do not hesitate to check out our other jewelry collections, all customizable on our website. Go for it and treat yourself!
Specific references
UPC

547348164266

EAN-13

5472508182581