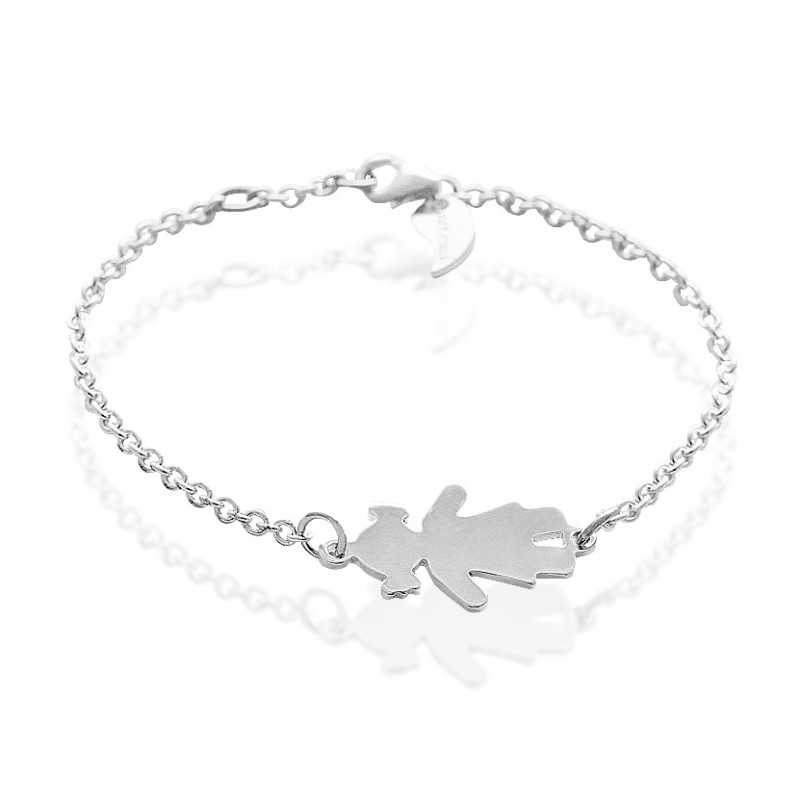  
Curb chain character girl personalized child
Massive silver 925
Size of the girl: 22 mm X 135 mm
Length of bracelet: 13-15 cm
Number of characters: 10 maximum per face
Personalize your toddler by choosing engraving, possibility to engrave on both sides any type of message.
Free engraving
Free shipping - Ships within 24-48 hours
Customization
Don't forget to save your personalization so you can add it to the cart
General conditions of Sales
Delivery policy
Returns policy
Curb character girl personalized child - Personalize your bracelet for child
Are you looking for the perfect gift for a little girl? The art'emi jewelry store offers you this magnificent girl character bracelet personalized child in solid silver. You can have this little jewel engraved to make it an even more special gift.
Discover the art'emi girl character bracelet
This bracelet is customizable, meaning that you can engrave the little word of your choice in order to make this bracelet unique. The jewel can be engraved on both sides. You can choose from several typography styles. Art'emi has the ability to create jewelry of different sizes. This is why this jewel is available for both children and women. So you can offer it to the little girl but also to her mother. Consult our bracelet girl character for a woman. An absolutely adorable first common jewel to celebrate a birth.
Offering an engraved bracelet is magnificent attention because, very often, the person who receives it will keep it all his life. It is, therefore, a superb personalized souvenir. Offer your child an extraordinary piece of jewelry to show him that he is exceptional in your eyes.
Curb character girl personalized child - a customizable gift
All our creations are made with care and quality materials. The chain of this bracelet for a girl is in 925 silver, just like the figurine. We used silver and copper to create our jewelry. This allows us to create jewelry of exceptional quality. All our silver jewelry is of course stamped "925". We sell our jewelry with a certificate of authenticity and a guarantee (valid for one year). Do you want to buy this bracelet girl character? This bracelet model is available online and in store. You can order it on our e-shop by specifying the engraving of your choice. If you would like more information, you can meet us by visiting our shop in Brussels.
Also, discover the boy character bracelet for young mothers of little boys.
Specific references
UPC

547977015472

EAN-13

5454818979860