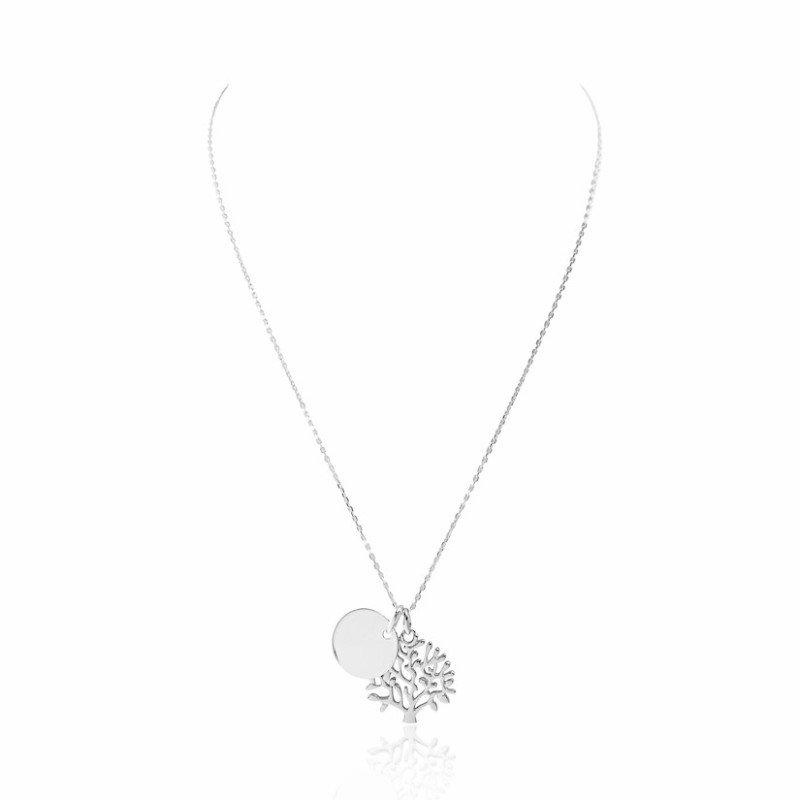  
Necklace medal tree of life personalized silver 15mm child
Solid silver 925
Weight: 4,69gr
Length: 42 cm
Measurement tree of life: 2 cm X 2.10 cm
Medal diameter: 1.5 cm
Number of characters: Recto/Verso: 20 characters
Free engraving
Free shipping - Shipped within 24-48 hours
Customization
Don't forget to save your personalization so you can add it to the cart
General conditions of Sales
Delivery policy
Returns policy
Tree of life medal necklace
Are you looking for a gift idea to give your little one the perfect present? You want to offer a gold or silver jewel with meaning? Opt for the tree of life medal necklace in solid silver with 925 hallmark! The tree of life means physical and spiritual blossoming. This beautiful silver jewel is a unique and symbolic gift. A message of love and eternal life will be transmitted to the child who receives the jewel. This tree of life necklace is composed of a 15mm medal and a tree of life pendant. So you can engrave what you want, like your initials to make a unique and original gift .
Make your customizable tree necklace unique
You want to offer a unique and customizable gift for your child, nephew or godchild? Let yourself be tempted by the personalised tree of life necklace for children. Indeed, it is the ideal gift that will certainly please your child. This beautiful tree of life necklace can be personalised in solid silver and will be perfect as a birthday gift or as a Christmas gift. In addition, we offer a wide range of typography so that you can choose what suits you best. Thus, you will be able to make infinitely personalized jewels according to your tastes. Indeed, on the medal, you can write a small message of love, initials or the first name of the person who receives the gift. Several options are possible!
Moreover, this beautiful necklace in solid silver will allow the person who wears it to be glamorous, elegant, trendy, while being discreet and subtle. The tree of life necklace is a timeless to have in his jewelry box. You will be able to wear this beautiful necklace for all occasions, because it matches perfectly with all your wardrobe.
But above all, don't forget that the customization of your man-woman jewels which are in gold and silver is totally free just like the delivery! Therefore, do not hesitate any more and place your order of gold or silver jewellery at Art'emi!
The tree of life necklace of the jewellery store Art'emi
First of all, it is important to know that the jewellery store Art'emi realizes its man-woman and children jewels from exceptional materials. Indeed, the jewellery brand Art'emi has used solid silver to make the tree of life necklace customizable for children. 92,5 % of pure silver and 7,5 % of copper compose this metal, which brings a great solidity and resistance to the jewel. Thus, you will be able to transmit this necklace from generation to generation. Moreover you can also find the necklace medal tree of life customizable in 20mm but also in 10mm. It is also available for women and for men.
The jewellery brand Art'emi also offers you its collection of jewels for men and its collection of jewels for women. You will find everything such as bracelet, gold ring, long necklace, silver chain, creole, engraved medal, cufflinks, pendant necklace, leather bracelets, name necklace, etc. The jewellery brand Art'emi also uses the best precious metals for the manufacture of its jewellery. You will find tourmaline, coral, turquoise, fine stones, mother-of-pearl, semi-precious stones, white gold, yellow gold, coral, 18K gold, vermeil, quartz, solid silver, leather, agate and many others.
The other jewels ofArt'emi
Art'emi also proposes to you in addition to the tree of life necklace, its bohemian medal necklace for woman to be engraved. This beautiful necklace in solid silver will make you a beautiful neckline and will make you shine. You can be trendy, glamorous and subtle with your medal necklace. Do not hesitate to go on our site to discover all our jewels. Finally, if you have any questions about engraving or any other jewel, we will be happy to answer you. Do not hesitate to send us a message. Discover also on our blog our article for a gift engraving child. This way, you will have ideas for engraving your gold and silver jewelry. You will also find plenty of ideas for a unique gift.
Specific references
UPC

543371311066

EAN-13

5427345574044