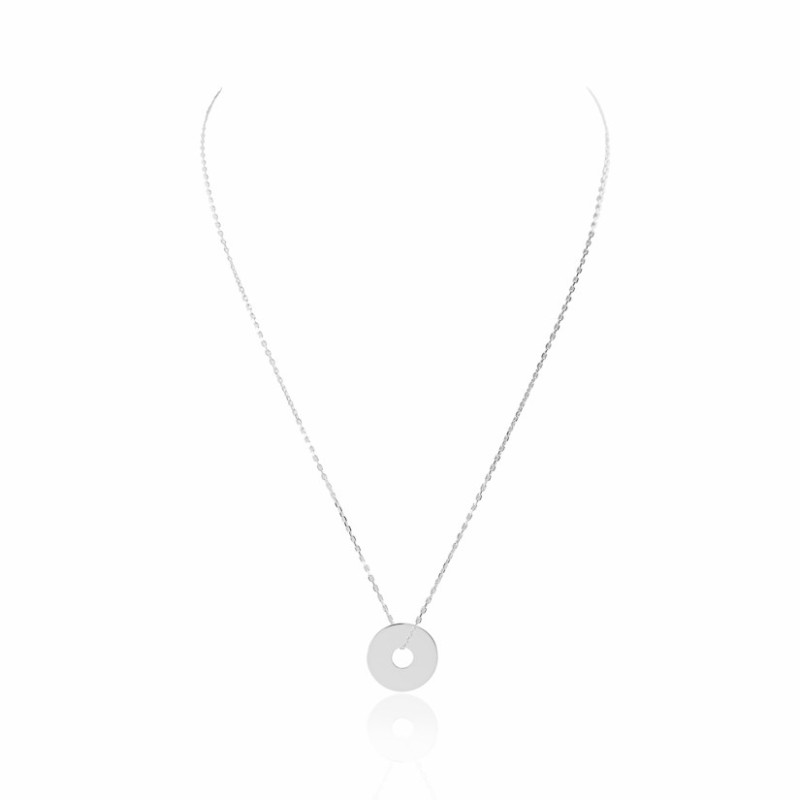  
Necklace target silver to engrave 20mm child
925 sterling silver
Target diameter: 2cm 
Chain length: 42cm
Weight: 3,45gr
Number of characters: Front/Back 35 characters
Free engraving 
Free shipping - Ships within 24-48 hours
Customization
Don't forget to save your personalization so you can add it to the cart
General conditions of Sales
Delivery policy
Returns policy
Personalized target necklace: to consume without moderation 
You would like to give a jewel to your child but you don't know what to choose? Stop searching, this necklace is made for you! Indeed, simple and chic at the same time, this silver necklace will not leave anyone indifferent in the playground. Your child will assert his style and personality with this very fashionable necklace. Moreover, you have the possibility to make this jewel unique thanks to our customization option. Don't hesitate any longer and come engrave this necklace that will amaze your child. 
A dazzling necklace for your children  
Because of its shiny silver, the target necklace is an exceptional gift for your child. Indeed, the Art'emi jewelry store uses exceptional materials in the making of its jewels. This is why this personalized target necklace for children is very sturdy. An important detail when you know what these little monsters do in a day!  This sumptuous jewel is made of solid silver. This metal is an alloy of 92.5% pure silver and 7.5% copper. 
In order to maintain the brilliance of this necklace, we invite you to come and discover our blog on "how to clean your silver jewelry".
Discover our selection of children's necklaces all made of sterling silver to ensure incomparable quality. We also offer children's chains such as the Venetian chain link or the chain link bracelet. So let yourself be tempted!
Remember to personalize the silver target necklace
Why not offer a unique piece of jewelry that will best resemble your child, nephew or godchild? Indeed, the customizable target necklace is the perfect gift for Christmas, a birthday or a baptism. First of all, you can engrave a cute little message like "I love you" or simply his first name! In addition, it is also possible to engrave a drawing or a symbol! Why not opt for his astrological sign or even his fetish animal? You have all the possibilities in front of you, leave room for your imagination. 
Finally, the personalization of your jewelry is totally free! You want more? Discover also the silver target bracelet for children to customize, matching the necklace.
Specific references
UPC

542026636486

EAN-13

5496352113881