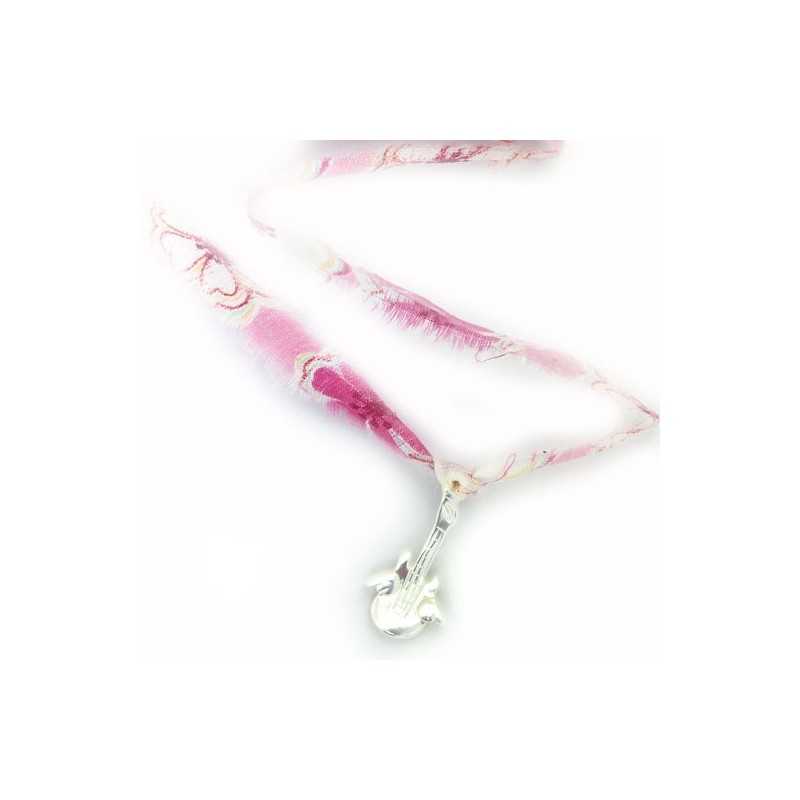  
Guitar liberty bracelet for children
Liberty fabric tape 
Shaped pendant guitar
Adjustable size 
Dimension of the pendant: 25 mm x 12 mm
Free shipping - Ships within 24-48 hours
General conditions of Sales
Delivery policy
Returns policy
Guitar liberty bracelet for children: the little musician
"Leo, can you please stop making so much noise! "But I make music, Mom! ». Not sure if he will ever become a great musician or singer, you think down. It's more of a chaotic noise than a sweet melody..... We have all experienced this kind of situation before. But if you want to please your little budding rocker, offer him/her the liberty guitar bracelet for children, which will remind him/her of his/her passion for music. In addition, this bracelet is mounted on an adjustable elastic band that adjusts to the wrist. In the spirit of the times, this is a trendy bracelet that your little one can proudly wear in the playground.
The Brussels jewelry store art'emi and the making of exceptional jewelry
Art'emi Jewelry offers you quality jewelry made from exceptional materials. Specially designed to accompany children in their wildest adventures, the guitar pendant on the Liberty Star bracelet for children is made from mother-of-pearl. Mother-of-pearl is biocomposite, synthesized by molluscs throughout their lives by lining the inside of their shells. The word "mother-of-pearl" comes from the Arabic "naqqarah". In English, it is called after the name given to it by the first Queen Elizabeth: mother-of-pearl (mother of pearls).
The liberty bracelet guitar pendant in white mother-of-pearl for children from art'emi, a jewel that sends heavy!
First of all, liberty is an extremely trendy fabric. This liberty guitar bracelet for children will perfectly suit your children and will resist their adventures. Its sparkling colors give it a summery and delicate look. The guitar counterpart also gives it a rock and modern style. Don't forget that all Artemi creations can be delivered anywhere in the world. In addition, the package will arrive with a certificate of authenticity and a one-year guarantee. Finally, the entire team remains at your disposal to answer all your questions.
If you liked this bracelet, you will also like all the liberty bracelets in our children's collection.
Specific references
UPC

548676057978

EAN-13

5461489654101