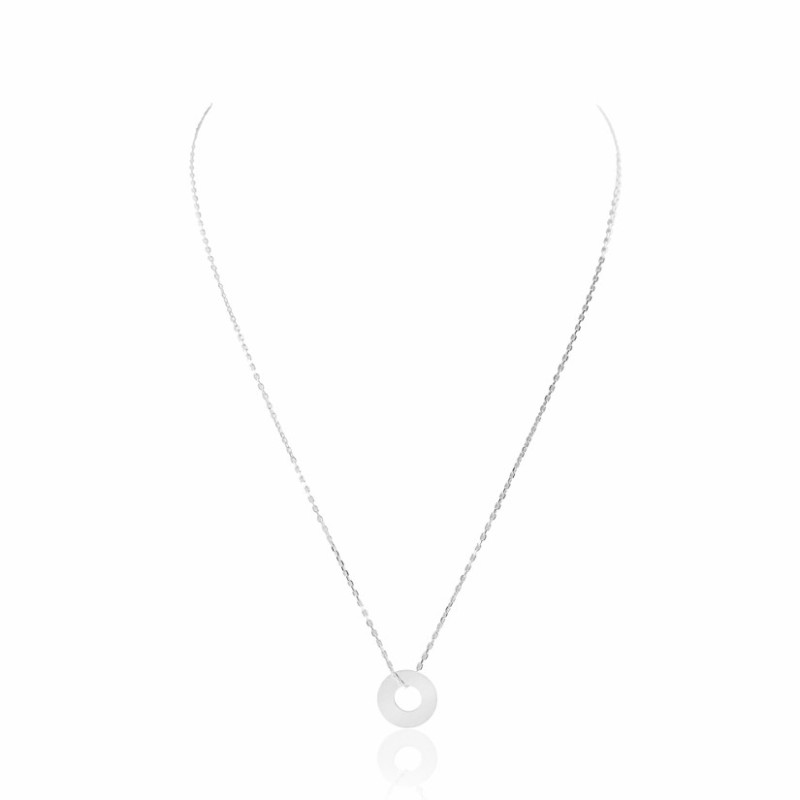  
Customizable silver target necklace 15mm men
Solid Silver 925
Target diameter: 15mm
Chain length: 50cm
Weight: 2.18gr
Number of characters: Front and back 30 characters
Free engraving
Free shipping - Shipped within 24h-48h
Customization
Don't forget to save your personalization so you can add it to the cart
General conditions of Sales
Delivery policy
Returns policy
The necklace you need!
You want to add a beautiful silver necklace to your jewelry box? You want to find a sober and elegant jewel to embellish your outfits? The target necklace silver man is the one you need. Indeed, simple and chic at the same time, this silver necklace will not leave your entourage indifferent. Affirm your style and your personality with this trendy necklace. Moreover, you have the possibility to make this jewel unique thanks to our option of personalization. Do not hesitate any more and come to engrave this necklace which will make you dream. This silver necklace is a timeless piece that you can wear for all occasions.
The customizable target necklace for a unique man jewel
The jewellery brand Art'emi offers a customization service on a large part of its gold and silver man-woman jewellery. Thus, you can make this superb customizable target necklace unique by engraving it with the inscription of your choice. A wide choice is offered to you, you can engrave a first name, a date, initials or a nice drawing of your children. Moreover, we have a varied choice of typography. So, dare to personalize and offer yourself a unique and original jewel, which will not look like any of your previous jewels for men . Moreover, this necklace is a unique gift that you could give to your husband, father, friend. It would be an ideal gift for a birthday present, a Christmas present, or for Valentine's Day.
The jewellery brand Art'emi also proposes you to come and discover its collection of women's jewellery and its collection of jewellery for children. You will find customizable jewelry in gold and silver. You can engrave your jewels to the infinity according to your tastes. Finally, if you have any questions about your order, we will be happy to answer them.
A unique quality man's jewel
If you like this necklace, you should know that in addition to being a jewel that fits your outfits, it is also a necklace designed with noble metals. Indeed, our jewels are made of gold and silver. This target necklace is made of solid silver and is hallmarked 925, as a guarantee of quality. In fact, this denomination means that the jewel is made of real silver as opposed to a silver plating. It is composed of 92.5 % pure silver and 7.5 % copper. Moreover, in lithotherapy, silver brings assurance and self-confidence, so don't hesitate and adopt this silver target necklace for men.
The brand of jewels Art'emi proposes you a wide range of jewels man-woman. You will find chain, gold bracelet, gold ring, tree of life necklace, bracelet, name necklace, cufflinks, choker, gold chain, ring, medallion, engraved medal, creole, gold wedding ring, earrings and many others. The quality of a jewel is an essential criterion for the jewellery brand Art'emi. For this reason, Art'emi uses precious metals in the manufacture of its beautiful jewels. You will find tourmaline, quartz, solid silver, mother-of-pearl, pearls, semi-precious stones, turquoise, coral, vermeil, rose gold, fine stones, leather,agate, yellow gold, white gold, etc.
The brand of jewelry Art'emi
If you like this necklace, you will surely like the necklace medal silver personalized for man. We also have the silver medal bracelet personalized man a timeless bracelet that will make you a beautiful wrist. This solid silver bracelet is customizable. You can choose the color of the cord and engrave a message or initials on the medal. It will make a nice personalized gift that is sure to please. If you need a gift idea for a unique gift, Art'emi has plenty of them. So don't hesitate to come and have a look.
Specific references
UPC

541870186710

EAN-13

5407932332387