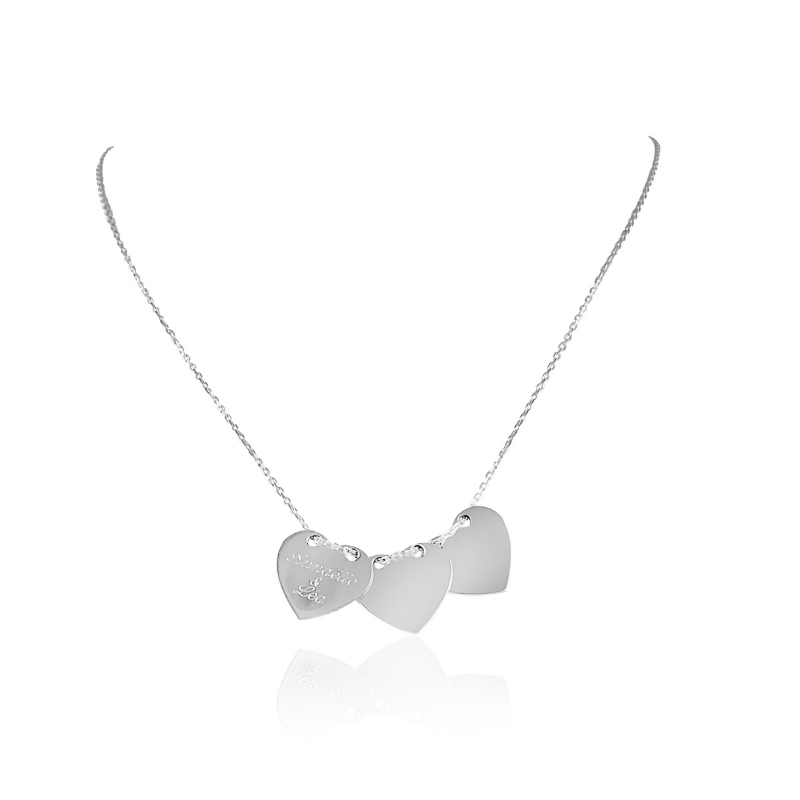  
Bracelet rond double chaine argent femme
Solid silver 925
Heart-shaped pendants
Chain size: 42 cm
Pendant size: 1.5 x 1.5 cm
Number of characters: Duplex: 20 characters
Weight: 6.89gr
Free engraving
Free shipping - Ships within 24-48 hours
Product customization
Don't forget to save your customization to be able to add to cart
General conditions of Sales
Delivery policy
Returns policy
Necklace 3 hearts silver personalized woman: want an original and elegant necklace?
Are you looking for a gift for the birthday of the chosen one of your heart? The female gender takes a lot of jewelry. While some are timeless and classic, those inArt'emi openly display their difference. Indeed, there is for all occasions. If you are looking for authenticity, you are at the right address! Thanks to our necklace 3 hearts silver personalized woman, you will make jealous by so much originality! In addition, jewels are like an asset of seduction, a sign of identity, in women. So, perfect for you! This medallion necklace is both trendy and shows an immense love with these three hearts.
Art'emi : ancestral know-how
How to choose a necklace with engraving? All our jewels offer you a remarkable quality,because everything is made of solid silver. Thus, you are certain of its timelessness thanks to its color that blends with everything. You also benefit from an assured robustness. So, don't worry anymore in the choice of your jewel. Our necklace is for you! In addition, our jewelry store offers you an exceptional service thanks to its unique engravings. Feel free to customize your women's necklace by engraving a specific message, an initial dear to your heart, or among many other options. Everything is possible at Art'emi, your creativity has no limit! In addition, our jewelry offers you your engraving, as well as your delivery. Both remain free!
Necklace 3 hearts silver personalized woman: you want to testify your feelings to your beloved?
Look no further, here is our selection of choice: our personalized silver 3 hearts necklace woman! Indeed, the necklace pendant is the most worn jewel all over the world, whether by men or women. Want to keep close to the heart the love that the person offering you this mesh necklace shows you? Perfect, this sterling silver pendant, made up of three hearts, lives up to your expectations! Thus, the chosen one of your heart is able to wear it every day and remember you at every moment. Indeed, it is important to bear witness to your feelings towards your loved ones. Every little attention counts!
Finally, Art'emi offers you a range of heart pendant enriched by many creations. Therefore, do not hesitate to look at our shop! For example, here is a similar necklace that you will enjoy: our personalized silver heart necklace woman. Otherwise, see all our customizable necklaces as well!
Specific References
ean13

5470729214890

upc

548187345014