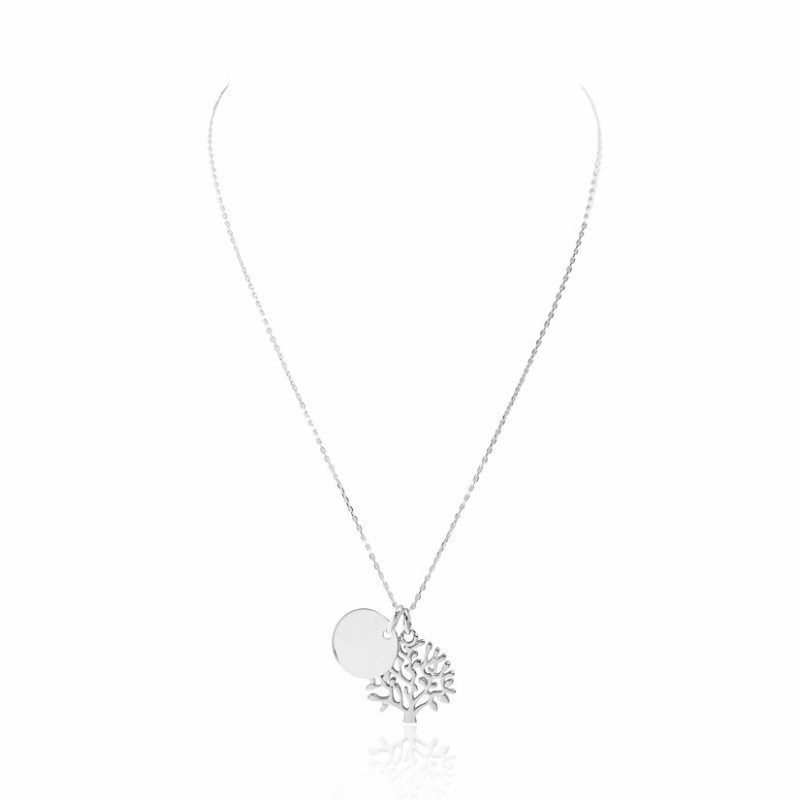  
Necklace medal tree of life personalized woman (15mm)
Massive silver 925
Length: 42cm
Weight: 4.79gr
Tree of life measurement: 2 cm x 2.10 cm
Medal diameter: 1.5 cm
Number of characters: Recto/Verso 20 characters
Free engraving
Free shipping - Ships within 24-48 hours
Customization
Don't forget to save your personalization so you can add it to the cart
General conditions of Sales
Delivery policy
Returns policy
The elegance of the Tree of Life Medal necklace 
Come and discover the incredibly delicate Tree of Life necklace. It is a fine and elegant jewel, ideal for your different events. You want a jewel that you can wear in your daily life? This necklace is perfect, at work, during the day and even in the evening, it will accompany you in your outings. The personalized necklace tree of life is composed of a 15 mm medal that can be customized at your convenience and a tree of life, strong in meaning. 
The symbolism of the tree of life 
You want to offer a jewel that makes sense? The personalized Tree of Life necklace is the one for you! Indeed, the tree of life is a lucky charm, it means that you want to protect the people you love. You can pass a message through this jewel to your beloved, it is the perfect gift! Moreover, it is possible to personalize the medal with an engraving. Therefore, you can leave room for your imagination and give the unique jewel as a gift. For the personalization, everything is possible, from drawing to initials and symbols, let your creativity rock you. Art'emi offers you different types of typographies so that your message will meet your expectations as much as possible. Finally, don't forget that the personalization of your jewelry is free. 
An incomparable quality: the personalized necklace tree of life 
Not only, this jewel can allow you to transmit a nice message, this one is also of very good quality. The Art'emi jewelry shop elaborates its creations with 925 solid silver, composed of 92.5% pure silver and 7.5% copper. This metal confers to the jewel a resistance and a solidity against all tests. Moreover, the bracelet medal personalized will agree perfectly with your necklace. Finally, we offer you a unique experience with a personalization of your jewelry and a free delivery. 
Also discover our silver drop ring for women to complete the look. 
Specific references
UPC

545175140644

EAN-13

5475665648396