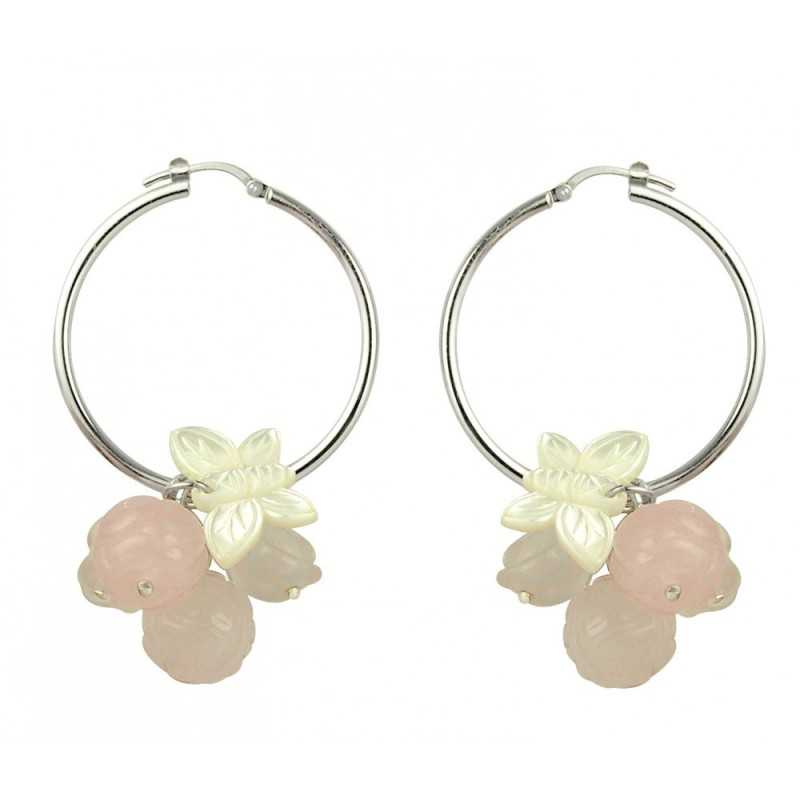  
Cluster roses hoop earrings
Massive silver creoles 925
Length of the Creole: 3 cm
Cluster length: 1.5 cm
Pink quartz in the shape of a ball and flower
Butterfly in mother-of-pearl
Weight: 3g
Free shipping - Ships within 24-48 hours
General conditions of Sales
Delivery policy
Returns policy
Cluster rose hoop earrings: a bucolic pair
This pair of pink cluster rose hoop earrings is an elegant and refined pair. These are lightweight earrings, fashionable and to wear without moderation. They will suit any type of outfit. These solid silver hoops with a bunch of flowers, pink quartz balls and mother-of-pearl butterfly will charm the heart of the woman you are.
Art'emi creations : a quality know-how
The art'emi jewelry store offers you quality jewelry made from sensational materials. The pink hoops earrings are made of silver, quartz and mother-of-pearl.
First of all, the mounting of the earrings is made of silver. The silver used is 925 silver (generally called solid silver or sterling silver). It contains 92.5% silver and 7.5% copper. All our silver jewelry bears the "925" hallmark as a sign of our quality.
In addition, the rosebud ornaments are made of rose quartz. Quartz comes in a range of shades from pale pink to dark pink. In lithotherapy (a method of healing with crystals), quartz is the stone of the heart, love and peace.
Finally, the butterfly pendants are made of mother-of-pearl. Mother-of-pearl is a biocomposite, synthesized by molluscs throughout their lives by lining the inside of their shells. The word "mother-of-pearl" comes from the Arabic "naqqarah". In English, it is called after the name given to it by the first Queen Elizabeth: mother of pearl.
Why choose the pink cluster rose hoop earrings ?
A jewel of taste and quality, don't hesitate any longer and treat yourself to these splendid creoles! We also remind you that all our jewellery is delivered free of charge throughout Europe. Finally, the whole team remains at your disposal to answer all your questions.
This jewel can be worn with the pink cluster necklace, pink cluster ring, or as a clothing accessory with the pink cluster brooch.
This jewel can be worn with the cluster necklace, cluster ring, or as a dress accessory with the cluster brooch.
Specific references
UPC

547818590380

EAN-13

5402763805338