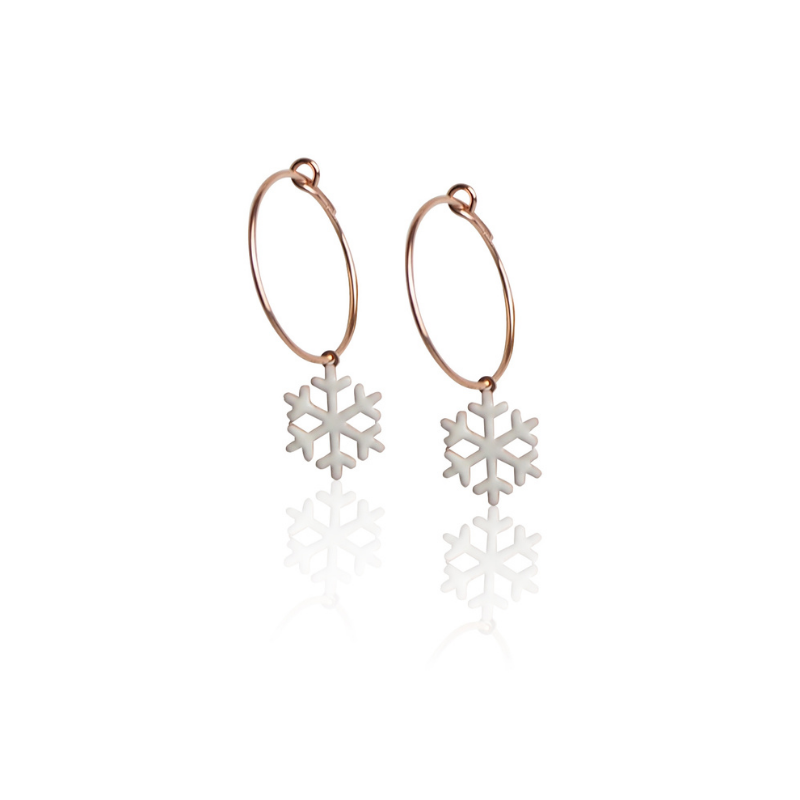  
Creole earrings snowflake in women's enamel
Vermeil rose gold
Diameter earrings: 18mm
Double-sided snowflake pendant in white enamel
Pendant dimension: 12mm in diameter
Earring length: 30mm
Free shipping - Ships within 24-48 hours
General conditions of Sales
Delivery policy
Returns policy
Presentation of Creole earrings enamel snow stars
Do you want a change in your jewelry collection? opt for the enamel Creole earrings of the jewelry store art'emi. If you want to add originality and fantasy to your jewelry, these round earrings are perfect. In addition, an enamelled silver pendant in the shape of a snowflake accompanies these Creoles. This allows you to add an elegant character to your end-of-year evening outfits. This jewel is an ideal gift idea to offer at Christmas since it fits perfectly with the theme. Assemble Creoles to your end-of-year outfits, perfect for receptions or end-of-year evenings. In addition, the diameter of the earrings measures 18 mm in diameter and 12 mm for the charm. The jewel thus approaches a great discretion, it is passed everywhere and is timeless.
Do not hesitate to give diversity to your circle earrings by changing the charm. This will allow you to bring diversity to your style depending on the outfit you approach. In addition, you will find the silver earrings in two different colors, one in pink and the other in vermeil. In short, the white enamelled hanging charms will perfectly bring out the Creole, regardless of the color. This beautiful jewel will bring out your femininity and you can shine in public or alone.
Precious materials
The design of jewelry with precious metals is a significant point at art'emi. Indeed, there is something for everyone, you will find mainly solid silver, a precious metal. Indeed, it is a very appreciated material because of its resistance to water or scratches and a great ease to clean. Also composed of copper, an essential alloy for the preservation of the pendant over the years, making it stainless.
In addition, the pendant consists of silver set in white enamel. This adornment combines both finesse and resistance. Indeed, its coating makes it possible to make the charm last. Thus, temperature variations, chemical aggressions or salt are ineffective and the color will remain intact. Beyond these precious materials art'emi also uses semi-precious stones. Indeed, turquoise, vermeil, rose quartz, coral, tiger's eye, tourmaline, mother-of-pearl and many other fine stones that you can discover here.
How to match your enamel Creole earrings with your outfits?
Because of its neutral color in white, your wardrobe allows you to associate these earrings with any outfit. Indeed, you can give a white outfit with the white pendant or a black outfit to bring out the white enamel. In addition you can also wear any color and especially red. You have an infinite choice of outfits! enough to be elegant for Christmas! thus, you reveal your femininity and glamour in the eyes of the world.
How to match your Creole earrings snowflake enamel with other jewelry?
In addition, the white color of the enamel makes it possible to associate another rhodium-plated jewel with your outfit. You can accessorize your jewel with a wide range of our jewelry for example our silver rings. In order to sublimate your wrist, you can also go to our bracelets in silver, vermeil or fabric with a silver medallion. In addition, art'emi also has a wide selection of silver necklace that you can find here. We also offer the enamel snowflake necklace,a necklace, a pearl necklace or a necklace flush with the neck that will ally with the Creoles and magnify your neckline. Thus, art'emi puts at your disposal a wide choice of jewelry to accompany your earrings, the style no longer has any limits.
Jewelry that we customize for you
All occasions are good to personalize your jewelry by art'emi, your imagination has no limits. Thus, adorn your jewel with an engraving that will correspond to you or someone who is dear to you. Indeed, the engraving will be something personal and sentimental, it will be unique. With a choice of seven typographies, three shapes and twenty-five characters maximum, your jewel will be irreplaceable and will even serve as a lucky charm. In this case, let your heart speak, place your order and art'emi takes care of the rest.
Simple and effective cleaning methods
Art'emi, your artisan jeweler offers techniques to clean your rhodium-plated gold and silver jewelry. Discover several simple, fast, effective and inexpensive methods so that your jewelry regains its natural shine. Products of your daily life such as white vinegar, laundry or beer are effective.
More information ...
To discover all of our original jewelry on our website, click here. Thus, discover our different ethnic ranges of beautiful jewelry for women, for men and even for children. Thus, discover all our ranges of costume jewelry, necklaces, bracelets, rings, gourmettes, cufflinks and many others. Find jewelry that suits you, sober or to shine. Any other questions?, contact us now.
Specific references
UPC

542007257532

EAN-13

5401941120829