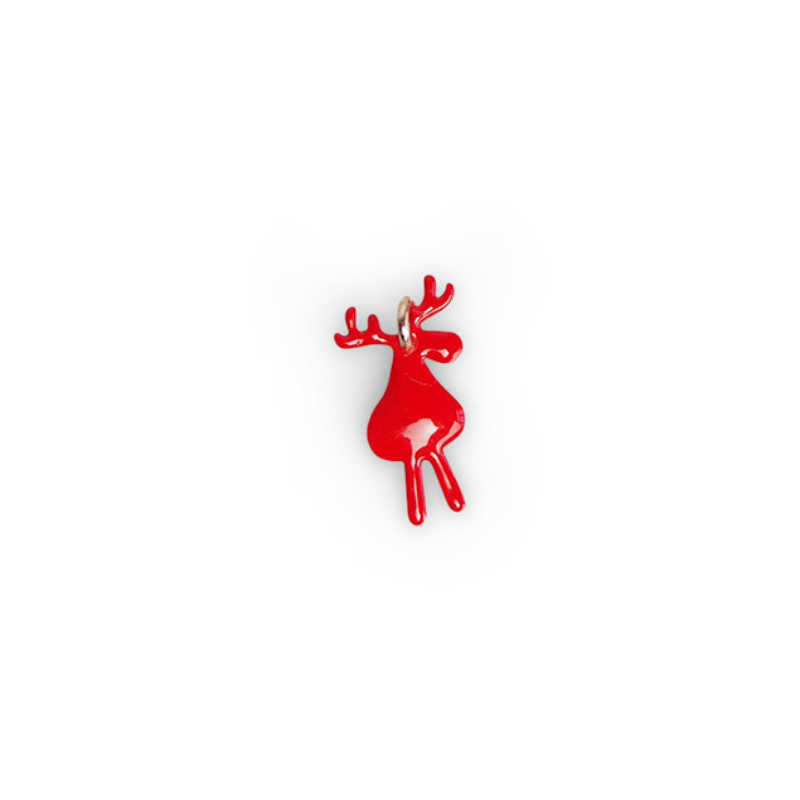  
Reindeer pendant Christmas girl
Solid Silver 925
White enamel Christmas reindeer head pendant
Pendant dimension: 16 mm x 9 mm
Free shipping - Ships within 24h-48h
General conditions of Sales
Delivery policy
Returns policy
The magic of Christmas is invited to Art'emi
Our new Christmas-themed jewelry collection for kids and teenage girls has finally arrived! Ideal as a gift idea, the reindeer pendant Christmas girl will go perfectly to your child. Give him as a gift as the holidays approach and throughout the year so that he carries the magic of the holidays everywhere with him. It goes perfectly with all clothes whether golden, silver, sober or bright colors and also with your rhodium-plated silver, gold, diamond and other jewelry.
It is the perfect gift for your child or that of a loved one. It will easily find its place in the jewelry box of the youngest. It comes in several pendants, to discover on our online jewelry store. So don't hesitate and go for it! you will necessarily find the one that will please your child.
Do not worry, these jewels go with any other jewel, whether in rose gold, white gold or yellow gold, diamond, silver, rhinestones and even with all precious stones! The colors go perfectly with turquoise, agate, mother-of-pearl, etc.
A word about the material used for the young Christmas reindeer pendant
It is the enamel that was chosen for these pendants. It is a very resistant material against detergents, solvents and chemical aggressions. It also copes with corrosion, water, bad weather, salt and variations in climate and temperature. Its color, deep and unalterable, remains as well as the hardness of the enamel which is difficult to scratch and which protects the metal or terracotta support it is a clean and healthy coating that is easy to clean.
You can also find this collection of jewelry in necklaces and Creole earrings. These are made of solid silver 925.
The Brussels jewelry store Art'emi makes its jewelry with precious stones. For the Christmas collection, it is the solid silver 925 that is used also called sterling silver, it is a mixture of silver (92.5 %) and copper (7.5 %). It is this combination of sterling silver and copper that gives the necessary robustness for the making of our Creole silver necklaces and buckles. Finally, the "925" hallmark is present on all silver creations ofart'emi as a guarantee of quality. It is this quality that gives the jewel its longevity and robustness over the years.
Want more silver jewelry? So, come and discover our silver pendants, silver medal necklaces, rings with a timeless look in sterling silver as well as bracelets for children and teenagers in solid silver set with semi-precious stone such as turquoise, mother-of-pearl or coral.
Our jewelry tips to associate this pendant reindeer Christmas young girl
To complete this Christmas reindeer email pendant, discover our girl character bracelet. Available in multiple colors of cords, this bracelet will delight the little ones. In addition you can have it engraved for free on both sides with different typographies. This girl character bracelet is made of fabric and a sublime 925 silver figurine.
Let yourself be tempted also by the silver open rush bracelet to engrave. First of all, simple, subtle and discreet, it combines with all the children's outfits. Thus, the silver bracelet will match his entire wardrobe, he or she will be able to put his silver bracelet for all occasions. Lightweight and robust, it will follow all the adventures of your children without any worries. Discover this bracelet rush open to engrave woman, man and child that will fill you with happiness.
You can also discover our jewelry for women. Opt for turquoise cluster earrings. It is a women's jewel with oval shapes, light colors and noble materials silver and a semi-precious stone. A few ingredients are enough to combine beauty and comfort in a single jewel for women. Finally, it is undeniable that despite their simple and refined style, these Creole curls are nevertheless original and fancy with turquoise.
Let yourself be charmed by the pearl clover earrings. Both delicate and elegant, this pair of Creoles will bring a touch of femininity and sublimate your face. This jewel will perfectly suit sensual, natural and discreet women for trendy and chic look.
Have your jewelry engraved!
Art'emi offers to engrave and deliver its jewelry for free , in addition the jewelry is of exceptional quality! So, do not hesitate to personalize them according to your desires, to offer you and your loved ones timeless and unique jewelry. The possibilities are endless!
Discover the cloud bracelet to engrave. This jewel, soft and sophisticated, will sublimate your wrist with class and finesse. In addition, the finesse of the chain makes this jewel very feminine and very elegant. Especially since this bracelet is made of silver sterling, a timeless material, which is a sign of quality.
For more tips and gift ideas for jewelry to engrave, click here to access our blog post. You will find our gold, silver, leather and other jewelry for men and children on our site.
How to contact us?
Whatever your type of jewel as original as it is, set frame or necklace first name, in precious stone, semi-precious or fine stone, contact our jewelry store. We remain at your disposal to help you make your choice among our wide range of jewelry. We have something for everyone, for men, for children and even teenagers. You can also ask our jewelry store for advice on finding an ideal birthday, wedding, engagement or baptism jewel. 
Find us also on our social networks!
Specific references
UPC

545908638233

EAN-13

5426016523312