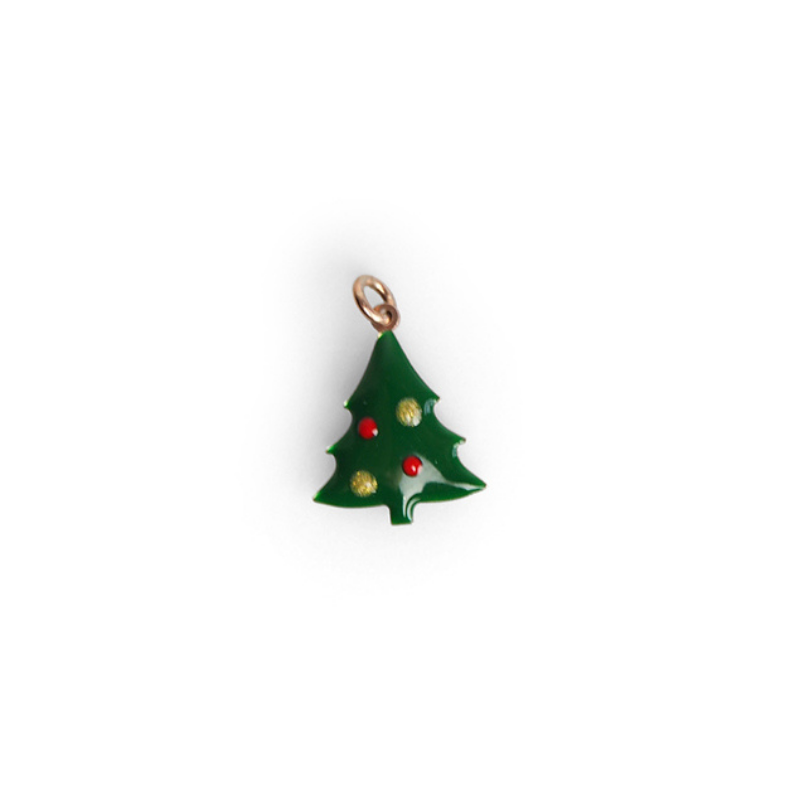  
Christmas tree pendant child solid silver 925
Solid Silver 925
Christmas tree pendant in green enamel
Pendant dimension: 11mm x 15mm
Free shipping - Ships within 24-48 hours
General conditions of Sales
Delivery policy
Returns policy
The Christmas tree pendant for children, the essential for the holidays
Your jewelry store art'emi highlights a collection of beautiful costume jewelry for the end of the year holidays. Your preference will certainly lean towards the children's Christmas tree pendant. This is the ideal gift to give to your child because of his sobriety and extravagance. In addition, the charm is characterized by its finesse, refinement and elegance. This jewel worn for the winter period will offer a timeless look to your child. This jewel is out of the ordinary and can fit with all the outfits in your child's wardrobe.
Jewellery made from precious materials and metals
Art'emi makes her handmade jewelry and from a unique know-how. The hanging charm consists of a solid silver alloy, which is a valuable and resistant material. Being also resistant against shocks and scratches. The jewel is also characterized by a shiny green enamel adornment. Thus, the jewel will not be damaged against chemicals or salt for example. This charm combines both durability and quality, perfect for your children's adventurous daily life.
This jewel will wear best as a necklace, we invite you to discover our range of chains and necklaces. We offer the diamond convict chain, the gourmet mesh chain, the silver ball chain or the Venetian mesh chain. You can also offer the Christmas tree necklace with black rhodium-plated ball chain. For those who like to see their jewelry keep and last much longer, this chain is for you. Rhodium also allows your jewel to be brighter and thus keeps a new look longer.
Other children's jewelry to complete the children's Christmas tree pendant
In its jewelry collection, art'emi offers a wide range of children's jewelry. For example, we have beautiful bracelets to accompany your child's wrist. We have silver mesh bracelets, cord bracelets, gourmet bracelets or fabric bracelets, mounted with a medal or medallion. Also discover our bracelets open rush or rigid closed rush in silver or vermeil plated yellow gold 18 carats.
For your daughters, offer them a beautiful short necklace or a long necklace. We have necklaces flush with the neck, pearl necklaces, necklaces or lacquered necklaces. Add more fantasy to your necklace by adding charms to alternate styles. Many of our charms are made of solid silver or vermeil plated yellow gold or rose gold 18 k.
You can also opt for an incredible range of jewelry adorned with semi-precious stones. Thus, you will succumb to our beautiful jewelry set with rose quartz or tourmaline. Art'emi also uses turquoise, coral, tiger's eye or mother-of-pearl, a material taken from shells.
Thus, we have a wide choice of jewelry to accompany the pendant as well as bohemian jewelry with cabochon stones. Thus, two-tone, silver or gold jewelry blends perfectly with your pendants.
Originality to hand thanks to engraving
Your jewelry store offers engravings on any jewelry. Thus, rings, wedding rings, signets, rings, earrings, gourmet bracelets, medallions, medallions and pendants are engraveable. A theme or a date close to your heart? Your zodiac sign? art'emi will meet your expectations. Thanks to its unique know-how, your engraving will reflect something sentimental. You can also have your most precious jewels engraved, including those set with precious stones. Thus, entrust him with your jewels decorated with emeralds, sapphires, rubies or diamonds. Engraving therefore remains an ideal gift for baptisms, for a birthday, engagement or bridesmaid gifts. In addition, engraving as well as delivery are free. It's time to place your order.
To find out more...
To conclude, Art'emi shows delicacy with jewelry, its unique know-how will delight you. We have an ethical choice of jewelry for women, men and children. All occasions are present to offer a magnificent jewel for one of your loved ones for example. If you have any questions go to our CONTACT US section. For all the gift ideas, go to our blog.