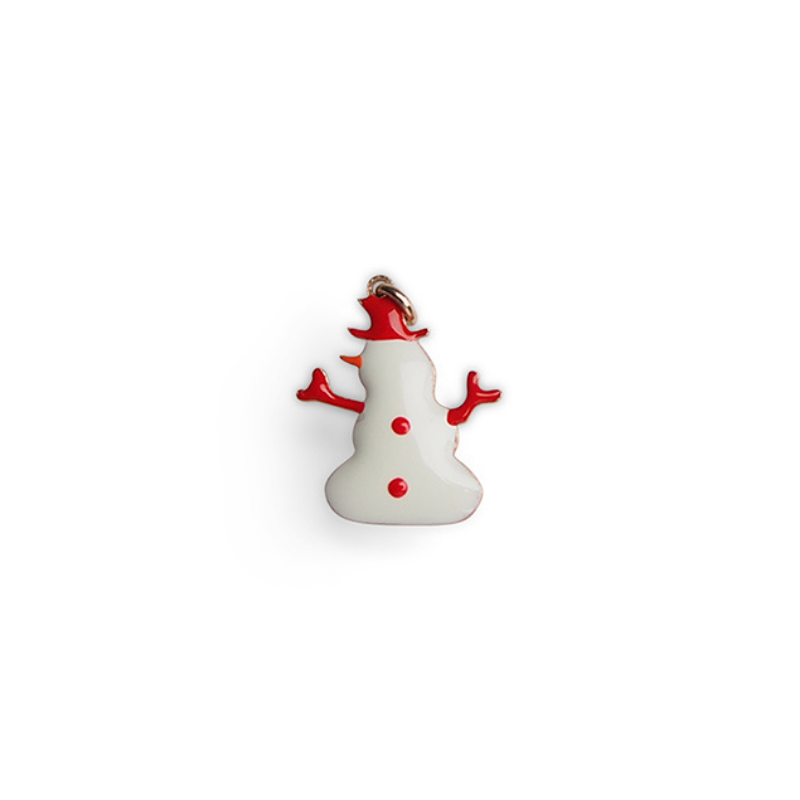  
Snowman pendant young girl solid silver
Solid Silver 925
White enamel snowman pendant
Pendant dimension: 13.55mm x 16.5mm
Free shipping - Ships within 24-48 hours
General conditions of Sales
Delivery policy
Returns policy
A special winter and holiday collection
Discover our brand new collection of sterling silver jewelry special Christmas and winter for children and teenagers! You can find necklaces, pendants and earrings with enamel pendant available in several pendants and with different models all on the theme of Christmas. It is the snowman pendant young girl that is honored.
It is an ideal gift idea for your children or those of a loved one. They will find their place perfectly in all jewelry boxes and at the feet of Christmas trees and will delight all children.
In addition, this snowman pendant easily fits with all the outfits of children and teenagers. Whether golden, silver, sober or bright colors and also with their rhodium-plated silver, gold, diamond and other jewelry. Do not hesitate and go for these superb fancy pendants.
Enamel, the secret quality of the snowman pendant young girl
This jewel is made of enamel which gives it a resistance and a shine to any test. Thanks to these materials, its color remains vibrant over time and retains its superbness. Enamel being a material that resists chemical aggressions, it is ideal to keep this jewel over time, despite all types of situations you may encounter.
Find now our pendant necklaces on our website. Made with precious stones and sterling silver also called solid silver 925 or rhodium-plated silver. They are marked with the 925 hallmark as a quality.
Our jewelry is composed of precious stones, semi-precious and fine stones and with high quality materials. All occasions are good to wear our jewelry.
Find all our costume jewelry, cuff bracelet, gourmette, ring and chain mesh on our site.
Some suggestions to complete this snowman pendant young girl
To complete this young girl snowman pendant, we suggest the vermeil rush bracelet also available in sterling silver. The finesse and elegance of it will blend perfectly with the pendant for all your outings or for New Year's Eve for example. You can fully customize it with a message or drawing of your choice which will make it unique. Find this charming and discreet children's jewel on our site in the children's bracelet category or via the search bar. It also exists in solid silver so make your choice!
Discover the silver chick collar. This jewel will sublimate your child's neck with elegance and fantasy. It is an adorable jewel and easy to wear, whatever the season or occasion. Thin, light and discreet, it will easily match all his outfits and moods. It consists of a minimalist chain in fine silver meshes and a sublime chick as a pendant. It is equipped with a silver carabiner clasp that reinforces its quality and resistance.
Then we offer different kinds of bracelets made with precious metals, such as vermeil, rose gold, solid silver, white gold or semi-precious stones and fine stones, such as agate, rose quartz and many others such as leather. All the materials used in our jewelry store are unique and quality hence the resistance of our jewelry. So, if you are eager to offer an original and elegant gift that will sublimate the wrist of your child or teenager you have the one you need.
Engraving, our specialty
The jewelry store Art'emi offers to engrave and deliver its jewelry for free , in addition the jewelry is of exceptional quality! So, do not hesitate to personalize them according to your desires and to offer you and your loved ones timeless and unique jewelry. The possibilities are endless!
Discover the personalized child slave bracelet. It is the perfect gift to give to a child who is dear to you. It is also an original gift while remaining elegant and discreet, thanks to the engravings that you can have inscribed according to your tastes and desires thus making this wrist circumference unique.
Discover also our jewelry for men and women in precious stones and semi-precious fantasy on our website. For women, you can find our rings and rings, our set bracelets, our cuffs and our charms. For men, find our bracelets in metal or vermeil color rush as well as medals.
We're here to help.
Whatever your type of jewel as original as it is, set frame or necklace, first name, gemstone or semi-precious, contact our jewelry. We remain at your disposal to help you make your choice among our wide range of jewelry. Treat yourself!