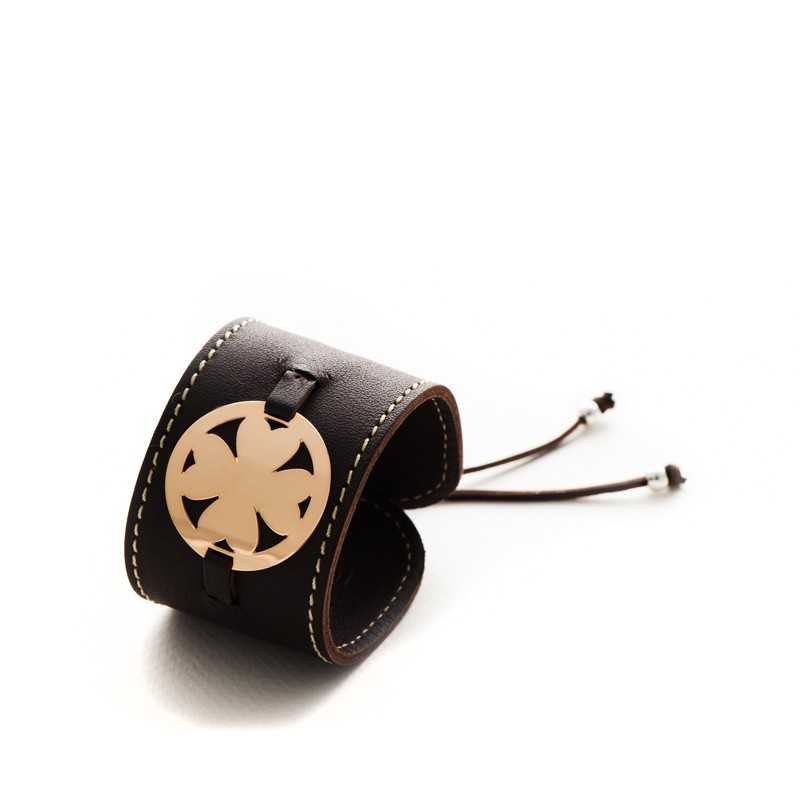  
Leather cuff bracelet woman
Leather strap
Mounted with a 925 silver or vermeille pendant
Width of the bracelet: 40 mm
Adjustable size
Silver closure 925
Free shipping - Ships within 24-48 hours
General conditions of Sales
Delivery policy
Returns policy
Leather cuff bracelet woman : a jewel with a strong grip !
The leather cuff bracelet woman with clover medallion is a jewel with character. It will sublimate the wrist of the most daring and intrepid women. Real little adventurers ! Available in 4 different colors, it will meet your expectations. Who said that women should only wear fine silver jewelry ? No one ! So, ladies, let's go ! For all those who do not like to wear thin bracelets, the Belgian designer Artémi offers you a good compromise to dress your wrists.
Art'emi jewelry: exceptional materials
Art jewelry is synonymous with know-how and quality. The cuff bracelet is made of two different materials: nappa leather for the cuff and silver (or vermeil depending on the chosen colour) for the clover pendant.
Nappa leather is a smooth leather. In order to make it more flexible, it is treated on the surface. This is why this wristband is still light and easy to handle. Of excellent quality, it is very resistant to sun and rain due to its waterproofness.
The clover pendant can be made of 925 silver. This type of silver contains 92.5% silver, supplemented by 7.5% copper. All art'emi's silver jewelry bears the "925" hallmark as a sign of quality. But the clover can also be made of vermeil. This is 925 silver that has been plated with gold with a minimum thickness of 3 microns. The gold used for plating is 18-carat gold, consisting of at least 75% pure gold.
Why choose the leather cuff bracelet clover medal for women by art'emi ?
First of all, it will dress your wrist while affirming your personality. It will also enhance your most daring outfits. Its ethnic side will obviously bring originality to your look. This last one brings out your rebellious side while remaining chic, it will thus become your new flagship accessory, just like your leather jacket. We also remind you that it is possible to have your order delivered free of charge anywhere in the world. For more uniqueness, you can also have the clover medallion engraved at your convenience. Finally, we remain at your disposal to answer all your questions.
Did you like this leather cuff bracelet for women ? You will love our double leather strap for women.
Specific References
ean13

5446552672879

upc

548872647720