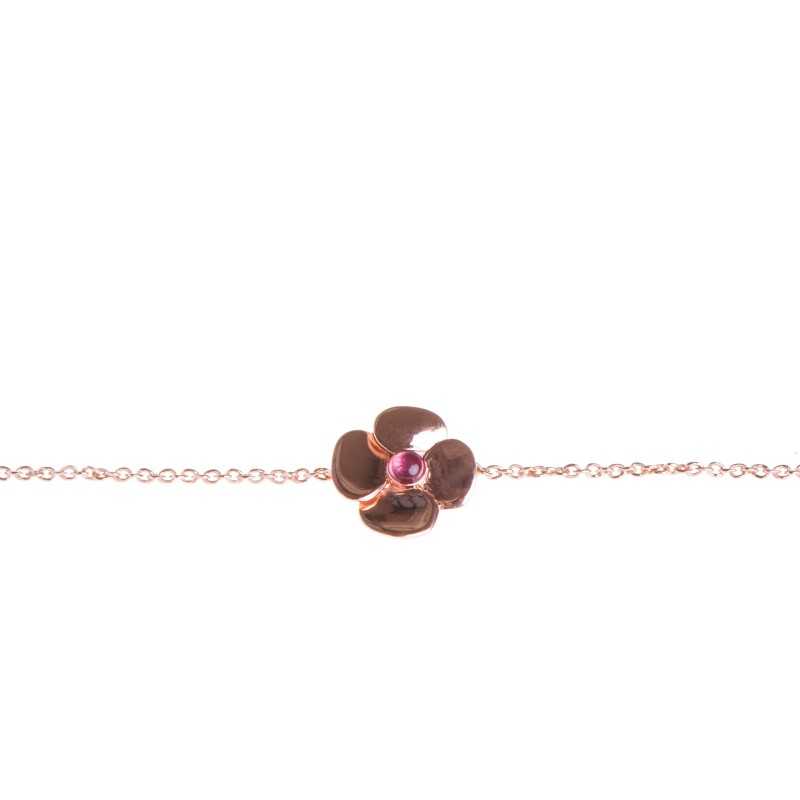  
Tourmaline flower bracelet
18-carat rose gold bracelet
Flower-shaped pendant 1.5 cm
Semi-precious stone: Tourmaline
Weight: 4.5g
Length of bracelet: 14 cm (minimum)
19 cm (maximum)
Free shipping - Ships within 24-48 hours
General conditions of Sales
Delivery policy
Returns policy
Fancy a trendy and refined jewel? Our tourmaline flower bracelet is perfect for you!
Our Belgian jewelry store Art'emi presents one of its jewels to celebrate with elegance: here is our tourmaline flower bracelet! Indeed, our beautiful 18-karat rose gold-plated bracelet will be part of one of the most seductive adornments in your wardrobe. Plus, it's adjustable for comfort depending on the size of your wrist. Its flower-shaped pendant also contains a semi-precious stone in the centre: tourmaline. Take a look at our tourmaline flower collection, you'll enjoy our our tourmaline flower earrings.
Art'emi : exceptional quality and ancestral know-how
Are you going on holiday or want to be sophisticated in any circumstance? Our aspiration is the same, our jewelry ensures your happiness and sublimates you! As a result, our handmade creations consist of noble materials from Europe. Art'emi offers you a remarkable quality among its products in 18 kt gold, solid silver 925, semi-precious stones. In addition, Art'emi think of everything! Our quality service offers you your delivery. You read it right, your bracelet delivers at no extra cost and quickly,shipped within 24 hours! Isn't that great?
Why choose our tourmaline flower bracelet?
Tourmaline considers itself a protective stone against negative influences, also strengthens your creative side and represents vitality. There is no shortage of our jewellery! In addition, our bracelet awakens your sensitivity, as well as your softness. Indeed, offering a bracelet to your beloved is a symbol of love and attachment. You don't need a special opportunity to please by offering a jewel. In addition, the bracelet is one of the most common jewels. So you won't have any problem opting for our bracelet and you are sure that your gift will please the chosen one of your heart.
Alternatively, don't hesitate to check out our shop with our rich product line! Consider discovering our women's bracelets, as well as our customizable bracelets. Our engraving workshop is authentic!