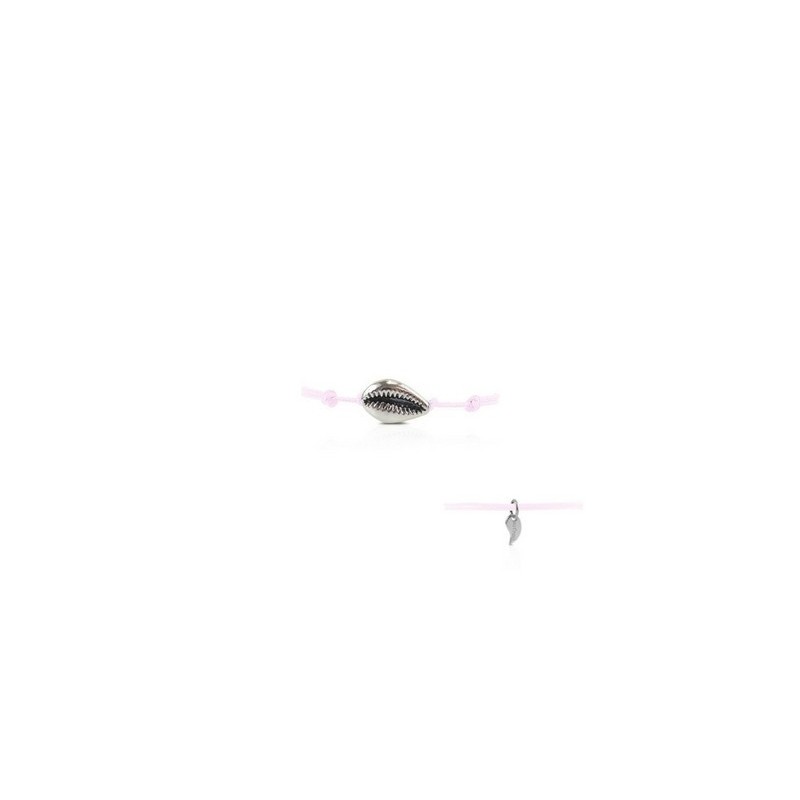  
Silver seashell bracelet woman
Waxed cotton rope
Adjustable size
Seashell pendant
Massive silver 925 and yellow gold plated
Shell
Size: 1 x 1.5 mm
Weight: 4.4g
Free shipping - Ships within 24-48 hours
General conditions of Sales
Delivery policy
Returns policy
Silver shell bracelet woman: be the new little mermaid!
Do you want to be the new little mermaid? Thanks to Art'emi, your childhood dream will finally be able to come true. Do not hesitate any longer and fall for this women's gear from our summer collection by the sea. Synonymous with a beachfront holiday, it will beautify your style and wrist. In addition, the silver shell women's bracelet comes in 17 colors! You will necessarily find the color of the cotton cord bracelet that will compliment your wrist. Finally, the thin rope of this bracelet is adjustable which will allow it to adapt to the wrists of each lady. Adopt this fancy jewel to your jewelry box, she will thank you. It blends perfectly with gold, rhinestones, silver, diamond, rose gold, yellow or white! This is a perfect women's bracelet to match with your jewelry.
This silver bracelet is an ideal gift idea to offer! If you are looking for a perfect gift idea for a wedding, read our article by clicking here.
Do you want to discover more costume and colorful jewelry? Do not hesitate to take a look at our collection of women's jewelry with colorful, qualitative and original necklaces! In addition, you can design your jewelry with silver pendants at your disposal as well as silver mesh chains. Create the jewel that looks like you. In addition, the clasps of silver jewelry are also made of solid silver.
Note of the day: wear this women's bracelet with a nice necklace, your favorite watch as well as a silver rush bracelet. A summer look is ideal for the summer.
The unique jewels of the talented designer Artémi
The Belgian jewelry store art'emi offers women's jewelry, quality, made from exceptional materials, love and tenderness. Specially designed to accompany you wherever you go, the small shell of the bracelet is made from silver 925 (also known as sterling silver). This type of silver has at least 92.5% silver as well as 7.5% copper. It is this alloy of silver and copper that gives the material the robustness necessary to make this bracelet. All of our silver jewelry sports the "925" hallmark as a sign of our quality. Made from waxed cotton, the rope remains solid.
In addition, we use sterling money for our creations because this material does not generate any allergic reactions and is therefore suitable for all skin types. Go hop, 10 more points for Gryffondor!
And to earn even more points, art'emi offers jewelry made from semi-precious stones such as mother-of-pearl, turquoise, coral, agate, quartz, moonstone or tourmaline. Different necklaces with beads and gloss just for you. So also think about jewelry set with precious stones. For more sparkle, Creole earrings in vermeil are ideal! Vermeil is an 18-carat gold-plated silver jewel.
All styles are present at art'emi: ethnic, bohemian, classy, casual, classic, etc. You are sure to find your happiness among a wide selection of jewelry for women, but also for men and children.
Why succumb to the silver shell bracelet for women art'emi ?
This bracelet will be perfect for your daily and night activities. Its different colors make it unique and singular. In addition, we remind you that all the creations art'emi can be delivered throughout the world. Finally, the package will arrive with a certificate of authenticity and a one-year warranty. The entire art'emi team remains at your disposal to answer all your questions.
Do not forget that Art'emi also offers jewelry engravings. Because of this, you will find customizable jewelry for women such as rings, necklaces, charm pendants, gourmet silver mesh and many others. In addition, you can also request the customization of your women's jewelry! Just send us an email with the detail of what you would like to have.
If you liked this bracelet, you will also like all the adjustable bracelets in our women's collection. To make it an infinite and timeless family bracelet, do not hesitate to take a look at the man and child version! Make your dreams come true, we believe in you!
Specific References
ean13

5429655886398

upc

541551943265