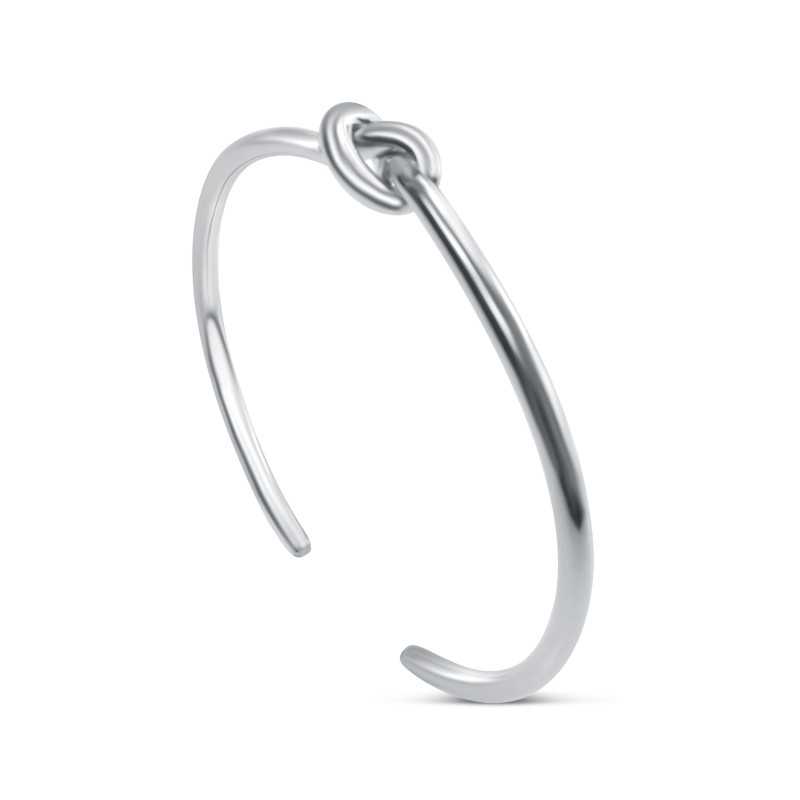  
Silver knot bracelet woman
Silver 925
Adjustable single size
Small knot of 1 cm
Free Shipping - Ships within 24-48 hours
General conditions of Sales
Delivery policy
Returns policy
Women's silver knot bracelet: a jewel full of mystery
Get affection for this sublime bracelet knots silver woman! Finesse and elegance are the watchwords for this women's jewel. The latter will accompany you during all your outings, whether day or night. Here, the small knot makes the silver jewel a discreet and trendy accessory, which remains easy to wear despite its size. It will be THE little touch of elegance that your style needs. Very easy to wear and far from being a puzzle, opt for this sumptuous bracelet for women that will sublimate your wrist.
This is the ideal bracelet to have in your jewelry box. It allows you to add a slight touch of fantasy to your outfit and your life! Because of this, this silver bracelet is part of the costume jewelry of jewelry such as the ladybug sautoir necklace or the gourmet silver mesh bracelet with a character charm.
This bracelet for women goes perfectly with all other jewelry, whether in gold, diamonds, rhinestones, rose gold or with a leather strap. Silver can mix with gold, so do not hesitate to wear gold and silver jewelry. Very trendy, so dare a gold ring with a silver bracelet!
Looking for a gift idea? This women's bracelet is an ideal and perfect birthday, engagement, Christmas gift! You are sure to please with a delicate jewel on the wrist and original! In addition, if you want to have more gift idea, discover our article on gifts engraving jewelry for women. You will find ideas with medals to engrave for example!
Money, the new toy of art'emi
The Brussels jewelry store art'emi makes women's jewelry from unique materials. Thus, the bracelet women's silver knots is made from solid silver (also known as sterling silver). This is a mixture of money (92.5%) as well as copper (7.5%). By the way, pure money is reputed to be a fairly malleable material. It is this combination of silver and copper that gives the robustness necessary for the manufacture of this silver bracelet. Finally, the punch "925" is present on all the creations in silver ofart'emi as a guarantee of quality.
Want more silver jewelry? Then discover the collection of silver women's jewelry with necklaces, pendants, gourmets, earrings, rings and trendy accessories.
Finally, art'emi also uses gold in the making of her women's jewelry, with vermeil jewelry. Vermeil is a silver and 18-carat gold plated jewel. In addition, discover the jewels set with precious stones with mother-of-pearl, turquoise, coral, agate, quartz, Moonstone or tourmaline, sumptuous and colorful jewelry.
The women's silver knots bracelet, a bracelet full of sweets
This silver knot bracelet for women represents audacity and discretion. With its silver color, it will adapt to all your everyday outfits. So, brandish on your wrist the silver knot bracelet which is ideal for all circumstances. In the continuity of the collection "summer by the sea", this bracelet knots in solid silver will be your favorite. This women's bracelet is a timeless silver that you can wear in adornment to infinity with the silver ring and the silver necklace. In addition, we also remind you that you can have all of our women's jewelry delivered to you free of charge anywhere in the world. In addition, we also provide you with a jewelry engraving and personalization service, also free of charge. Finally, we obviously remain at your disposal to advise you and answer all your questions.
If you liked this woman jewel, you will probably like the rest of the family "knots".
The favorites of the team: silver pearl necklace for women, family pendant bracelet for men as well as the silver rush bracelet or vermeil for children. Jewelry for all!
Specific references
UPC

540565092404

EAN-13

5491466224072