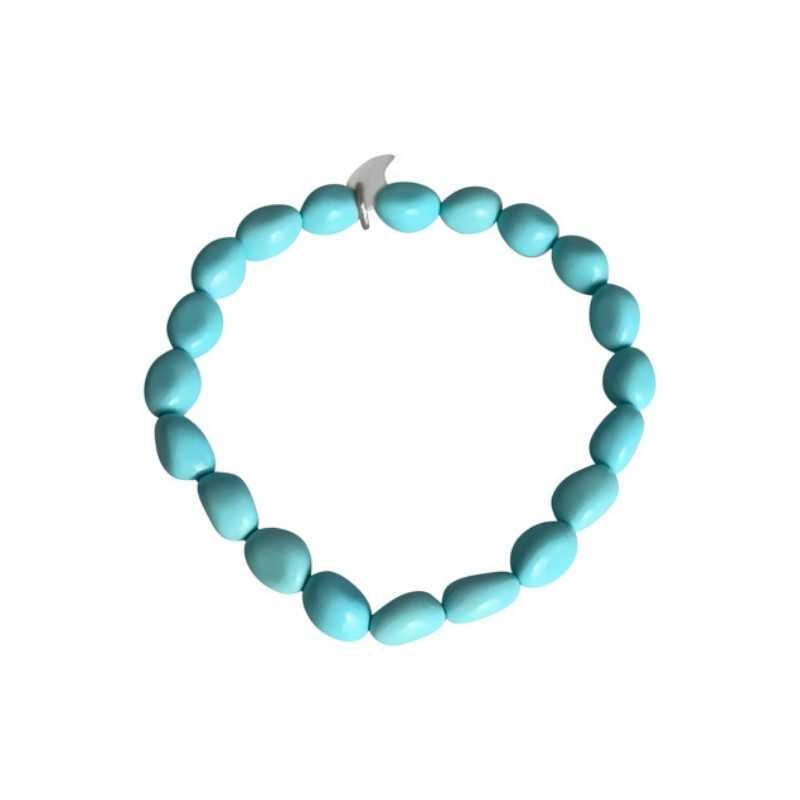  
Women's turquoise pearl bracelet
Massive silver 925
Semi-precious stone: turquoise
Length: Variable
Weight: 7g
Free shipping - Ships within 24-48 hours
General conditions of Sales
Delivery policy
Returns policy
Turquoise pearl bracelet: closer to our environment
Inspired by nature, this turquoise pearl bracelet takes us on a journey to the seas and oceans. The jewellery brand Art'emi offers you its gift idea: the turquoise pearl bracelet for women. Its turquoise pearls take us to clear and warm waters. Thus, it is perfectly suitable to dress your summer (or winter) outfits. A simple and distinguished bracelet that will delight your most beautiful memories. Moreover, the light blue shades slightly tending towards green will make you relive an unforgettable and magical summer. This bracelet, which is a timeless in your jewelry box will allow you to be glamorous, trendy and elegant, while remaining subtle and discreet. This type of jewellery goes particularly well with the dresses in your wardrobe.
Art'emi and exceptional jewellery
The Brussels-based jewellery brand art'emi promotes its high-quality gold and silver jewellery made from exceptional materials. Here, the woman's bracelet is made of semi-precious stones: turquoise and a solid silver pendant with the 925 hallmark. Art'emi invites you to come and discover the rest of its collection of jewellery for women, its collection of jewellery for men and children. Our silver jewellery contains at least 92.5% silver and 7.5% copper. It is this mixture of silver and copper that gives the material the strength needed to make silver jewelry. All our silver jewellery has the "925" hallmark as a sign of our quality and expertise.
To learn more about silver, please visit our blog by clicking here.
This beautiful turquoise bracelet is the ideal giftto offer to someone you care about. It will be perfect as a Christmas gift, a birthday gift, for Valentine's Day, Mother's Day, etc. The jewelry brand Art'emi also offers customizable jewelry. You can have initials, dates, first names, etc. engraved on your man-woman jewellery. You can create aninfinite number of personalised jewels, which will be unique and original. Thus, you will be able to wear your most beautiful jewels to be at the top of your femininity.
The jewelry Art'emi and its services
It is important to note that the jewelry brand Art'emi offers services just for you. First of all, the gold and silver jewels are made thanks to an ancestral method. This confers authenticity to the jewels. In order to guarantee you an incomparable quality, we choose our materials carefully. You will find precious metalssuch as tourmaline, fine stones, turquoise, semi-precious stones, agate, vermeil, rose gold, rose quartz ,white gold, mother-of-pearl,yellow gold, solid silver, coral and pearls. Finally, Art'emi delivers your beautiful jewels free of charge anywhere in the world. Enjoy it !
Discover the collection of turquoise jewels like the turquoise necklace or the turquoise earrings. The jewellery brand Art'emi offers a lot of jewellery for women and men, such as bracelet, tree of life necklace, medallion, gold chain, cufflinks, chains, silver pendant, gold earrings, creole earrings, gold wedding ring, engraved medallion, long necklace, etc.
Finally, do not hesitate to send us a message if you have specific questions about your order or simply for information. The team is at your disposal. If you liked this pretty bracelet, come and discover our turquoise barrette necklace for womenThis necklace is made of sterling silver with the 925 hallmark. This silver necklace will make you a beautiful neckline and you can wear it for all occasions.
Specific references
UPC

548538198504

EAN-13

5434356294984